"He's happy, 'cos he's good"
Details:
Recorded – June-July 1982
Released – 27 September 1982
Mark E Smith – vocals, violin
Marc Riley – guitar, keyboards
Craig Scanlon – guitar
Steve Hanley – bass
Paul Hanley – drums
Karl Burns – drums, bass, guitar
With:
Arthur Cadman – guitar
Adrian Niman – saxophone
Background / The Fall Live in 1982
Following Hex's release, the group played 29 gigs between March and May, including a brief visit to The Netherlands in April. New songs came thick and fast:  Hexen Definitive and Solicitor In Studio were debuted at Bristol Poly on 12 March; Joker Hysterical Face a week later in Bradford; Wings and Surrogate Mirage made their first appearance at Leicester on 24 March (the only ever performance in the case of the latter). Tempo House and Backdrop also received their first outings on the Dutch tour. Back in Manchester in May, The Man Whose Head Expanded was played for the first time. It's safe to say that the group were going through a very fertile creative period…
In April, Look, Know (recorded on the previous year's Iceland trip) was released as a single, with I'm Into C.B. on the b-side (recorded at the Regal Cinema during the Hex sessions). According to Steve Hanley, Look was the first Fall song where he was completely responsible for writing the music, although it didn't turn out exactly as he'd imagined; he anticipated 'more guitar' and 'Dexy's-type soul with a brass section'1.
You can perhaps hear why it didn't end up on Hex: in comparison it's distinctly jaunty and light-hearted. The lyrics focus on the shallowness of those overly concerned with fashion and appearance ('Do y'know what you look like / before you go out?'; 'You gotta know what you look like nowadays… or some existential crap will write about you'.) Not wishing to labour the point after the last post, but it's disappointing to hear the word 'faggot' make another couple of appearances. Musically, though, it's entertainingly bouncy, with SH contributing a full-bodied and funky bass line. It's intriguing to imagine exactly what MES had against the song…
As was the case with Fantastic Life, it's a mark of how creative and productive the group were that something as good as C.B. could end up as a b-side. I wrote at length about this one of the Fi5 blog (some of which, I have to admit, was rather a nostalgic personal digression), the gist of which was that it captures several aspects of 80s British culture exceptionally well and is a jerky, exuberant piece of prime early-80s Fall repetition.
In June*, the group returned to Cargo Studios in Rochdale, where Dragnet had been recorded. The aim was to record a new single, Marquis Cha-Cha, but as was the case with Slates, the sessions ended up producing something longer. The recording of what ended up being Room To Live was a tense and less than happy experience, at least for some of the group. Smith decided that a different approach should be taken, one that involved different combinations of the group performing on each track (and even included some newcomers); also the songs were in general developed from scratch in the studio, rather than having been worked out live or in rehearsal (see 'The Album' below).
[*In Renegade2, Smith suggests that RTL was recorded after the Antipodean tour outlined below; this appears to be supported by Dave Thompson's User's Guide, which states that the album was 'written, recorded and released within a fortnight'3. However, all other sources (including Steve Hanley4) confirm that the recording sessions took place before the group headed off to Australia at the end of July.]
The Fall's month-long tour of Australia and New Zealand in the summer of saw them play around 20 gigs, although, like the previous year's US tour, there is a little uncertainty about a few of the dates. The dates in the advert above (from RAM – Rock Australia Magazine, a sort of down-under NME equivalent) appear not to match with the actual reality – and in fact are even contradicted by a list elsewhere in the same edition of the magazine.
The first few dates of the tour had to be played with a single-drummer line-up. Burns was delayed because he had to apply for a new passport, his previous one having been eaten by a dog (Smith adds the rather superfluous detail that it was one 'with a squint'5). When Burns finally arrived, about a week into the tour, the atmosphere within the group was rife with tension.
Things had got off to a difficult start at the first gig on 22 July at Sydney's Musicians' Club. Suffering from jet-lag after a 36 hour flight (exacerbated, it would seem, by copious alcohol consumption6), the group turned in a sub-par performance. Steve Hanley describes struggling to stay awake and the rest of the musicians suffering in a similar fashion. MES puts it more simply: 'The tour began at the bottom… we were shit'7. Riley, Scanlon and the Hanleys' choice of post-gig recreation led to one of the more infamous incidents in the group's history.
According to Steve Hanley's account8, the four of them headed to a club called The Mansell Rooms. Their body clocks still awry from jet lag, they suddenly found themselves wide awake and decided to hit the dance floor, 'throwing shapes' to The Clash's Rock The Casbah. When MES arrived, he was enraged by the scene – 'You're not too tired to dance… [but] you were too fucking tired to play a decent gig!' – and proceeded to slap Scanlon and both Hanleys across the face. When his attention turned to Riley, however, the guitarist floored him with a 'full-blown punch' to the face. Inevitably, Smith's version9 of events differs somewhat. The group all went together to a 'heavy metal disco' where MES tried in vain to preserve the others' dignity by discouraging them from dancing to (of all things) Smoke On The Water; whereupon, unprovoked, Riley started hitting him. (I think we can all agree that one of these accounts is rather more believable than the other.) You can certainly see Smith's black eye lurking beneath the TV make-up in the rather stilted and awkward interview the pair of them did the next day.
Information about the setlists on the first part of the tour is very sketchy, but by the time the group played in Geelong (about 50 miles SW of Melbourne) at the end of July, Room To Live, Hard Life In The Country, Detective Instinct and Marquis Cha Cha were in the set. The gig also seems to have been notable for one the first recorded incidents of what came to be one of Smith's live trademarks – messing around with the group's amp settings (as recalled by a mightily pissed-off Steve Hanley)10.
Three days later, The Fall's performance at the Prince of Wales in Melbourne was broadcast on radio; in May 1998 a cassette recording of the broadcast was released as Live To Air In Melbourne '82.
Despite the awful 'GCSE Art student makes a hurried collage out of tourist brochures' cover and the distinctly hit and miss track listing – 'Hexen Strife' ('Hexon Strife' on Spotify), 'Knot Deer Park', 'Totally Twisted' – it's actually an excellent, interesting live album.
The sound balance isn't perfect – Steve Hanley disappears from time to time, and occasionally one of the guitars over-dominates the sound – but overall it's far better than the average Fall live album. It's interesting to hear very early versions of a few of the songs. Hard Life isn't nearly as thin and bleak as its album version; here it's equally doleful, but the thick, distorted guitar sound makes it muscular and brooding. Marquis Cha Cha is a bit ragged around the edges, but is jaunty and energetic, Smith even contributing some enthusiastic if rather odd scat/mouth-trumpet accompaniment. The highlight though is Room To Live, here an exuberant stomping hoedown and featuring a delightful country/blues guitar lick that was lacking in the studio take (and that Riley resurrected on The Creepers' song Cure By Choice).
As ever, there are some interesting vocal amendments from MES. The infamous Mansell Rooms get a mention in Deer Park (5:12), Papal Visit is referenced in Hip Priest (6:10) and the 'Jew on a motorbike' line from Garden gets an early try-out in Tempo House (6:56). In particular, Smith goes off at a bit of a tangent in The Classical:
Welcome to your new XL model / made with the finest technique / with elephant odour inside upholstery / the axles are heat resistant / made in nice units… the bumpers, they're alright / and the tyres, you get them from us, especially.
It all sounds like a group in perfect harmony, as if the tensions from earlier in the tour have abated somewhat. However, one notable feature is that there are a few – by Fall standards – quite flamboyant bits of musicianship, especially Riley's keyboards on Deer Park and Hip Priest (for example the little solo around the four-minute mark in the latter). You have to wonder what MES made of it, especially considering his comments at the Geelong soundcheck: 'None of that showing-off rock shit you keep adding in! Just play the fucking song in time and properly.'11
Sleeve notes from 'Live To Air'.
The Fall headed to New Zealand in mid-August where they played five dates. Both Totally Wired and Lie Dream had made the NZ charts (reaching 25 and 17 respectively) and, to judge by Smith's account in Renegade, they were well received12. The final date was recorded by local musician Chris Knox and released as Fall In A Hole in December 1983 on the Flying Nun label.
The album was only released in New Zealand, but UK imports quickly became much sought after. (Copies of the original vinyl LP, at the time of writing, still go for around £100.) In an interview with Flying Nun founder Roger Shepherd, he describes MES's displeasure at finding pricey import copies available in the UK: 'Mark E Smith had already seen a copy in the UK and was not amused… my first contact with the overseas music business was an angry, demanding one. Desist from export, press no more copies, and give us all the income from all of the sales.'
The original release consisted of an 11-track album plus a 5-track 12″. The first 11 are a mixing desk recording; the remainder come from audience-recorded cassette. And you can certainly tell. The first 11 tracks on Hole have a more 'professional' sound than their counterparts on Live To Air, but somehow, to these ears, it isn't quite as pleasing. Hard Life is a good example: the Melbourne version's heavy, distorted tone provides an intriguing contrast to the brittle, astringent take on Room To Live; the Hole version falls between two stools, having a comparatively clean and crisp sound that, for me, doesn't quite work as well. It's interesting to hear (at 2:39) a slightly exasperated-sounding Smith instructing Riley to 'turn it down Marc'.
That said, there's plenty to enjoy here: the thunderous fury of Prole Art Threat is captured well, the introductory kazoo solo on Marquis is hilarious and Room To Live is even more lively than the Live To Air version and is well suited by the cleaner sound.
One of the most interesting features of the album is the first official appearance of Backdrop. First played on the Dutch tour back in April, this was the song's twentieth performance; it would be played a further twenty-five times – the last being in November 1983 – but never got a studio recording. Somewhere between And This Day and Session Musician, it's a brutal, relentless, complex and ambitious assault on the senses and is probably enough on its own to warrant acquiring In A Hole.
The final five tracks on the original release are of pretty poor quality; the only point of interest is MES's slightly sneering introduction to Joker – 'if you look pretty close, Marc Riley has a joker hysterical face. He's happy, 'cos he's good.' This is most likely a reference to the famous picture of Marc Riley that graced the front page of the Christchurch Press three days earlier:
Although this picture graced the cover of In A Hole, this of course had nothing to do with Smith, whatever he might have gone on to say. However, this article indicates that MES was certainly less than pleased by what he saw as Riley revelling in his minor celebrity status; an irritation that clearly hadn't gone away by the time he wrote Renegade – 'he's parading himself like a chief swan to all these imaginary fans… It wasn't exactly The Beatles in America.'13
In A Hole was released on CD in 1997. However, this particular version was mastered from a German bootleg copy; the sound quality is poor and there are several skips and drop-outs. A superior reissue ('In A Hole +') was released in 2003. It contains six bonus tracks from other gigs from the NZ leg of the tour, including the group's second and final performance of their unlikely segue from C'n'C into Deep Purple's Black Night.
Happy Fall bassist and somewhat less jovial singer arrive at Christchurch 17/8/82
EDIT: After I'd published  YMGTA #11 (Perverted By Language) it was pointed out to me that in December 2018, the Set Of Ten box set was released, which includes three recordings that predate PBL. One of the discs contains a recording from May 3 1982 at Manchester's Band On The Wall, which obviously fits in here. It sounds like a great performance (which is reinforced by this excellent review) and includes an early (and very different) version of Wings, although sound quality-wise it's no more than an average audience recording. For the sake of completion (and to assuage my OCD) I thought I'd better add a note. It'll be included in the rankings from YMGTA #12 onwards.
In The Wider World…
In August, the first CDs were produced in Germany and Charles and Diana's eldest son was christened William Arthur Philip Louis. (It seems to have been a pretty slow month, news-wise.)
Dexys Midnight Runners' Come On Eileen was number one throughout the month. The album chart was dominated by The Kids From Fame, which I remember sitting through every Thursday, waiting for TOTP to start.
The Album
After the critical acclaim and strong sales of Hex, most groups would most likely have toured the album to death and then tried to recreate its success. It is, of course, a cliché to point out that The Fall have never been like other groups, and inevitably they did nothing of the sort. A couple of months after the album's release, Hex songs were only making up a minority of the sets which, as in the previous year, were dominated by new, unreleased material despite the group spending their summer playing to new foreign markets.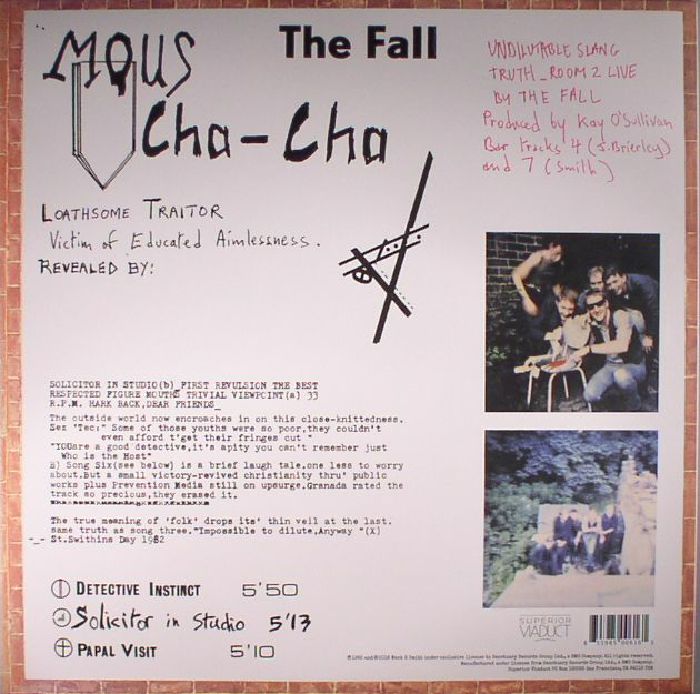 In Dave Simpson's The Fallen, many of the ex-members that he tracked down alluded to Smith's ongoing determination to avoid complacency at all costs. This desire most often manifested itself in sackings or finding multitudinous ways of keeping musicians on their toes – or, as many of them might have put it, making their life a misery. (Craig Scanlon has a slightly different take on this: 'Mark created tension mostly because he was bored, drunk or couldn't hack it.')14
Of course, trying to pin down Smith's thinking or motivation is a notoriously tricky business. It certainly seems believable that he found the notion of the group's growing popularity distasteful, disconcerting – possibly even frightening – and wanted to demonstrate his contrary and nonconformist credentials. Whilst Brian Edge's assertion that 'Smith himself felt that the band were on the verge of becoming a supergroup' rather overstates the Fall's profile in 1982, there's certainly some mileage in his interpretation of MES's motives: '[RTL's] failure to deliver gave the band some much-needed breathing space… all that close scrutiny had become claustrophobic.'
Whatever his precise intentions, however, he (aided and abetted by Kay Carroll) certainly made the recording of RTL a challenging experience for the rest of the group. They were to take a more spontaneous approach, experiment with different combinations of group members (some being excluded from particular tracks) and employ guest musicians.  He extolled the merits of the new approach in an interview for Masterbag magazine:
"Room to Live" is an interlude… an aside … the songs are an overflow … it started off as a single, but then I decided to put down this other material I had, the songs all went together, and I wanted to do something instantaneous… to get back to the old Fall way of recording songs straight off the top of our heads! I thought we were getting a bit restricted by 'Hex', it was so 'thought out', planned, and like, intensive. That's why I've shuffled round with the band, I didn't want the same sound reproduced twice. We've only used one drum set on here, a bit of an experiment, and I excluded some of the band from certain tracks, shuffled them round a bit, and used some outside musicians. All of the Fall are on the record, but not all of them on every track … which I did to keep with this 'instant' thing that we've had in the past – the far past! The band weren't even familiar with some of the songs, we just went in and did them which is how we always operated in the good old days! … and I think it's served to stir them up a bit! I suppose I'm a contrary bastard – I like to do the opposite of what I've just done."
Smith believed that all of this resulted in a 'very underrated album'15.The Hanley brothers were less impressed. Paul, interviewed by Louder Than War in 2016  described recording RTL as 'a fucking nightmare. You'd turn up and find Smith had only invited half the band, or brought in other musicians without telling anyone!' His brother was even more disparaging: 'Most of the tracks are one riff, if that; they're not arranged properly and they've not been thought out'; 'it's pushing avant-garde to the threshold of dross'; 'we could do with taking time to turn these ideas into proper songs'16.
The music press at the time tended to take the Hanleys' side. In the NME, Amrik Rai described RTL as 'frustratingly sketchy' and 'scarcely more substantial than a tawdry collection of scantily clad doodles'; side two in particular was an 'indulgent hash of ill-researched experimentation'. In Sounds, Dave McCullough thought it lacked 'bounce and zap' (although bizarrely he seems to think this had been a fault with all post-Dragnet Fall albums). Looking back seven years later, Brian Edge described it as 'misconceived and flawed'; it 'could have been a passable EP, but… sounded like a flabby, overcrowded 12-inch single'17.
One way in which the album did follow Hex's approach was the cover, which was covered in similarly enigmatic text. Emblazoned with the legend 'Undilutable Slang Truth!' it also contained such enlightening phrases as, 'The whining spawn of that Tent Moon ruled roost for moment. The visage was retard.' Smith claimed (perhaps not entirely seriously) that the dog in the picture on the front cover was the same one that ate Karl Burns' passport18.
The Songs
Joker Hysterical Face
A sprightly and exuberant track, propelled by a laid-back, loping guitar line and featuring some trademark winningly awkward transitions (e.g. at 1:16). It's one of several from this album where the Fi5 blog brought to my attention how much I'd underestimated it in the past. It's also one of only two tracks from the album that Steve Hanley considered to be 'of any merit'19.
It was apparently written about some of Smith's neighbours: 'It's about a couple who live sort of downstairs from us, where we were living, and they used to play Abba and all that stuff, they always used to have it on full blast. She was a divorcee. I used to know women like her, and it's not very far from the feminist movement. Like the man is the main thing to blame.' (Quoted in The Biggest Library Yet, February 1997.) Not that you can readily extrapolate this from the lyrics. Not quite sure why poor old Ted Rogers (of 3-2-1 / Dusty Bin fame) did to incur Smith's wrath, but I did at least learn what 'skriking' means. It was played 27 times in 1982, but then only made one further appearance, in 1984.
Marquis Cha-Cha
The unstructured nature of the recording process is clearly reflected in the spontaneous sound of Marquis.  Its slightly crazed exuberance actually makes it sound like the group are having a lot of fun recording it, although this clearly wasn't the case: Steve Hanley, with a tone of weary frustration, recalls working with Smith and Burns 'trying to create some semblance of structure'20 to the song. They didn't really succeed; there's a sense throughout that the track is only just about hanging together and it feels rather like three or four songs welded together. But somehow it works, even if it does have rather a demo/rehearsal vibe to it.
Marquis updates the Lord Haw Haw story to contemporary Argentina; the title, as Tommy Mackay points out, 'cleverly puns on Mark E, Lord Haw Haw and Thatcher'21. In interviews at the time, Smith struck an aggressively jingoistic tone when discussing the song, staunchly defending The Falklands War. The following year, he fell back on the 'I was joking/just being sarcastic' defence; however, in an interview for The Telegraph in 2008, he returned to the subject:
I was always a Labour party member. I left because of the Falklands War. This was 1983, and local members were dead set against the war. I would go in the club and be told the war was a waste of money. We should just give the islands to Argentina. I was arguing, "Hang on. We're talking about a military dictatorship, in a country that's made a career out of hiding Nazi war criminals. You want to give in to that lot?" No one agreed with me, so I left.
It seems likely that neither Riley nor Paul Hanley played on this track. It was played live 39 times, the last of which was in 1985. In 1984, the group recorded a session version for the BBC's Saturday Live that saw it twinned with Fortress:
Hard Life In Country
Hard Life is certainly not a fond memory for Steve Hanley, who describes it as 'sounding shite. There's nothing on it that anybody couldn't do.'22 It was one of those RTL songs where Smith's unorthodox methods seem to have particularly disconcerted the other members of the group. The Hanleys found themselves recording it with just Smith and what Steve described as a 'long-fringed sap' on guitar, this scenario causing Riley and Scanlon some consternation when they arrived later.
The 'sap' in question was Arthur Kadmon (credited as Cadman on the sleeve), a Manchester musician who had played in Ludus. It seems highly unlikely that Smith actually considered adding him to the group, although Kadmon may have been under the impression that this might have been the case. If he had been, it would have been an ultra-short tenure, even by The Fall's standards. As Mick Middles writes in his book The Fall:
[Kadmon was] told to go and tune up and play a few test samples, which indeed he did: four chords, a tune-up and a finger loosening solo. It took just sixteen seconds.

"Thanks Arthur. That's superb. That's just what we wanted. you can go home now."

"What? that's it?"

"Yeah, thanks cocker."
Hard Life takes on a less controversial subject than Marquis: 'the city-dweller's distrust of the country'23; or as the sleeve notes have it, 'the harsh results of technology in yokel hang outs. Horrid truth behind all that romanticized green grass.'
It's not an easy listen. Bleak, sparse and brittle, it strains at the leash throughout to break out into something more expansive and distorted. The hypnotic, trebly guitar scratches away like it's trying desperately to escape from something malevolent, perhaps reflecting the oppressive, claustrophobic intensity of village life. Certainly it all gets a bit Straw Dogs towards the end: 'The villagers are surrounding the house / the locals have come for their due'.
The 'John' referred to in MES's spoken intro is presumably John Brierley, the founder of Cargo Studios, although perversely this isn't the song where he gets his sole production credit (Smith and Carroll having decided that they could handle that responsibility themselves on all but the title track).  Although it was a fairly regular feature during the Australian/NZ tour, it had a relatively brief shelf-life as far as Fall setlists go, making only 17 appearances. The last one was at York University in November 1983 (sadly, four years before I began my degree there).
Room To Live
After several listens to the Live To Air and In A Hole versions, it feels disappointing that the wonderful country-blues guitar motif of those versions is absent here. That said, there's plenty of fun stuff going on: there's still some pretty nifty solo guitar work from Riley (even if it's a little buried in the mix) and another guest, Adrian Niman, adds some pleasingly understated honking sax.
The title could be taken as a reference to Lebensraum (literally 'living space'; Hitler's justification for Germany's expansion on the 1930s), although other than references to 'foreigners' and a 'murder squad' there's not really anything further to support this link. There are some pleasingly random Smithisms here though: 'a D.H.S.S.S. Volvo estate… with a Moody Blues cassette on the dashboard'; 'some men want reporters with no wig'.
Detective Instinct
An atmospheric and creepy little number. There's a general air of suspicion and malevolence about it, created by the insistent, pulsing bass and sparse, understated guitar fills, which sound as though they might have come from the soundtrack of a 60s spy/mystery/detective TV show. The percussion is also interestingly effective on this; pared down and minimal, almost disappearing in places, adding to the uncertainty.
There are several intriguing little details. At various points both a mandolin and a harpsichord seem to be drifting about in the background, and there's also an occasional electronic 'plink' in the style of an early-80s video game. The very subtle bit of feedback around the four and a half minute mark is a nice touch too. The sudden swell in volume at 5:14 is not so subtle though. Working out the line-up on the different songs on this album is obviously problematic, but there do appear to be three guitar parts on this, so presumably Karl Burns contributed one of them.
It's a pretty oblique lyric (I'm not entirely clear on what Simon Ford bases his statement that it's 'about an inept detective'24) but again has some choice lines, the best of which is, 'He was a blubbering heap / he should have served himself up / preferably in a restaurant with meat'. Only made five live appearances in 1982-83.
Solicitor In Studio
The other song (alongside Joker) that Steve Hanley considered to be 'of any merit'25. The first thing that strikes you about this is SH's outstanding bass line: a thumping, funky, relentless onslaught that tirelessly stomps up and down the scale and drives the whole thing along with lithe muscularity. The Fall A-Z refers to 'conjecture' that Karl Burns played 'lead bass' on this. I can only presume that this refers to the fuzzy, melodic line that sits over the 'main' bass part, which I'd always thought was done on a guitar, to be honest. Anyway, whoever's playing what, it all gels incredibly well into a lurching, aggressive slab of post-punk-funk.
Craig Scanlon thrashes away at the two chords with a scratchy, frenetic vigour that sits perfectly just away from the main focus, providing an unobtrusive but crucial backdrop. Riley dips in now and again with some discordant keyboard work (some especially nice splashes of colour just after four minutes). The lead guitar (or bass) has a wonderfully knotty, fuzzy tone; its primitive sound makes a great contrast with the comparatively smooth and silky bass line (e.g. at both the two and three minute mark). Great use of feedback too: for example echoing MES's line about 'high-pitched whines' at 2:11.
It's another lyric that's hard to interpret much beyond identifying the scenario described in the title. I remember Magnus Pyke being a fairly frequent and mildly amusing feature of TV when I was a kid; I'd (thankfully) forgotten about the rent-a-quote Sir Anthony Michael Beaumont-Dark, who also gets a reference. It's another one that disappeared from the setlist in 1983, but it did clock up 50 appearances.
There's a great clip of the group performing the song on Granada Reports in 1982 that doesn't show conclusively what Karl Burns is playing (it looks like a guitar, but there only appear to be four machine heads) but does illustrate Steve Hanley and Craig Scanlon's love of the tank top…
Papal Visit
I don't know how many – if any – other songs were written in response to Pope John Paul II's 1982 visit to Britain. If there were any, I doubt any were anywhere near as peculiar as this one. It's hard to argue with Steve Hanley's assessment of this being an example of 'pushing avant-garde to the threshold of dross'; there's a distinct sense of just pissing about in the studio, frankly. Smith scrapes away randomly at a violin, intones a few lines about helicopters stripping the land and throws in a couple of samples of the pontiff's speeches; meanwhile Karl Burns (?) thumps away the floor toms from time to time. You almost expect Melvyn Bragg's voice to appear at the end.
And yet… there is something quite intriguing and almost hypnotic about it. It is self-indulgent nonsense, undoubtedly; but I'm quite partial to self-indulgent nonsense in the right context. And it is better than Crew Filth or Taxi (although that's the very definition of damning with faint praise).
Reissues & Bonus Tracks
A 1993 reissue added both sides of the Lie Dream single. The 1998 Voiceprint version came with a bonus CD featuring four live tracks from April 1982. The 2005 Sanctuary reissue contains a different set of six live recordings from 1982-83, all of which are pretty horrible, sound quality-wise.
Overall Verdict
Room To Live's lukewarm (at best) reception was, in hindsight, unsurprising. After the tight, focused, relentlessness of Hex, it was perhaps inevitable that the loose, scatter-gun approach and seemingly rushed creation of RTL would lead to unfavourable comparisons with its illustrious predecessor.
The spontaneous, improvisational approach of RTL makes for a very different feeling to the preceding albums, but with the majority of tracks this actually works quite well and gives it a fresh, inventive quality. MES's bloody-minded determination to avoid recording anything like what people expected them too is also refreshing. But there's no denying that it's a flawed and patchy release. The 'record from scratch' approach really works in places: Joker and Solicitor, for example, have a joyful, engaging exuberance; Hard Life has an immediate, brittle astringency that might have been lost in different circumstances. In places, though, you can't help feeling that the songs needed more time and space to grow and solidify: in particular Room To Live, which only a few weeks later – as you can hear on the live recordings – developed rapidly into something much more satisfying than the album version.
My "Version"
I'm going to break all my self-imposed rules and convert RTL to what would have been an utterly cracking 20 minute 4-track EP:
Side 1: Joker Hysterical Face / Marquis Cha Cha (9:14)
Side 2: Hard Life In Country / Solicitor In Studio (11:26)
Rankings
As far as the albums go, it's pretty straightforward at this point; although where RTL fits in may well become more problematic later on…
Hex Enduction Hour
Slates
Grotesque
Room To Live
Dragnet
Live At The Witch Trials
With the live albums, I really really enjoyed Live To Air, and it's fully deserving of its top spot at this point. Like Therein, In A Hole has its ups and downs sound-wise, but you do get eleven high quality tracks, including Backdrop.
Live To Air In Melbourne '82
In A Hole
A Part Of America Therein, 1981
The Legendary Chaos Tape / Live In London 1980
Totale's Turns
Live 1977
Live From The Vaults – Alter Banhof, Hof, Germany
Live From The Vaults – Glasgow 1981
Live From The Vaults – Oldham 1978
Liverpool 78
Live From The Vaults – Los Angeles 1979
Live From The Vaults – Retford 1979
Live At Deeply Vale
As far as the singles go, Lie Dream and Look, Know are both solid entries, but aren't quite in the league of the top two.
How I Wrote 'Elastic Man'
Totally Wired
Lie Dream Of A Casino Soul
Look, Know
Bingo-Master's Break-Out!
Rowche Rumble
Fiery Jack
It's The New Thing
References
1The Big Midweek, p119
2Renegade, p120
3Thompson, p63
4The Big Midweek, pp126-128
5Renegade, p106
6The Big Midweek, p129
7Renegade, pp106-107
8The Big Midweek, pp135-137
9Renegade, p107
10The Big Midweek, p144
11The Big Midweek, p143
12-13Renegade, p108
14The Fallen, p198
15Renegade, p120
16The Big Midweek, pp126-127
17Edge, pp53-54
18Renegade, p120
19The Big Midweek, p128
20The Big Midweek, p127
21Mackay, p57
22The Big Midweek, p127
23Ford, p108
24Ford, p109
25The Big Midweek, p128