"His tongue is dirty. And his musical ideas, very clear."
Details:
Recorded: FON Studios, Sheffield and elsewhere late 1990 / early 1991
Released: 15 April 1991
Mark E Smith – vocals
Craig Scanlon – guitar
Steve Hanley – bass
Simon Wolstencroft – drums, keyboards
Kenny Brady – vocals, fiddle
With:
Cassell Webb – vocals
Dave Bush – machines
Craig Leon – organ, guitar
Martin Bramah – guitar (Rose)
Marcia Schofield – flute (Rose)
Background
Shortly after Extricate's release in February 1990, Smith moved away from Edinburgh. In a Melody Maker interview he described the experience as 'pretty painful':
'I was nearly in tears and I went to this pub round the corner carrying all these plastic bags full of me clothes and stuff.'
Home addresses became somewhat irrelevant in 1990, however, as the group embarked on a gruelling year on the road (see the 'live' section below).  On the tour, Bramah and Schofield became an item (or, as Steve Hanley rather coyly puts it, 'Martin and Marcia discovered just how much they have in common'1). Simon Wolstencroft noted that the two of them were spending all their spare time on tour together – 'visiting museums and the like… once we were off stage we didn't see them'2.
Not for the first time, group members' relationships – either within or outside The Fall -proved to be an anathema to Smith. Steve Hanley described MES as being 'unable to handle being around a couple on tour that he's not a part of himself'3; Wolstencroft even suggested that the parsimonious Smith was irritated by a paid-for hotel room going to waste4.
Smith's relationship with Schofield had been under strain for some time. According to Wolstencroft, she described it as having been 'all I quit/you're fired/I quit/you're fired for a few months'5. The principal point of conflict had been regarding her working with other musicians, which Smith – somewhat hypocritically, given his recent collaboration with Coldcut – declared to be unacceptable.  In the summer of 1990, she had decided to leave, but was persuaded to return for the Australian tour by the group's new manager Trevor Long. However, it was Long who informed her and Bramah in the small hours of 15 July (after their final Australian gig) that they were booked on the next flight home.
As ever, Smith's interpretation of the sackings differed somewhat from those of the rest of the group:
'Martin was always a fill-in, really, and Marcia is a brilliant keyboards player, great image and all that. But I wanted to change the sound, make it even more sparse than it is already. I think the two of them were really out of sync with us, so I sent 'em home.'6
Despite Smith's desire for a stripped-down sound, it was clear, given the nature of most of the songs in the current set, that someone was going to have to fill in on keyboards. Saffron Prior (at the time the group's office manager and by November 1991 the second Mrs Smith) attempted to take on the role, but was unable to master even the five-note riff to Hit The North7. In the end, at Steve Hanley's suggestion, roadie Kevin "Skids" Riddles ('eighteen stone of hairy-arsed Motorhead roadie'8) who had previously played in metal bands Tytan and Angel Witch stepped in to play keyboards on the rest of the tour, plus that August's Reading Festival.
The group's next single, released in August, had been recorded before Bramah and Schofield's departure. White Lightning was a rockabilly number first recorded by The Big Bopper in 1958 and covered by George Jones in 1959. The Fall's take is entertaining enough, but its ramshackle, drunken collision between Chuck Berry and Status Quo verges on end-of-a-long-night karaoke and feels a little lazy and obvious. It was one of the group's most frequently played songs, however, clocking up 275 performances, often as an encore. It reached 56 in the singles chart.
The b-side, Blood Outta Stone, is a great deal more interesting. A 60s-style psychedelic jangle, with all manner of odd background sound effects and a really strong MES performance, it's a bit of a mystery as to why this wasn't the a-side.
The 12″, limited numbered edition 12″ and CD (entitled The Dredger EP) featured a variety of extra tracks. Zagreb is driven by a forceful delay/wah-wah string-bending guitar line and a techno-flavoured sequencer and features an enigmatic MES performance. It was played 24 times, including a one-off revival in 1999. The longer version (Zagreb Movements I+II+III) morphs into The Funeral Mix (one of the other extra tracks) towards its conclusion. Funeral itself is a pretty dull slab of instrumental indie-dance crossover that was never played live.
Life Just Bounces (which appeared on the 12″ and CD of The Dredger) marks the first appearance of one of the group's finest songs. This version is a little on the sluggish side compared to later ones, but it's worth noting how excellent Mr Wolstencroft's drumming is here. (We'll get back to this tune on subsequent posts.)
A promo 7″ of the single came with a miniature bottle of White Lightning tequila.
In December, the group released their fourth single of the year. High Tension Line's title (and refrain of 'step down') seems to have been inspired9 by The Second Dream of the High-Tension Line Stepdown Transformer, a 1962 piece by avant garde composer La Monte Young. However, beyond the title, it's hard to see much of a connection between Young's minimalist piece and HTL's accessible and relatively melodic indie-jangle. The single is a strong enough tune and a fairly solid entry in the group's collection of a-sides, if not especially ground-breaking. In Sounds, Andy Peart rather overstated the case with his description of 'a raw, rough thunderbolt built on hypnotic repetition, deadpan aggression and melancholy'. In the same issue, Andy Stout veered the other way, rather harshly describing it as, 'innocuous, inoffensive and ultimately as bland and tasteless as a microwave chicken tikka'. Perhaps due to it being the group's fourth single release of the year, it sold relatively poorly, its peak of number 97 in the charts being The Fall's lowest performance since Living Too Late four years earlier. In the Andy Peart interview, Smith expressed indifference to such matters:
'I don't care about the Top 40 but I have to pretend I do. Anybody who goes on Top Of The Pops is a ponce.'
The video for the single is a rather cheap, confusing and shoddy affair. It features Smith in an SS uniform, albeit with the insignia covered up. The relevance of this is unfathomable (as bzfgt on The Annotated Fall puts it, 'if it provides any valuable clues I'm too thick to dope it out'). Smith's explanation, as ever, didn't really clarify matters:
'I made everyone cover up the SS symbols and swastikas. I'm very anti-Nazi, actually. What they did was criminal. They put German art back about one hundred years.' 10
The b-side featured the unlikely sound of The Fall attempting a Christmas song. Xmas With Simon, featuring jaunty whistling, cheesy keyboards (courtesy of Wolstencroft) and some startlingly delicate and plaintive ('Jesus… it's Christmas') backing vocals is at once terrible, hilarious and delightful. You can't help but wonder what committed Christians would make of the notion that the messiah's birth surrounded by animals led to 'no set amount to the number of diseases' or his death at 33 being 'as good a time as any'. Perhaps unsurprisingly, it was never performed live.
The bonus track on the 12″ was Don't Take The Pizza. Oddly, Simon Rogers received a writing credit for the song, despite having left the group three years earlier and claiming in a 2006 interview that he didn't even remember the track. Featuring a bouncy bass line reminiscent of Oh! Brother, it's solid enough if not exactly indispensable; it does however contain one of Smith's best put-downs: 'you dopey randy acid clone'. It was played only five times, all towards the end of 1990.
Shortly before Shift-Work's release, the group recorded their 14th Peel session. Broadcast on 23 March 1991, it featured The War Against Intelligence, Idiot Joy Showland, A Lot Of Wind and The Mixer.
In The Wider World…
On the 9 April, Georgia declared its independence from the Soviet Union; meanwhile, Soviet troops began to leave Poland. In the UK, George Carey became Archbishop of Canterbury. The children involved in the Orkney Islands satanic abuse case were returned to their families after the case was thrown out of court. The consistently unpopular Poll Tax (Community Charge) was replaced with Council Tax.
On TV, Prime Suspect (starring Helen Mirren) was aired for the first time. Monty Python's Life Of Brian had its TV premiere twelve years after its release, as part of Channel 4's Banned series. On Terry Wogan's chat show, former footballer David Icke gave an infamous interview where he appeared to claim to be the son of God. (The comments on that YouTube video are as startling as the video itself.)
In the UK singles chart, Chesney Hawkes' The One And Only was in the middle of a five-week run at number one. The unspeakably tedious Eurythmics were at the top of the album charts (where they would stay for nine weeks) with a greatest hits compilation. You can see the Top Of The Pops chart rundown from two weeks before Shift-Work's release here.
The Fall Live In 1990-91
Following Extricate's release the Fall played 75 gigs in 1990. A punishing schedule saw them perform 20 UK dates in March: Popcorn and Chicago debuted on the first night in Poole; Theme from Error Orrori and British People In Hot Weather followed on the 8th at Liverpool; Butterflies 4 Brains first appeared on the 22nd in London.
On the 29 March, the group opened the European leg of their tour in Amsterdam, which was followed by a further 19 dates that took in Belgium, Germany, Switzerland and the Balkans, finishing on the 26 April in Paris. Zagreb was first played in Belgium on 31 March and White Lightning in Berlin on 9 April.
After a couple of US dates in May, the group headed off to Australia and New Zealand for a 12-date visit in June and July, Life Just Bounces receiving its debut at the last of these gigs.
Following Bramah and Schofield's sacking, The Fall played three Japanese dates before returning to the UK for the Reading Festival. The group appeared second on the bill on the last night of the festival. They opened with the first ever (albeit instrumental) performance of You Haven't Found It Yet and also debuted Blood Outta Stone, which you can see from 6:30 in the video of the whole performance below.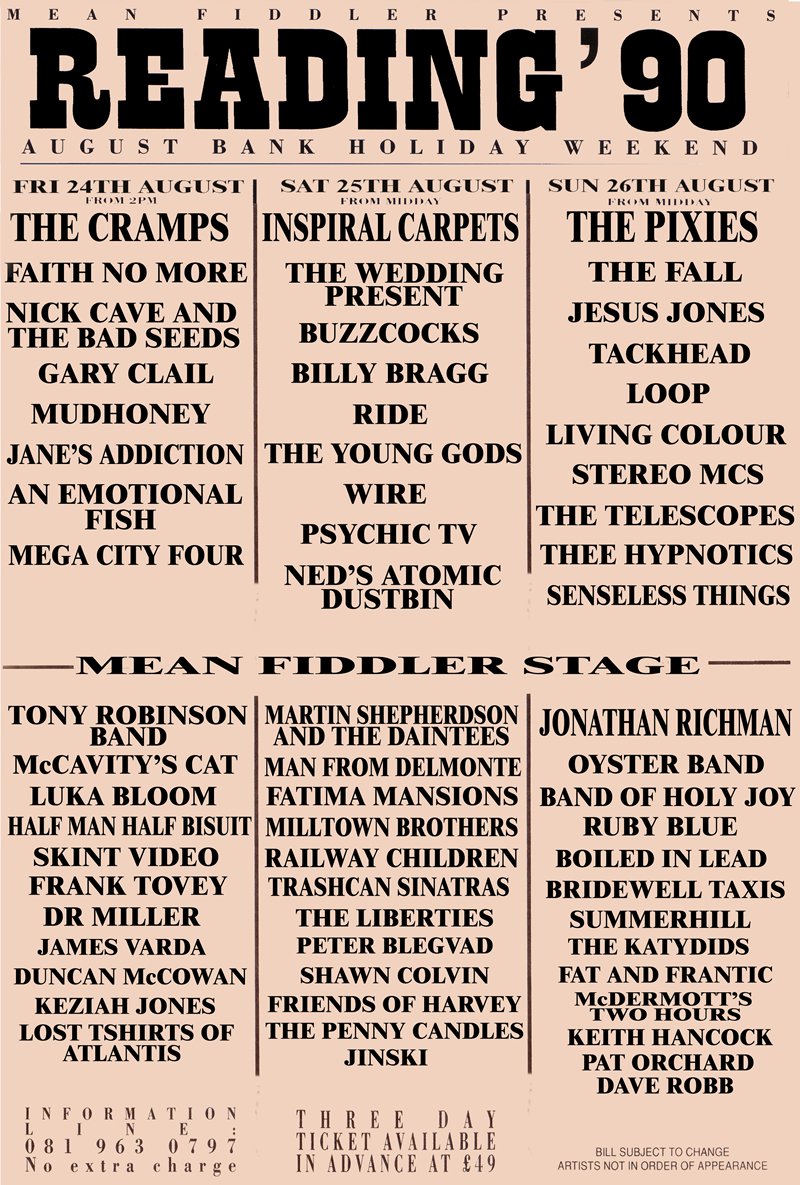 The group ploughed on into Autumn and Winter. They played Israel and Greece in October, before returning to the UK for a one-off gig in Norwich where High Tension Line and Don't Take the Pizza got their first outings. On the 1 November, they played at a festival in Barcelona. 'El Festival de Tardor' (Autumn Festival) lasted for two months and featured hundreds of artists (including Philip Glass and Laurie Anderson) as well as dance, street music and theatre. You can read an intriguing review here – 'Smith doesn't sing, but rather he goads, bellows, vomits and corrupts. His tongue is dirty. And his musical ideas, very clear.' This gig was also notable as it saw the start of Dave Bush's association with the group, at this stage working backline.
The Fall rounded off their marathon year with a further dozen UK dates in December, where Idiot Joy Showland (on the 2nd in Nottingham) and Pittsville Direkt (6th, Edinburgh) were debuted.
The Album
Much of Shift-Work was written only a short time before the recording sessions. According to Steve Hanley, the group had only recorded four songs with Grant Showbiz in late 1990, and by January still only had 'a handful of rough ideas for the rest'11. Dave Thompson asserts that 'much of the new album was written on the very eve of the recording sessions, as Smith raced to replace the clutch of collaborations that he and Martin Bramah had already completed before the guitarist's departure'12.
As a result, unlike previous albums, the majority of songs on Shift-Work were not repeatedly 'road-tested' on stage before their release. Only Idiot Joy Showland, You Haven't Found It Yet and Pittsville Direkt were performed before the album went on sale. Most were not played until the European dates in May that marked the group's return to the stage after the exertions of 1990. It is also notable that most Shift-Work songs had (even by The Fall's standards) only a brief shelf-life on the setlist. Only Idiot Joy Showland racked up a significant number of appearances (92); You Haven't Found It Yet, A Lot Of Wind and The Book Of Lies didn't make it into double figures and So What About It?, Rose* and Sinister Waltz were never performed live at all. Also, there were no 'late period revivals' for these songs – the performance of Idiot Joy Showland in December 1997 at Bristol was the very last outing for any of the dozen songs on the original LP. Only White Lightning (a bonus track on the CD) had any real longevity.
The cover art was provided by Pascal Le Gras, a French artist who went on to have a long association with the group. A Fall fan from the moment he heard the group on radio ('I was stupefied and immediately ran to the record shop'13), he approached Smith after the group's Paris gig in April 1990 to offer his services. Smith described him as 'a sublime genius', even if he could 'hardly understand a word he's saying'14.
Another notable feature of the album was the emergence of Dave Bush. Bush was an experienced sound engineer who had worked with The Clash and Echo and the Bunnymen, who started working with The Fall in late 1990. He was not initially a fan of the group (he thought they sounded like 'Les Dawson playing piano'15) but soon became so. Smith seems to have taken a shine to him, and although he only got a 'with' credit on Shift-Work (for 'machines') Steve Hanley observed that during the time that the album was recorded it was 'starting to feel like he's more band than crew'16. Simon Wolstencroft remembers he, Steve Hanley and Craig Scanlon 'spending more and more time at Dave's home studio in Stockport, getting to grips with the new writing method, on a PC'17.
Once Bush became a Fall enthusiast, he became determined to drag the group into the 90s: 'When I hear you guys play, I'm hearing extra sounds in my head that I can produce alongside… you [SH] and Craig make a good noise together. But it'd sound banging with loops and beats and sequences and sub-bass'18. Although Bush did not receive any songwriting credits on Shift-Work, his influence can already be heard in the electronics on So What About It? and The Mixer.
*On the Fall Online Forum, asiffromheaven says that he is sure that the group played the song in Sydney on 11 July 1990.
Smith was nervous about how the album would be received19, but his fears proved to be groundless as the music press once again queued up to lavish the group with praise. In the NME, Stephen Dalton gave the album full marks, describing it as a 'no-contest knockout' whose songs came 'thundering out of the trenches with all barrels blazing'. In Melody Maker, Jon Wilde thought it represented The Fall at their 'awkward, bloody-minded, self-respecting best'20. The public seemed to agree: Shift-Work reached number 17 in the album chart, their highest placing yet.
The Songs
So What About It?
The album's opener defiantly announces the group's new direction. Smith's cry of 'Fall advice' seems to occasionally morph into 'Fall advance' (to these ears anyway – and to bzfgt's) which appears fitting given the track's venture into sequenced electronica. The combination of Scanlon's crunchy, fuzzy power chords and the hard-edged synth sequencing gives it an almost anthemic tone, which flirts with feeling dated but actually holds up pretty well in retrospect. It's touch and go though: despite Simon Wolstencroft's assertion (which titled the last entry) there is something just a little 'baggy' about SWAI?'s sound; you can hear it especially in the opening seconds where the guitar/dance rhythm combination almost puts you in mind of The Farm et al. Smith's drawling, disdainful nearly melodic (if occasionally off-key) vocals strengthen the sense of defiance captured in the track's title.
Idiot Joy Showland
Perversely – perhaps with intentional irony – SWAI?'s musical nod to the contemporary fashion for indie/dance crossover is immediately followed by Smith's famously withering put-down of the whole Madchester scene. In a Sounds interview in December 1990, he claimed that, 'I'm very glad now that I stated at the beginning of the year that The Fall want no part of the Manchester scene.' He expressed derision for the likes of Shaun Ryder and co. – 'The Happy Mondays upset me very much… they practise their north Manchester accents'.
Showland nails completely the shallow, bandwagon-jumping nature of said 'scene': 'The shapeless kecks flapping up a storm'; 'Your mystic jump suits cannot hide your competitive plagiarism'. Smith also finds time for a dig at Paul Gascoigne and his tears at Italia '90 – 'Your sportsmen's tears are laudanum' – revisiting the distaste for the middle-class/mainstream takeover of football that he first expressed a decade earlier in Kicker Conspiracy. It also reflects the derision he felt for non-musicians such as sportsmen getting involved in the music industry: as he said in the December Sounds interview, 'I seriously object to boxers and footballers releasing records because it's too easy'.
It's a conventionally structured and melodic song and has a strong hook, driven by Scanlon's searing guitar line. There's an impressively muscular, busy bass line from Mr Hanley too. The transitions between verse/bridge/chorus are a touch awkward, but that just helps it to retain its sense of Fall-ness. MES once again makes a serious effort at actually singing, although he rather skirts around the melody in his inimitable fashion. One of only two Fall songs (the other being Ma Riley) to deploy the word 'cock'.
Edinburgh Man
Smith's paean to his (briefly) adopted home is a poignant and melancholy piece that sounds pretty much unlike anything else in the back catalogue other than Bill Is Dead. By MES standards, the sentiment is largely delivered without irony (although it does contain a brief disparaging comment about the city's festival). Possibly the most genuinely sentimental Smith performance on record, it's saved from becoming saccharine by the odd touch of levity (the little laugh at 3:12 on 'cobble stones') and the touch of Elvis that appears towards the end. Scanlon's two-chord strum is simplistic, but heartfelt simplicity is ultimately the song's strength.
One of the few Shift-Work songs to have any sort of longevity on the setlist, it was played 37 times, surviving until 1995.
[Rather than posting the album version, which anyone reading this has doubtless heard hundreds of times, here's a particularly lovely live version done for MTV in 1991 (although it's a shame that someone turns Craig's guitar down at 1:08).]
Pittsville Direkt
A dark and intense if slightly sluggish song which features some atmospheric slide guitar. Nothing especially wrong with it, although there's nothing much outstanding about it either. MES's sneering, lethargic vocals work well enough, and Cassell Webb's backing adds a haunting atmosphere. It's not entirely clear where 'Pittsville' might actually be, nor what 'they don't ask your telephone silk' might mean. Played 28 times 1991-92.
The Book Of Lies
Possibly inspired by the Aleister Crowley book of the same name, which is undoubtedly the most interesting thing about it. Both MES's vocals and (I think) Kenny Brady's are teeth-grindingly tuneless to an irritating degree, and they're coupled with a bland, nonedescript poppy backing track, insipid lyrics and a woefully simplistic and repetitive melody. Only played live five times, all in 1991.
The War Against Intelligence
According to Simon Ford, this was due to be the album's title until 'the Gulf War started and Smith decided to change the title to something less controversial'21. However, the notion of MES avoiding controversy in this manner does seem a little unlikely (cf Victoria Train Station Massacre). The lyrical theme is certainly as relevant now as it was 28 years ago, considering today's 'tl;dr' / fake news culture, although it's not exactly clearly expressed: 'They stuck out its golden horns and volunteered its essence'.
It's a jaunty, poppy track, buoyed by Kenny Brady's prominent violin part. A little repetitive and obvious, but not offensively so. It was only played live 15 times 1991-92.
Shift-Work
The title track has a gentle, understated insistence to it that's highly affecting and absorbing. It floats along in a melancholy and rather moving fashion, accompanying perfectly the sad tale of a couple falling apart because of incompatible work patterns. The rather odd use of ten (as opposed to nine) to five was later revisited in the group's cover of Lost In Music.
And it contains, of all things, a bass solo from Steve Hanley (at 2:29) which is a delightful, unflashy little interlude that subtly adds a lot to the song. A rather underrated little gem, it only got 20 live outings, the last coming in 1993.
You Haven't Found It Yet
Continuing the melancholy theme, YHFIY sees MES exude ennui as he undertakes an aimless drive around London, including 'flashy Camden Town'. Like the title track, there's a gentle, understated atmosphere that's genuinely affecting, largely created by Scanlon's gently strummed chords. Like Edinburgh Man, there are some light-hearted touches, for example the little chuckle at 1:44.
There are also some rather odd turns of phrase, such as 'mental saw-down of your head', which even Smith himself seemed a bit perplexed by: 'I got the record out to check the lyrics and I couldn't f***ing work them out'. After being used as the (instrumental) opening to the group's 1990 Reading Festival set, the song was only played five more times, all in 1991.
The Mixer
Kenny Brady's insistent violin melody is an integral part of the song, but it's Dave Bush who seems to have the greatest influence here, especially in the delay-heavy Ibiza/rave-style synth pattern that opens the song and reappears throughout. There's a decent song lurking in here somewhere – it has a plaintive melody that MES delivers quite sensitively and the megaphone is wheeled out to give a nice bit of texture – but it's all swamped by the cheap and tinny drum machine, cheesy handclaps and frankly irritating castanets.
A Lot Of Wind
As a recently-divorced musician, it is perhaps not surprising that Smith ended up watching a lot of daytime TV. Wind describes how MES, 'desperate for entertainment', switches on the television and is appalled by the banal nonsense that those involved are spouting. Sadly, in terms of wit, incisiveness and inventiveness, Wind's lyric is a long long way from, say C'n'C-S Mithering or I'm Into CB. Frankly, his lyric is almost as inane as the TV he's deriding:
You see them selling carpets
You see them in the shops
You see them on the kids' programs
And they talk a lot of wind
It's a thin idea, musically as well as lyrically: a simplistic marching drumbeat, a scratchy one-chord guitar and an uninspired bass line. Kenny Brady does his best to inject some energy, but his grinding violin ends up just grating.
The only real point of interest is that Fred Talbot (the 'weatherman… [who] used to teach all our friends') was a teacher at Altrincham Grammar School For Boys which Simon Wolstencroft attended.
Rose
The gentle and melancholy theme of side two continues with Rose, the only track to feature Bramah and Schofield. The repetitive two-chord jangle (a sort of C86 update of Flat of Angles) is pleasingly plaintive and Smith mumbles along mournfully in seemingly heartfelt style. However, it's let down by the slightly hamfisted wah-wah and the irritatingly twee flute. Overall, it's a little flat and unconvincing.
Sinister Waltz
The most intriguing and inventive song on the album. An odd, almost gentle but also somehow malevolent music box/carnival atmosphere is rendered even more peculiar by Smith's mysterious 'he must come down' mantra, apparently delivered down a crackly telephone line. Weird but strangely lovely, it makes for a great album closer.
Reissues & Bonus Tracks
The original cassette and CD versions included High Tension Line and White Lightning. A 2002 reissue added Blood Outta Stone and Xmas With Simon. The album was also released as a double CD with Code: Selfish in 2003.
In 2007, it was reissued as a double CD, disc 2 containing 18 bonus tracks. This included all the tracks from White Lightning/The Dredger and the High Tension Line singles, plus the March 1991 Peel session, three rather pointless techno-flavoured remixes of So What About It? and an equally uninspiring remix of The Mixer called (wait for it…) The Re-Mixer.
There are two further tracks. Cloud Of Black is a monotonous affair, featuring a basic Casio keyboard style rhythm, a lazy three-note riff and a Smith vocal that he appears to be delivering whilst struggling to stay awake. It has 'out-take' written all over it. It's a totally different story with Arid Al's Dream, however. Perversely thrown out on an obscure 1992 various artists compilation,  its spindly, atmospheric guitar line, clattering 'chorus' with frantic violin and thundering drums and energetic, engaging MES vocal performance leaves you scratching your head as to why it didn't feature on the album.
Overall Verdict
Shift-Work  is a divisive album. For those raised on the angular, abrasive Fall of the early 80s, it's just too soft, too poppy; insipid in comparison to Grotesque or Hex. For many others, the early 90s material was their gateway into the wonderful and frightening world and therefore inspires affection. Shift-Work tracks did not generally fare well on the Fall in Fives blog, but they actually make much more sense when taken as a whole.
Like all Fall albums, there are moments to treasure; like the majority of their albums, there are eminently forgettable moments as well. And, not for the first (or last) time, the decisions regarding what was included and what was left to b-side/compilation obscurity are frequently perplexing.
Whilst there is much to love about the album, it has two key weaknesses. Firstly, there are too many songs where the group sound like they're following musical trends rather than ignoring them or forging their own. Secondly, the fact that the material was largely composed in a hurry, without being tried out on the road, is painfully apparent in places: there are too many half-formed or thin ideas (e.g. A Lot Of Wind or Book Of Lies).
My "Version"
If ever there was an album that cried out for a 'version', it's this one…
Side 1: So What About It? / Blood Outta Stone / The War Against Intelligence / You Haven't Found It Yet /High Tension Line / Edinburgh Man (22:57)
Side 2: Zagreb (Movement II) / Arid Al's Dream / Shift-Work / Idiot Joy Showland / Sinister Waltz (22:07)
Rankings
I was actually quite surprised how much I warmed to Shift-Work, which I would always have considered one of my least favourite Fall albums. As I mentioned above, it makes much more sense as a whole album; the process of writing the Fi5 blog often led to its individual tracks floundering and paling in comparison to both early and late period Fall selections.
That said, there are some weak tracks here, and nothing that compares to the group's greatest moments. The songwriting is marginally better than Frenz overall, and it's not as inconsistent as LATWT, but it lacks the invention and angular aggression of Dragnet.
This Nation's Saving Grace
Perverted By Language
The Wonderful And Frightening World Of
Hex Enduction Hour
Slates
Grotesque
I Am Kurious Oranj
Room To Live
Extricate
Bend Sinister
Dragnet

Shift-Work

Live At The Witch Trials
The Frenz Experiment
The two singles are both okay, but neither make much of a dent on the list when you consider what went before:
Living Too Late
Jerusalem/Big New Prinz
Kicker Conspiracy
The Man Whose Head Expanded
How I Wrote 'Elastic Man'
Totally Wired
Marquis Cha-Cha
Lie Dream Of A Casino Soul
Cab It Up
Cruiser's Creek
Hey! Luciani
Mr. Pharmacist
Couldn't Get Ahead/Rollin' Dany
Look, Know
Telephone Thing
There's A Ghost In My House
Victoria
Hit The North
Bingo-Master's Break-Out!
Rowche Rumble
Fiery Jack

High Tension Line

It's The New Thing

White Lightning

Popcorn Double Feature
Oh! Brother
c.r.e.e.p.
References
1The Big Midweek, p323
2You Can Drum But You Can't Hide, p148
3The Big Midweek, p323
4-5You Can Drum But You Can't Hide, p148
6Select, quoted in Thompson, p113
7The Big Midweek, pp326-327
8The Big Midweek, p328
9Ford, p206
10Vox, June 1991
11The Big Midweek, p333
12Thompson, p119
13-14Ford, p209
15Ford, p205
16The Big Midweek, p333
17You Can Drum But You Can't Hide, p157
18The Big Midweek, p334
19-21Ford, p208