"Either the best or worst record you've ever heard."
Details
Recorded: West Heath Studios, London, Beethoven Street Studios, London and PWL Studios, Manchester mid-1997.
Released: 29 September 1997
Mark E Smith – vocals, keyboards
Steve Hanley – bass
Julia Nagle – keyboards, guitar, programming
Simon Wolstencroft – drums
Karl Burns – drums
Tommy Crooks – guitar
Andy Hackett – guitar
Background
When The Fall returned from their trip to Denmark to play the Roskilde Festival in the summer of 1996, Smith revealed to Wolstencroft and Hanley that the group had been presented with a £32,000 VAT bill1 (for which the three of them were jointly liable). They avoided bankruptcy by agreeing to pay the debt out of future earnings2 , but money was becoming a serious issue for the group; Simon Wolstencroft even turned to driving a taxi to supplement his income3. Declining sales (since Infotainment Scan's impressive number nine chart placing, the group had failed to dent the top 40 of the album chart, and they hadn't had a top 40 single for four years) meant that revenue from gigs was more important than ever. However, the group only played 35 gigs in 1996 and 1997 combined – compared to 51 in 1993 and 73 in 1990.
Smith's continuing issues and their impact both on and off stage no doubt weighed heavily on the minds of potential promoters. At London's Astoria in June 1996 he walked off stage three times4. On the way to the Roskilde Festival from the airport, not wishing to share transport with UK hip-hop group The Brotherhood, Smith used the unfortunate phrase 'get off the bus, boy'. Brix5 and Wolstencroft6 defend Smith against charges of being a racist, but both were clearly shocked by the incident. Both also report that Smith received 'a hiding'7 for his troubles.
On June 30, the group clocked up their twentieth Peel session. Broadcast on 18 August, it consisted of D.I.Y. Meat, Spinetrak,  Spencer and a Captain Beefheart cover, Beatle Bones 'n' Smokin' Stones.
Because of all the financial and behavioural issues, before she joined the group for their Autumn 1996 tour Brix insisted on being paid in advance (and in cash) for each date. This only actually happened on the first night, however8. Her nervousness about the tour was well-founded. The performance in Cheltenham on 4 October (where Smith apparently9 temporarily sacked half of the group during the gig) was described by a contributor to thefall.org's gigography as an especially tetchy one:
'Mark was constantly messing around with Brix's guitar amp, turning the dials, changing the sound, altering the volume, much to her annoyance. Loads of tension.'
Things got even at worse at Motherwell the next day. Smith threw a mike stand 'like a spear'10 at an unfortunate sound man, leading to a huge row with Brix11 during which  she threatened to hit MES with her guitar. A shaken Brix headed for Glasgow airport and flew back to London. The gig itself is described by another contributor to thefall.org's discography:
'She never appeared on stage. Mark, unfortunately, did, and peering at the audience shook his head at the fifty-plus crowd and immediately tried to pull the band offstage. Hanley refused… The gig was a farce… numerous walk-offs… After forty-five minutes Mark E grabs a guitar and hides behind a speaker, strumming and grinning with no teeth. What a disaster.'
The group's insane tour itinerary (Cheltenham – Motherwell – South Shields – Worthing) saw them arrive on 6 October for a performance at the opening weekend of the new South Shields Arts Theatre. It never took place: the theatre manager insisted on the group performing at the prescribed times; MES found himself unable to oblige; things descended into chaos – the disgruntled crowd ripped up seats, attacked the group's tour bus and six police cars arrived12.
Two nights later, the group played Worthing Assembly Rooms, a gig that some consider to be The Fall's worst ever performance. Simon Ford describes the tour at this point as an 'increasingly macabre pantomime'13. Smith sang very little and just gave the mike to the crowd; he exited then reappeared bare-chested beneath a jacket (possibly Nagle's); and finally he fell flat on his back after someone at the front of the crowd tied his shoelaces together. Worthing Council were so appalled that they refused to pay the group's fee. There are reviews of the show here and here.
By this stage, Smith's problems seemed to have gone beyond excessive drinking. Brix describes how, in a hotel room, he turned all the paintings to face the wall because they 'were speaking to him and spirits were coming out of them'14. She, as well as Simon Wolstencroft and Steve Hanley, noted Smith's growing obsession with washing his hands:
'Washing his hands constantly… claiming he'd caught a skin disease after shaking hands with a young girl in a wheelchair. He had welts on his arms, trying to bite away the sores.'15
Brix also suggests that he was having seizures at the time: 'Often he would turn up to a gig with a blackened tongue or a bruised face, from where he's smacked it while thrashing and writhing on the ground.'16
Brix was persuaded to return for one last gig – the group's penultimate 1996 performance at London's Forum on 11 October. At the end, she said 'goodbye' rather than her customary 'good night'.
Steve Hanley's summary17 of the tour:
'Total tour wreckage: five mike stands, seven bus lights, several theatre seats, three cordless mikes, two amps and one lead guitarist.'
A new guitarist, Adrian Flanagan (Smith's sister Caroline's boyfriend) joined the group for their final gig of the year in Berlin on Christmas Eve, and would play with them four more times. His last gig was at London's Astoria in February 1997, a tribute gig to music journalist Leo Finlay – the group played And This Day (Finlay's favourite song18) for the first time in 14 years, which was the track's final outing.
Despite his and the group's difficulties. Smith once again managed to squeeze in a guest appearance, this time on Edwyn Collins' Seventies Night. (Steve Hanley was less than impressed: 'The hypocrisy is sickening'19). The song featured on Collins' album I'm Not Following You. Smith seems to have enjoyed the experience, and asked Collins to produce The Fall's next album. Collins declined, but did offer the use of his Hampstead studio20; his guitarist Andy Hackett also played on Levitate.
After Adrian Flanagan's departure, the guitarist role was filled by Tommy Crooks. Crooks, who had contributed some (uncredited) art work to The Twenty-Seven Points, had written to Smith offering his services when he heard about Craig Scanlon leaving the group. In time-honoured tradition, he was given a long list of songs to learn and then discovered that none of them were to be played at his debut gig (13 May, Jilly's Rockworld, Manchester).
The two gigs that the group played at Jilly's also featured Simon Spencer, aka D.O.S.E. (Kier Stewart, Spencer's partner in Inch, had made a one-off appearance for The Fall at the preceding gig at the Astoria on 26 February). The second (May 14) performance at Jilly's proved to be Simon Wolstencroft's last.
In The Wider World…
Just before the album's release, Wales voted in favour of devolution and the formation of a National Assembly for Wales. The BBC released a version of Lou Reed's Perfect Day with performances (of highly variable quality) by various artists that raised over £2m for Children In Need.
A month before Levitate came out, Princess Diane's death had flung much of Britain into a bizarre, sentimental, almost medieval orgy of bereavement. As a result. Elton John's unspeakably maudlin Candle in the Wind 1997 was in the middle of five-week stay at number one. Ocean Colour Scene's pedestrian indie/pub-rock (and thankfully largely forgotten) album Marchin' Already was number one in the LP charts.
The Fall Live In 1996-97
1996 was almost as quiet a year for Fall gigs as 1995, featuring only 19 performances – just three more than the previous year. Their second gig of 1996, at London's Astoria on 26 June was recorded and released (in August 1997) as 15 Ways To Leave Your Man.
It's an interesting recording, given that it documents the group at a very difficult point in their history, but it's not a great listen. The vocals are way too loud throughout, the music buzzing away thinly in the background; the (often tuneless) backing vocals are distractingly obtrusive (Brix's disgruntled rasp on Darling is almost comical).
There's a certain tense energy about it, but the overall impression is of a group only just about holding it together; The Mixer, for example, sounds like they only learned the track half an hour before the gig. Not for the first time, it sounds like Wolstencroft and Hanley are mainly responsible for preventing it all from falling apart.
After the Astoria performance, the group played Roskilde, Sheffield Leadmill (where Secession Man got its first and only outing) and the Phoenix Festival. In September they played at the BAM (Barcelona Acció Musical) festival. A review in La Vanguardia (translated here) paints a picture that was becoming only too familiar:
'The Fall, led by the dangerous and repulsive man who responds to the name of Mark E Smith… unpredictable and irate, he didn't let down expectations… It seems that the Fall arrived at a time of big internal tensions and this was obvious on stage. A wrinkled and stubborn Mark E Smith constantly kept leaving the stage during a gig which lasted under an hour and which was summarily interrupted by him during the encore.'
The September/October tour kicked off in Oxford before moving on to Cannock, where Ten Houses Of Eve and Hurricane Edward received their debuts. A recording of the next night's gig in King's Lynn was one of the recent Set Of Ten releases;  it's another one I haven't actually heard yet.
Masquerade was performed for the first time at Norwich on 29 September.
October saw the group play (or not play) their infamous sequence of gigs in Cheltenham, Motherwell, South Shields and Worthing. The bootleg recording of the Motherwell gig is actually not the car crash you might expect it to be. It's messy, certainly, but the most notable thing is how well – given the circumstances – the group (Wolstencroft and Hanley in particular, yet again) hold things together. After Brix's final gig at the Forum, the group's last performance of 1996, in Berlin on Christmas Eve (review here), saw their version of Hark The Herald Angels Sing being played for the first and last time.
The first gig of 1997, at Bristol's Bierkeller, saw Ol' Gang's debut, as well as Hip Priest's first outing for nine years. Lie Dream Of A Casino Soul was also revived on the next night in Swindon, this time after eleven years.
The February 26 date at the Astoria featured And This Day (see above) as well as the first of Plug Myself In's four appearances. It was also the only performance of the Smith / Hanley / Nagle / Flanagan / Stewart / Wolstencroft line-up; the review of the bootleg on Reformation describes it as 'horribly under-rehearsed… a bit of a trial to sit through'.
The May 13-14 gigs at Jilly's (see above) were Tommy Crook's first performances with The Fall, and Simon Wolstencroft's last. Crackhouse and Kimble both got their only two outings at this pair of gigs; Everybody But Myself received its debut on the first night, and part of its performance on the second was used on the Levitate version. The Reformation review of the second night provides this summary:
'All in all a most peculiar confection of moments of pure Fall magic and totally under- rehearsed un-togetherness and mayhem. Charmingly and effectively barking mad in summary. Worth getting for the silliness and Funky Si's last gig. At least you can say its not boring.'
The July 27 Cardiff gig featured Karl Burns returning yet again, and a performance of Hurricane Edward that was used on the album version. After dates in Bangor and Edinburgh in August, the group's last gig before Levitate's release was at Camden Dingwall's on 24 September. It saw several Levitate tracks receive their live debuts: The Quartet of Doc Shanley, I'm A Mummy, Levitate, Spencer Must Die and Jungle Rock. This performance also featured a one-off reunion with Michael Clark.
The Album
The group began recording the album in July 1997. Simon Spencer and Kier Stewart were lined up to produce, but the relationship broke down rapidly. Typically, Spencer and Stewart's version of events differed greatly from Smith's: they apparently found his methods ('staggering around, kicking things over and shouting stuff down the drum mikes') impossible to work with; MES claimed that he dismissed them for taking an overly 'rock' approach21.
Steve Hanley was less than impressed with the duo, describing them as 'two zeitgeist blaggers who are desperate to work with us'22. His version of events does, however, support Spencer and Stewart's claim that MES was difficult to work with ('It's impossible getting him to sing at all today… Instead he starts to mess around with a stylophone and spends the entire day working his way around the plethora of antique studio equipment') but also suggests that the issue of Spencer and Stewart's remuneration was the producers' greatest concern23. Hanley also casts doubts on the duo's competence:
'They set about miking up the drums, seeming for all the world like they've been doing this for years. But it was only last week that they were procuring a crash course from the demo-studio technician.' 24
Most of the material that Spencer and Stuart recorded with The Fall seems to have been wiped. However, the duo did retain a track called Inch (which would form the basis for 4 1/2 Inch). Featuring a secretly-recorded piece of MES dialogue (where he describes to Kier Stewart how the bass and drums should sound, in rather comical 'human beatbox' fashion), they sent it out to John Peel and several record companies with (according to Stewart) the message, 'Hey guys, check out the sound of my new album. This is the brand new Fall sound and I think you'll agree – it rocks!' It was eventually released in 1999:
The most notable event of the album's recording, however, was Simon Wolstencroft's departure. One of the factors involved seems to have been Everybody But Myself, which he had co-written and had anticipated being a potentially poppy, commercial single – not exactly how it turned out. This is presumably what Steve Hanley is referring to when he describes Wolstencroft having 'seemingly endless rows [with Smith] about a song he has written'25. Wolstencroft's need to resign from the partnership that he and Hanley had signed up to in order to avoid the crippling VAT bill was undoubtedly also a factor. However, Wolstencroft himself probably sums it up best himself: 'I was out of money and patience'.
And so the group said goodbye to one of its most stalwart contributors. Eleven years in The Fall is, of course, a remarkable achievement in itself, but Wolstencroft should also be commemorated for his huge contribution to The Fall sound, both through dozens of writing credits and (by my reckoning) 456 live performances. I should add that his very engaging and informative book (buy it here) and Twitter videos have been incredibly helpful in writing YMGTA. Also, he has been very supportive of this blog (through likes, retweets, comments, etc.) – it is very much appreciated Funky Si, cheers.
The album was released on Artful Records, which saw the group working once again with John Lennard (allegedly26 Creation had offered to sign the group, but only on the condition that they wouldn't have to deal directly with Smith). The distinctive, abstract cover (certainly an improvement on the last couple) was designed by Tommy Crooks. It only reached 117 on the UK album charts, the worst performance by a Fall album for 14 years.
In the NME, Steven Wells invited his readers to 'Imagine pop without perimeters. Imagine rock without rules. Imagine art without the w*nk.' He described Levitate as 'either the best or worst record you've ever heard'. In Select, Ian Harrison said that the group's 'grudging, scrambled avant-rock has been a weeping sore on music for 20 years now… This is a band as far away from the mainstream as ever with the confounding ability to come back sounding vital just when you least expect it.'
Steve Hanley's summary:
'Weird, but respectable enough.

Like a shanty town almost completely destroyed by natural disaster, against the odds, a meticulous rebuild has left us with a finished product belying the traumas which underlie its creation.' 27
The Songs
Ten Houses Of Eve
The album's opener takes a twist of jerky drum & bass then adds a squelchy synth line, some twangy surf-rock guitar and a bit of grinding, industrial percussion. It then throws in a soft-rock-ballad curve-ball of an interlude, with tinkling piano and MES intoning earnestly about 'your blue green and grey heart / bedecked in lace'. Like all of the best bits of Levitate, there's a slightly unhinged and desperate quality about it; the contrast of Smith's languid, off-hand tone with the frantic rhythm is an especially strong feature, as is the layering of his voice.
The lines 'Identity art / If only the shards would relocate back in place' form part of a mural at Affleck's Palace in Manchester: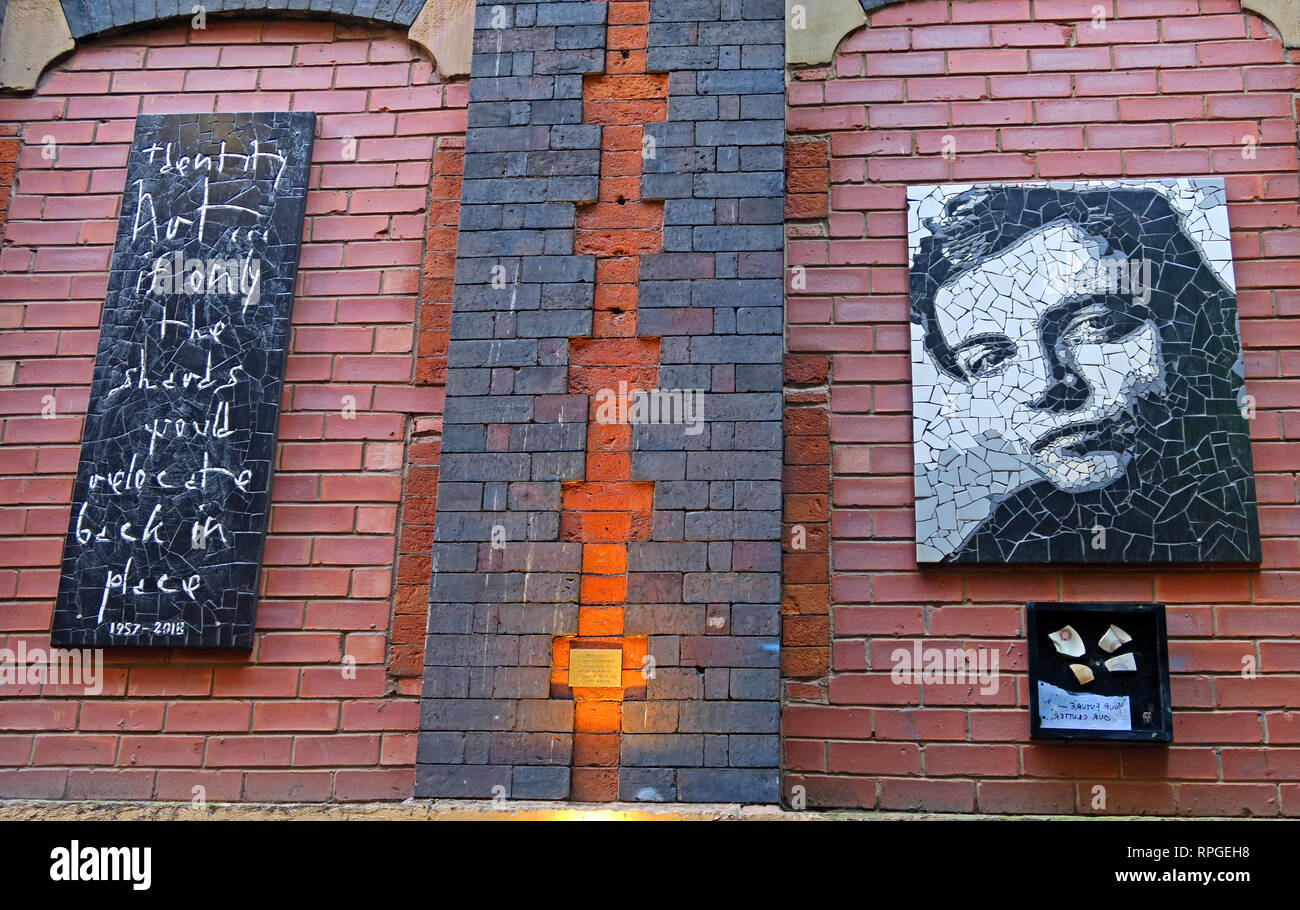 It's also another Fall 'borrow' – this time from The Seeds' Evil Hoodoo. According to Reformation it was the most played song in 1997 and joint first the following year. It was performed 86 times 1996-2000.
Masquerade
A piece of danceable(ish) indie-techno-pop driven by a techno-style synth sequencer, Masquerade is a decent enough tune, although perhaps not quite good enough to justify its multitude of remixes (for example the Record Store Day offering in 2017). Once again, however, Smith's lazy, off-hand contributions contrast nicely with the sharp rhythm. It was played 34 times 1996-98.
Hurricane Edward
Even fans of the song would admit that this is an unholy mess. It's an abrasive cacophony that sounds like the rough ideas for several different songs tossed into a blender: spoken word segments (the opening lines are spoken by Sebastian Lewsley, one of the engineers at West Heath Studios), live snippets, intense and frantic drumming, Sonic Youth-ish guitar torturing, electronic squiggles, cut-up drum machine samples, fuzzy drone noise…
It's a divisive song: some see it as self-indulgent, uninspired nonsense; others (myself included) find it insanely, joyously entertaining. It was played live 40 times 1996-99.
I'm A Mummy
One of the group's more successful covers. As is often the case with The Fall, it's from a pretty obscure source: a 1959 single by Bob McFadden & Dor. You can hear it – plus another 1959 version by 'Bubi & Bob' – here. Both are entertainingly bizarre, and manage the remarkable feat of making The Fall's version sound (almost) quite 'straight' in comparison.
Despite the difficult circumstances of the album's creation, the group sound like they're having a whale of a time on this one, and it buzzes with enthusiasm and energy. The scratchy, trebly lead guitar is a bracing treat, all sorts of entertainingly random noises pop up throughout, and there's a wonderful deadpan hilarity about Smith's delivery. It's tongue in cheek without being throwaway.
It was played live 18 times in 1997-98. There's a great in-depth review of the song quoted here that's well worth reading.
The Quartet Of Doc Shanley
In which Mr Hanley contributes an absolute beast of a bass line; a piece of deranged, mutant funk, distorted to the point of lunacy. It was inspired (according to a 2015 interview) by The Osmonds' bizarrely frenzied piece of acid-glam boogie, Crazy Horses.
It has the unhinged attitude of much of the album. There's almost no mixing to speak of – everything is just loud; you can imagine Smith brushing the engineer aside and just sweeping an arm across the desk to push all the faders up to the top. There's a multitude of layers to the song (which are not always synchronised – 3:01 is a good example) which just adds to the distorted mayhem.
Steve Hanley had this to say: 'One of mine and he makes Julia sing the lyrics. What the f*ck?'28 Lyrically, Quartet is firmly in the 'what in Christ's name is he on about?' category ('Pentangle nine / iadomine penternine'), but the random layering of the three voices is completely in the deranged spirit of the tune. The indecipherable nature of the lyrics also led to one of the most entertaining footnotes ever on The Annotated Fall.
It was only played live twice, in September and December 1997.
Jap Kid
After five manic, energetic songs, the album comes to a bit of a grinding halt. Julia Nagle's simplistic piano melody is almost pretty, but the overriding sensation is of lethargy and aimlessness. The fact that there's a version with vocals later on renders this take head-scratchingly futile.
It was used as a backing tape at four gigs in 1997-98.
4 1/2 Inch
Thankfully we immediately get back to something abrasively random and difficult. Part of the short-lived Spencer/Stewart sessions, it may well be (according to Reformation, anyway) that Smith is the only member of The Fall that actually appears on this track, although Steve Hanley does suggest that it contains samples of both him and Simon Wolstencroft:
'Before coming here, they [Spencer and Stewart] recorded an afternoon of Si and me just playing anything in a demo studio. Then they took the tapes, sampled the sound of me playing the bass, him playing the drums, and created a song.'29
Simon Ford suggests – although it seems rather too 'neat' to be true – that the title came from Smith's perception that the song 'half-reminded [him] of industrial rockers Nine Inch Nails30'.
However it was recorded and named, it's a mad, glorious mess: the sound of several genres each being battered relentlessly against a wall until they're bloodied and semi-conscious then being bound together, crushed and crammed forcibly into the mixing desk. The drums crash, blare and distort; a heavy, twangy funk-rock riff muscles its way in periodically, trying in vain to assert its dominance; a shrill, atonal sci-fi synth darts in periodically, surveys the chaos, shrugs its shoulders and wanders out again; and somewhere, lurking in the shadows, a frightened little harpsichord-effect keyboard tinkles shyly.
Over all of this, the multiple layers of cut & paste MES vocals swarm like enraged wasps; a bit like being surrounded by a crowd of angry drunks getting down to a brawl at closing time in Wetherspoons. The words are frantically, angrily garbled and once again pretty much beyond interpretation; it's hard to argue with The Annotated Fall that the song 'isn't meant to be explained' when it contains lines like' The house is falling in /
ecstatic midges / cloud coverage'.
According to Reformation, it was played only once (in New York on 30 March 1998) 'with some venom'. It captures the overall spirit of Levitate perfectly: bleak, desperate, aggressive, venomous, chaotic, punishing – yet exhilarating.
Spencer Must Die
Co-written with Simon Spencer, Spencer Must Die is one of those songs that have contributed to the MES 'pre-cog' mythology following Spencer's death in 2003.
Like several others on Levitate, there's not much of an actual song, but it lopes along in a loose, head-bobbing fashion; an effortlessly engaging shuffle. Steve Hanley provides a fluid, sliding, oscillating rhythm that unobtrusively underpins everything (notwithstanding the little misstep at 1:19).
There are lots of little details to love: the (slightly cheesy) descending synth line that adds a splash of colour; the little snippets of understated twangy guitar (e.g at 1:34 and 1:37); the distortion on the vocals at 0:28-0:31; the gentle guitar strum that appears at 2:07).
It's more of a skeleton of an idea than a 'proper' song, with MES doing little other than mumbling stuff about sunflowers and raspberries. It also features a fade-out that's abrupt even by The Fall's standards. But, like 4 1/2 Inch, there's an air of confident disregard about the notion of what constitutes a 'proper' song that's uplifting.
Jungle Rock
An odd cover of rather an odd song. Actually, the original song (by Hank Mizell) itself isn't so odd, being a pretty standard rockabilly/novelty tune, albeit one with some pleasingly raw and twangy guitar; what is a little peculiar is that this 50s obscurity was a top ten hit in the UK in the mid-70s, for no apparent reason.
The Fall's version is a rather curious affair in itself. Whilst the original had a earthy, gritty sound, it also had a fairly light-hearted and tongue-in-cheek tone. The Fall transform this into something harsh and abrasive: the synth blares out like some sort of distress signal, the guitars resonate like buzzsaws and MES drawls his way through the ridiculous lyrics with a deadpan disdain. There's something slightly disturbing and discomforting about it; it teeters on the border between strangely compelling and just plain silly.
Ol' Gang
After the old favourite 'Walking down the street' line has been wheeled out again, Ol' Gang is most notable for its sheer, relentless tunelessness. Julia Nagle hammering away at an off-key piano gives it a gloriously discordant and aggressive edge, and there's all manner of distorted squalls of noise in the background. Smith's vocals are aggressively distorted and right at the front of the mix, sometimes uncomfortably so.
It's harsh, discordant and full of the 'f*ck you' attitude that courses through the whole album. It was a popular setlist choice at the time, racking up 54 performances 1997-2000.
Tragic Days
The winner of the 'Fall Wooden Spoon', a cup competition I ran over on The Fall Online Forum to find the group's worst song. It's just 90 seconds of pissing about in (apparently) Martin Bramah's flat. Typically perverse and pointless; it therefore sits entirely comfortably in the middle of such a wilfully difficult album.
I Come And Stand At Your Door
The ponderous, funereal rhythm and simple (if reasonably pretty) piano melody of Jap Kid is strengthened a little by Smith's melancholy vocal. His contribution ('death came and turned my bones to dust') makes it endearingly fragile and sad. It was based on a poem by the Turkish writer Nâzım Hikmet Ran called "The Little Girl," told from the perspective of a dead child who perished at Hiroshima. Smith's hesitant, vulnerable vocals are touching, and work hard to rescue the song from its sluggish lethargy.
Levitate
Reformation quite reasonably describes the album's title track as a 'fairly conventional song'. In terms of structure, chord progression, etc., it certainly is – there's no sudden bursts of drum & bass or live version clumsily spliced into a studio one. It's actually quite a gentle and pleasant tune, and MES tries uncharacteristically hard to work within the boundaries of melodic convention. What is unconventional is the production. The production on Levitate is odd in many different ways; here, with wilful perversity, the treble is turned up ludicrously high and the bottom end is almost non-existent, giving it a feeling of frailty and brittleness.
It's another lyric that deters analysis: 'Had to levitate from a grey map pate / The snazzy japes of a Basingstoke shot / Basing in stocks under the green frock, below the granite complex'. It was played 37 times, 1997-2000.
Everybody But Myself
There's an air of strange, bleak desolation about Everybody But Myself (emphasised by the mournful harmonica-effect keyboard that floats around from time to time), which makes the uptempo house-like chords intriguingly incongruous. The low ebb of Smith's spirits is reflected in the weary ennui of his repeated refrain which stands in stark contrast to both the cheery crowd interaction of the opening and the playful falsetto with which he provides his own backing vocals.
Like a few other songs of the era (e.g. Ibis-Afro Man and Hurricane Edward) the song makes use of a disconcerting mix of live (from the second Jilly's gig – see above) and studio recordings, with the transition as jarring and careless as ever. It is presumably a long way from the chart-friendly pop song that Simon Wolstencroft envisaged.
The Annotated Fall points out that the keyboard riff bears a passing resemblance to Strings of the Strings of Life by Derrick May. It was only played live twice, at the two Jilly's gigs mentioned above.
Reissues & Bonus Tracks
There was limited version of the album released at the time, which a included a 5-track bonus CD. Powderkex is a mildly interesting drum and bass-inflected remix of Powder Keg; Christmastide is a rather pointless reworking of Xmas With Simon from the High Tension Line single; Recipe For Fascism is a brief bit of Post Nearly Man-style spoken word.
Pilsner Trail was a Perverted By Language-era tune (originally entitled Plaster On The Hands) – this rather thin and scuzzy live recording is from a March 1983 London gig. The live version of Everybody But Myself is the full version of the second Jilly's performance that was used on the studio version.
For a long time, Levitate was out of print and very hard to obtain. In 2018, however, Cherry Red reissued the album in triple vinyl and double CD formats. Both versions contain the five original bonus CD tracks, plus a further nine songs that came from the various versions of the Masquerade single that were released in February 1998.
Three of the nine are remixes of Masquerade. The 'single mix' is a little slurred and sluggish; the 'Mr Natural mix' is a rather ham-fisted and overlong funk/techno version; the 'PWL mix' is just the 'single mix' with the bass turned up a little.
Ivanhoe's Two Pence, however, is one of those obscure little gems that are dotted around the group's back catalogue. Closely related to Levitate's title track in terms of melody and structure, it's a gentle strum, but one that features an interesting voice sample that intertwines with MES's vocals throughout. A cute little high-pitched keyboard line, a bit of basic one-fingered piano and (possibly) a squeaky recorder make brief appearances too. It was played live once, in New York on 30 March 1998.
The live take of Spencer Must Die features some more 'splicing', this time between two live versions. The first section (from 9 December 1997 at the Bristol Bierkeller, according to Reformation) is a slow, thoughtful version and is crystal clear in terms of recording quality; the rest is much more lo-fi, abrasive and aggressive. It makes for a pleasing contrast, although it's terminated rather abruptly.
The remix of Ten Houses of Eve doesn't add a great deal to the original beyond boosting the bottom end and turning up the reverb; although it does kick off with admirable aggression from 2:31 onward.
Calendar is even more of a hidden gem than Ivanhoe's Two Pence. One of the anecdotes that was most regularly trotted out in all the obituary pieces when Smith died was the story of how he mistook Damon Gough for a taxi driver and left his dentures in Gough's car (there's quite a touching little account from Gough himself here). The last thing that you might expect from a Fall/Gough collaboration – given the perverse nature of most things to do with Smith and The Fall – is that it would actually sound like MES singing a Badly Drawn Boy song. However, surprisingly, that's exactly what it does sound like. The combination of the intricate, precise little guitar line (characteristic of BDB songs) juxtaposed with Smith's smeared, haphazard but delicate vocal is simply lovely. It was played live 18 times 1998-99.
Scareball is a straightforward, stomping rocker that is sound enough but has a distinct flavour of b-side. It was played live nine times, all in 1998. The live version of Ol' Gang (from 9 December 1997 at the Bristol Bierkeller) lacks the nagging one-note keyboard line of the studio version, but is instead heavy on the power-chord guitar. Mildly interesting but lacking in subtlety.
Overall Verdict
Steven Wells' line about Levitate being 'either the best or worst record you've ever heard' might seem at first glance to be a typical piece of throwaway soundbite journalism, but there is some substance to what he says. The album is one of the most divisive amongst Fall fans, a majority considering it substantially flawed and a fair few considering it to be one of their weakest moments (perhaps only Are You Are Missing Winner, Ersatz GB and Reformation Post-TLC would attract significantly more 'worst Fall album' votes). That said, it also has a small but passionate coterie of admirers.
What is inarguable is that – both sonically and lyrically – Levitate captures (possibly better than any other Fall album) the emotions and dynamics of the group at the time. There's an atmosphere of bleak, chaotic desperation that runs through the songs (the abrasive bedlam of 4 1/2 Inch; the keening pathos of Everybody But Myself; the anti-song aggression of Hurricane Edward) that reflects with chilling accuracy the dysfunctional and disintegrating environment that the wonderful and frightening world had become by 1997. Smith's alcoholic paranoia; Hanley's stoic but simmering frustration; Wolstencroft's nervous impecunity – plus the resentful, regretful ghost of Brix's promising but unfulfilled second coming – are etched clearly into every single groove of the record.
And yet, the album is not without its lighter moments – the exuberant zeal that both Smith and Crooks display on I'm A Mummy; the repeated use of 'complete and utter pranny' on Quartet of Doc Shanley; the throwaway silliness of Tragic Days – that cut through the otherwise bleak and unforgiving atmosphere.
Levitate epitomised catastrophe and triumph in equal measure. Catastrophe in that it saw the group sinking into obscurity (117 in the charts; gig attendance occasionally in only double figures) and utter turmoil (as will be seen in the next post that covers the events of 1998). But it also represented triumph amidst adversity – there cannot be many (if any) other artists who would ever even have got this album recorded and released under the circumstances.
My "Version"
Like Light User Syndrome, there's a better album to be had from playing around with the running order and editing out the weaker tracks; but here there are also a couple of very worthy additions.
Side One: Ten Houses of Eve / Masquerade / I'm a Mummy / Ivanhoe's Two Pence / Calendar / Hurricane Edward (21:51)
Side Two: 4.5 Inch / Spencer Must Die / Ol' Gang / Levitate / The Quartet of Doc Shanley / Everybody but Myself (22:14)
Rankings
As far as the album itself goes (the single/live album rankings were pretty straightforward here), it's a very tough call, this one. Of course it has its flaws (Your Door is rather dreary; Jap Kid is pointless; Jungle Rock is a nice try that misses its target; Tragic Days takes the p*ss in a not especially entertaining way – although it is only 89 seconds long) and it is, overall, a bloody difficult and challenging album. But if you don't want difficult and challenging then clearly you're listening to the wrong band.
And then: Ten Houses, 4/12 Inch, Quartet and Hurricane are amongst the group's most thrillingly innovative work. Plus, Levitate is inexplicably lovely; and, much as I try to be objective in these posts, I love Spencer Must Die in a way that I can never entirely successfully put my finger on.
It's clearly a better album than Cerebral Caustic; but it also falls short of Hex. For me, it just pips Slates and Grotesque in terms of thrilling invention and in the way it captures a pivotal time in the group's career. (I am also aware that, possibly more than any other album on this blog, I will face criticism and derision wherever I put it.)
This Nation's Saving Grace
Perverted By Language
The Wonderful And Frightening World Of
Hex Enduction Hour

Levitate

Slates
Grotesque
Cerebral Caustic
I Am Kurious Oranj
Room To Live
The Infotainment Scan
Extricate
Bend Sinister
Dragnet
The Light User Syndrome
Middle Class Revolt
Code: Selfish
Shift-Work
Live At The Witch Trials
The Frenz Experiment
Singles: there's not much actually wrong with Masquerade, but its seemingly endless versions have rendered it just a little tiresome. A solid enough song, but not one that many would reach for when knocking up a compilation.
Living Too Late
Jerusalem/Big New Prinz
Kicker Conspiracy
The Man Whose Head Expanded
How I Wrote 'Elastic Man'
Totally Wired
Free Range
Behind The Counter
Marquis Cha-Cha
Lie Dream Of A Casino Soul
The Chiselers
Cab It Up
Cruiser's Creek
Hey! Luciani
Mr. Pharmacist
Couldn't Get Ahead/Rollin' Dany
Look, Know
Telephone Thing
There's A Ghost In My House
Victoria
Hit The North
Bingo-Master's Break-Out!
Rowche Rumble
Fiery Jack

Masquerade

Ed's Babe
High Tension Line
15 Ways
It's The New Thing
White Lightning
Popcorn Double Feature
Why Are People Grudgeful?
Oh! Brother
Live albums: 15 Ways To Leave Your Man's attractions are historical and contextual rather than to do with sound quality and performance.
Live To Air In Melbourne '82
In A Hole
A Part Of America Therein, 1981
In The City…
Nottingham '92
The Legendary Chaos Tape / Live In London 1980
Totale's Turns
The Idiot Joy Show
Live In Cambridge 1988
I Am As Pure As Oranj
Live 1993 – Batschkapp, Frankfurt
Live 1981 – Jimmy's Music Club – New Orleans
Live 1977
The Twenty Seven Points
Seminal Live
Live At The Phoenix Festival
Live In Zagreb

15 Ways To Leave Your Man – Live

Austurbaejarbio
BBC Radio 1 Live In Concert
Live 3rd May 1982 Band On The Wall Manchester
Live 1980 – Cedar Ballroom Birmingham
Live From The Vaults – Alter Banhof, Hof, Germany
Live From The Vaults – Glasgow 1981
Live From The Vaults – Oldham 1978
Liverpool 78
Live From The Vaults – Los Angeles 1979
Live From The Vaults – Retford 1979
Live At Deeply Vale
References
 1You Can Drum But You Can't Hide, p208
2The Big Midweek, p424
3You Can Drum But You Can't Hide, p210
4Ford, p243
5The Rise, The Fall, And The Rise, p388
6You Can Drum But You Can't Hide, p207
7You Can Drum But You Can't Hide, p207 / The Rise, The Fall, And The Rise, pp389-390
8The Rise, The Fall, And The Rise, p390 / Ford, p244
9Ford, p245
10Ford, p245
11The Rise, The Fall, And The Rise, pp396-397
12The Big Midweek, p412
13Ford, p246
14The Rise, The Fall, And The Rise, p391
15You Can Drum But You Can't Hide, p209
16The Rise, The Fall, And The Rise, p394
17The Big Midweek, p415
18Ford, p248
19The Big Midweek, p418
20The Big Midweek, p417
21Ford, p249
22The Big Midweek, p418
23-24The Big Midweek, p419
25The Big Midweek, p420
26Ford, p251
27The Big Midweek, p422
28-29The Big Midweek, p419
30Ford, p252