"It's quite horrible. The Fall have had enough and we're coming for you."
Details
Recorded: January – February 2013, Konk Studios, London and Blueprint, Manchester
Released: 13 May 2013
Mark E Smith – vocals
Keiron Melling – drums
Dave Spurr – bass
Peter Greenway – guitar
Eleni Poulou – keyboards
With:
Tim Presley – guitar (tracks 1,3,7)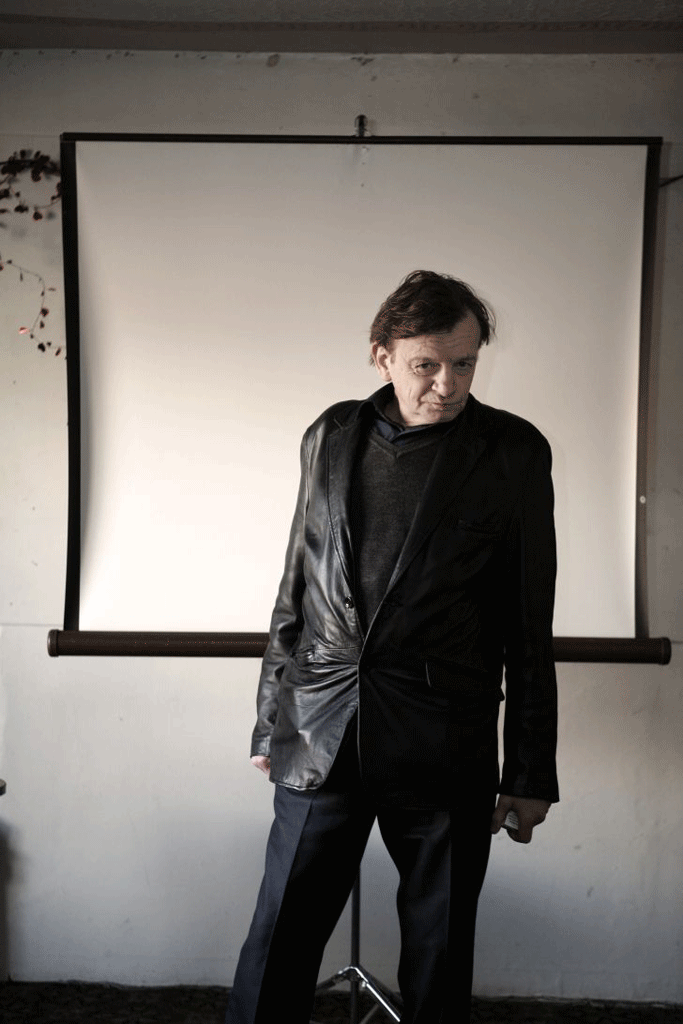 Background / Live 2011-13
After Ersatz GB's release in mid-November, The Fall played seven UK dates to round off 2011, with Tim Presley continuing to cover Pete Greenway's paternity leave. This review by Cod Shellfish from the FOF (of the Cambridge gig on 15 November) suggests that the group were maintaining the good form they'd demonstrated earlier in the month after some wobbles earlier in the autumn:
'MES and band on absolute top form. On stage for over an hour. MES sharp, sober, engaged, relaxed, and really enjoying himself; smiling, interacting with the crowd, and in full voice on every song (sometimes from off stage, but mostly on). Probably the most enthusiastic and on-the-money that I've ever seen him actually – certainly in this century. Faith restored.'
At the group's last gig of 2011, at Chester on 28 November, they played a seasonal cover of Blue Christmas. Most famously performed by Elvis, the song has been covered by over 60 artists, including The Partridge Family, Céline Dion, Low, The Beach Boys and Billy Idol. Whilst The Fall's version is clearly just a bit of pre-Xmas p*ssing around and not to be taken too seriously, it is undeniably horrendous: MES in full-on inebriated-uncle-embarrassing-everyone-at-the-wedding mode, the group plodding along stodgily behind and Eleni apparently having some sort of nervous breakdown on backing vocals. It is on YouTube, but you listen at your own peril…
2012 was relatively quiet as far as gigs were concerned, with only 24 being played. New material started to emerge at the first performance of the year: Damflicters (which would eventually become Victrola Time) opened the set at Athens on 10 February. The gig also saw Pete Greenway's return:
Two French concerts followed in early March; Damflicters opened the set at both Lille and Paris.
In April, the NME published a joint interview with MES and Mystery Jets' vocalist Blaine Harrison. The Mystery Jets' recently released album, Radlands, had featured a song called Greatest Hits, which dealt with a separating couple's division of their record collection, and referenced The Fall:
'No way you're having 'This Nation's Saving Grace' you only listen to it when you're p*ssed / But when you sober up it's always "why the f*ck are you still listening to Mark E. Smith?"'
In the interview, Smith describes Greatest Hits as 'a f*cking good song' (more than once) and displays a surprisingly paternal and supportive attitude to Harrison. He also recounts a bizarre anecdote about the 1981 US tour that involves him and Steve Hanley rescuing Karl Burns from the KKK and topless 'birds in miniskirts'.
The theme of the interview was 'heroes', and one the most interesting aspects of the article is Smith's comments on the concept of hero worship:
'I'm not big on heroes. I never wanted to be Gene Vincent or Elvis. I didn't want to be Damo Suzuki. I don't want to be anybody else, and I think that's why people respect The Fall… I've never wanted to be anyone else… I don't f*cking like anybody – that's why The Fall exist.'
On 21 April 2012, the single Night of the Humerons was released. It was a limited edition 7″ (1000 copies – Discogs suggests that it still goes for around £20 second hand) released as part of Record Store Day. As ever, RSD divided opinions and led to some disgruntled feelings, illustrated by some of the posts on the FOF. A message posted on Fall News suggests that MES himself wasn't entirely happy with the single's distribution:
'We were approached by Cherry Red to make a one-off vinyl single for Record Store Day 2012. We believed this event was created to promote vinyl and help record shops survive. What Cherry Red didn't tell us that they were only going to send one copy to each shop and that meant that some customers were misled.

I'm just sorry they were inconvenienced.

M.E.S.'
The A-side is Victrola Time – the same version that appeared on Re-Mit (although Reformation suggests that the download version differed slightly). It's backed by a live rendition of Taking Off. Reformation suggests that this recording is from the group's performance at Chester on 28 November 2011, although not everyone is convinced that this is the case – thefall.org gigography page indicates that it was from Brighton, 11 days earlier.
The group only played five gigs over the summer of 2012. At the first of these (at London's Coronet Theatre on 11 May) their cover of Jack The Ripper (see YMGTA #37) was performed for the second and final time. The next date (Newcastle on 7 July) saw Container Drivers get its first outing for 15 years; it would remain in the set for nearly all of the remaining 2012 performances.
In Dublin on 19 July, the set was opened with a new song, Gapa. This would be re-worked as Gray (occasionally Grey) and eventually become Sir William Wray.
The next night in Galway saw another new song opening the set: Defurbish, an early version of Loadstones. At the beginning of September, the group played two Scandinavian gigs; for unknown reasons, Eleni did not appear at either of these.
Two more Re-Mit songs were debuted in Salford on 22 September: Hitman (which would become Hittite Man) and Irish. There's video of the whole gig here. Kinder Of Spine (at this point known as Spider) was played for the first time in Norwich on 10 October.
The Norwich gig was a celebration of John Peel Day, with proceeds going towards the renovation of the John Peel Centre for Creative Arts in Stowmarket. The Undertones also appeared on the bill, and Mickey Bradley of the band tweeted:
'Played show for John Peel centre in Norwich. The Fall great. Although Mark E Smith is channeling Alex Higgins.'
There's a great video on YouTube of the event (although sadly not the whole set), which includes a good-humoured Smith being interviewed about Peel. At 9:35, he says:
'I knew the minute he died… we're never going to get played on the BBC again, that's for f*cking sure.'
The next night in Glasgow, Hittite Man received its third outing. Having gone under the working title Hitman in its previous appearances, here it was titled Three Dreams. At the last gig of the year, in Islington, No Respects (on the setlist the title was in singular form at this point) was played for the first time. There's an excellent, perceptive review of the gig from The Quietus' Luke Turner here.
The Fall took four months off from touring at the beginning of 2013, during which time they recorded Re-Mit. Despite Smith's apparent reservations about the previous year's release, Record Store Day 2013 saw The Fall produce another limited edition 7″ for the occasion. Sir William Wray was released on 20 April – this time restricted to 1500 copies.
The cover suggested that the lead track and b-side Hittite Man were 'single mixes', but there's no detectable difference from the LP versions.
Once again, the release divided opinions on the FOF.
2013 saw the group undertake 13 UK dates in April-June, Re-Mit being released in the middle of the tour. The first date, in Clitheroe, was released as a live album (another Record Store Day offering) in 2017 – the last official live album to be put out in Smith's lifetime.
It was an interesting performance. Smith performed much of the first half sitting down, and much of the second half from off-stage, which was not very uncommon. More unusually, they opened with traditional set-closer Blindness, and an audience member contributed enthusiastic backing vocals throughout Fall Sound (she also provided an excitable commentary over the opening of Jetplane's debut – 'F*ckin' hell, it's a new 'un… this is groovy as f*ck!') The most unprecedented moment, however, came at the end of Hittite Man. MES wandered to the front of stage, and with the opening line 'I embrace you all', proceeded to indulge in what can only be described as a minute or so of good-humoured banter with the front row of the audience. As hard to believe as that is, the evidence is here (from five minutes in):
A few days before the album's release, Smith appeared on Radcliffe and Maconie's afternoon 6 Music show. He refers to the album being recorded at Konk and then 'Blue Tone', which he describes 'the best studio in Manchester' (he most likely meant Blueprint).
He's a bit slurred, but entertaining and genial, and only nearly-swears once (for which he sounds genuinely apologetic). He gives an interesting insight into the creation of a Fall setlist, describing how they're done 'about two or three hours' before the gig:
'The group submit them to me… then I usually cross most of it out, about half an hour before we go on…

[I say] do you want to do this song from 1979? and one of them wasn't even born, or he was about five.'
He also demonstrates a genuine warmth towards the current line-up: 'I've got a perfect group at the moment'. He agrees with Radcliffe that the oft-described 'granny on bongos' attitude does them a disservice:
'They've stuck with me for the last four or five years, and I've been in a wheelchair for about a year and a half of them. They've been pushing me around and that; they didn't have to.'
Despite the genial tone of the interview, Smith was later very disparaging of Radcliffe and Maconie, calling them 'a pair of dicks' in this interview with John Doran.
In The Wider World…
A month before the album's release, a bomb at the Boston Marathon killed five and injured hundreds. Margaret Thatcher died of a stroke, aged 87. The next month, British soldier Lee Rigby was murdered on the street in London. Alex Ferguson announced his resignation after 27 years as Manchester United's manager.
Daft Punk's supremely irritating Get Lucky was in the middle of a four-week stay at the top of the singles chart. In June, Robin Thicke's loathsome Blurred Lines also spent a month at number one. Home by Rudimental was the number one album (no, me neither); after only one week, it was replaced by The Shocking Miss Emerald by Caro Emerald (no, me neither).
The Album
Re-Mit was recorded in January and February 2013 at Konk, a studio located in Crouch End that was founded by The Kinks. The album saw Grant Showbiz (as engineer) make his final contribution to a Fall album.
Just before The Fall's Clitheroe gig, Smith was interviewed by the Lancashire Telegraph:
'Smith appears content with his new work and admits he was disappointed with the last album, Ersatz GB, released in 2011.

"I didn't like it. I can say that, can't I? But this one (Re-Mit) is what we are all about and I think it will terrify people.

It does get harder though. You've got to kick a lot of backsides to get a record out.

But every time I do an album it still feels like my first LP because I still have a great energy.

I want my music to be as punchy and aggressive as Black Sabbath. I don't want it to be something simpering that sounds like Jarvis Cocker."'
In an interview for Going Thru Vinyl (a seemingly now defunct website, quoted on Fall News) Smith offered a typically cryptic explanation of the new album's title:
'[It] means I need a glove when I go out.'
In an April 2013 interview for Q, MES reiterated his apparent dislike of the Ersatz GB material ('five songs on the last record were bad'), but suggested that the songs on Re-Mit would more than make up for it:
'Re-Mit is going to terrify people. It's quite horrible. The Fall have had enough and we're coming for you.'
The cover was designed by Anthony Frost (who had done the artwork for Imperial Wax Solvent) and Smith's sister Suzanne, who had been responsible for the drawing on the cover of Grotesque.
Reviews were once again mixed, although not quite as polarised as had been the case with Ersatz GB. In The Quietus (generally stalwart supporters of the group) Joe Kennedy felt that the unusually settled lineup was having a detrimental impact:
'Re-Mit is where this comfort starts to look disturbingly like stagnation.

Spurr, Greenway and Melling have gone from being great fits for the project to simply being very good musicians from the ponytailed-guy-who-works-in-the-guitar-shop school. No matter what they're playing – and let's face it, that 'what' is largely going to be barrelling Can-rock – there's a lack of expressive wit, giving the impression that they're just tossing this off as a demonstration of competent eclecticism before resuming their Steve Vai or Joe Satriani agendas.

Repeatedly, it feels as if Re-Mit amounts to little more than Smith and Poulou pasting overdubs onto music that has been rote-learned and then performed unquestioningly. '
The NME's Kevin EG Perry was ambivalent: he enjoyed the fact that the album had 'a lighter touch' than its predecessor, but felt that some songs felt like 'underdeveloped sketches'. In The Guardian, Maddy Costa was also lukewarm. Giving the album 3/5 stars, she declared that it wasn't 'going to win over anyone who isn't already a Fall devotee'.
Stuart Berman of Pitchfork was more positive. Giving the album 6.8/10, he described it as 'a dense, unwieldy tangle of rockabilly rhythms, 60s proto-punk petulance, krautrock thrust, musique-concrete spoken-word splatter, and sci-fi synth-tones salvaged from 70s bargain-bin prog'. Hayley Scott, writing on the Line Of Best Fit website, gave Re-Mit 7/10 and said that it 'certainly deserves to be credited as one of the most ambitious, envelope-pushing albums of the band's discography'.
Writing for Louder Than War, John Robb enthusiastically embraced the album:
'Every riff is so damn catchy, it's like Nuggets on, er, acid as well as cheap booze and damp trucker speed and conjures up foul, cold winter afternoons in rainy day damp Manchester. It could be the sixties- it could be futuristic- god knows with the Fall- this is a timeless place.

Don't panic Fall fans- the album may take some work for some of you but it's yet another dense and strange world to enter and wander around in but with some great guitar riffs to guide you into the dense thickets of the Smith melodrama.'
J. R. Moores, writing for Drowned In Sound, gave the album 8/10, and mused on MES's increasingly tenuous relationship with the English language:
'Re-Mit might not be the record on which Smith finally relinquishes language altogether in favour of communicating in only a dry-mouthed hangover gargle, but it's close. At times, not only is it impossible to determine what Smith is saying, it's impossible to determine whether he is even attempting to pronounce any recognisable human words with his reptilian chops.'
The most succinct summary came from Ben Ratliff of the New York Times:
'Rating among recent Fall albums: Better than "Ersatz GB" (the 29th); far better than "Reformation Post TLC" (26th); not as good as "Your Future Our Clutter" (28th) and a full mile worse than "Imperial Wax Solvent" (27th). Go get it.'
The album reached a respectable number 40 in the album charts.
The Songs
No Respects (Intro)
The first instrumental opener since Mansion on This Nation's Saving Grace, No Respects is a sharp burst of surf-rock that clatters along energetically for about 40 seconds, before morphing into a slightly portentous and proggy fuzzed-up guitar line that then fades (incredibly rapidly – like someone leaned over the mixing desk and stuck their elbow on a slider) almost as soon as it arrives.
Co-written by Tim Presley (who also played on it), it was performed live – both as an instrumental and in its No Respects rev. form – 16 times, 2012-15.
Sir William Wray
A gutsy garage-rocker, Sir William Wray evolved from Gapa to Gray (or Grey) and has a brash, album-opener feel to it (similar to The Joke or D.I.Y. Meat). Smith launches into it from the word go, with a gabbling, distorted and downright manic introduction; thereafter he snaps aggressively at anything that moves. There may possibly be a reference here to Link Wray (an artist who MES greatly admired) – he seems a more likely candidate, perhaps, than the two English 16th/17th century politicians. However, in the 6 Music interview (see above), Smith said:
'It's just a wordplay … I wanted it to be anti-lyric really, anti-music with anti-lyric.'
Greenway contributes some excellent guitar work here, alternating between snaky, surf-rock lead and abandoned thrash chords, all of which snakes around the meandering synth line like the two are trying to throttle each other. It's also a song that featured in one of my favourite batches on The Fall in Fives.
It was played – in its various incarnations – 37 times, 2012-15.
Kinder of Spine
Another track featuring Tim Presley, Kinder of Spine is, not to put too fine a point on it, bonkers. It's a crazed mix of 60s-psych-art-garage-punk-stomp, with a lurching, menacing rhythm, stabs of abrasive, aggressive organ and a pair of guitars, one thrashing out fuzzy chords, one scratching out little bluesy solos that fight to keep their head above water.
Even by the standards of 2010s Fall, Smith's vocals are deranged, a weird mixture of broken crooning (the odd little whimper at 1:07-1:08), angry, guttural growling ('So there' at 1:41), demonic cackling (2:07-2:09) and plaintive wailing ('Oh judge, judge of the
"Persecute Me" talent show' at 1:15-1:23).
Reformation suggests that the song was inspired by The Monocle's disturbing 1966 single The Spider and the Fly. Presley, quoted on The Annotated Fall from an interview with now-defunct Bowlegs Music Review, said:
'…I recorded a song, and every time I tried to put vocals to it, it sounded like The Fall. So, I gave it to them instead, and I think it's going to be on their new record. Mark is singing something about a spider on it.'
Grasping much meaning beyond the fact the song is 'about a spider' is rather a challenge. On The Annotated Fall, Dan suggests that, given the line 'One time I hurt my paw in a warren under the duvet', the song might be narrated by a cat chasing a spider, which is as good a guess as any. On the same website, bzfgt proposes a link to the 1958 film The Fly, which contains the line, 'Help me! Help me!'
The song was played live 22 times 2012-13. Live versions tended to be more musically straightforward than the studio take, deploying in particular a less unhinged rhythm (see this example). There's also an interesting out-take that gives the song a bit of glam-rock swagger.
Noise
An experimental interlude, Noise features a grinding, swirling mix of electronics and an insistent, trebly guitar riff. The Annotated Fall suggests that Cluster's Rote Riki might have provided some inspiration.
Like Insult Song, the lyrics seem to be largely MES improvising about those around him in the studio: Greenway is 'nasty noise Peter', Spurr is 'David, warrior of the dark forest' and Grant Showbiz (referred to here by his real surname) becomes 'Emperor Cunliffe'. Even the studio itself gets a mention: 'the altar of Konk'. Unsurprisingly, never played live.
Like many songs of this era, there's an alternative version that found its way online. It's twice as long, instrumental and musically pretty similar to the studio take, although it's biased slightly more towards the 'real' instruments over the electronics.
Hittite Man
One of the album's highlights. It's a sparse, tense piece: Melling's rolling drums and Spurr's deep rumble underpin everything unfussily, allowing Greenway to take centre stage with one of his trademark spaghetti Western/surf-rock guitar lines – it's an especially evocative one, conjuring up lonesome desert highways. Eleni makes a strong contribution too, her random oscillations adding to the song's unearthly atmosphere. There's also an odd rustling/crackling/clinking lurking in the background, which increases the intrigue.
The Hittites were an ancient race, whose empire, covering much of modern-day Turkey, was at its height around 3500 years ago. In a 2013 interview, Smith explained the inspiration behind the song:
'I read daft history books. Sometimes the books I read are a bit crackers or strange. So it sounded interesting. The Hittites didn't believe in debt or insurance. When I first started thinking about it was when I went to Greece, because the Hittites were with the ancient Greeks. And they didn't believe in debt or overdrafts, which sounds crazy, and I thought they didn't believe in wrongful communication, which I believe is the cause of a lot of trouble in the world.'
There are two notable alternative versions of the song. This out-take is less urgent than the album version, and Greenway's guitar lurks murkily in the background. This version features a prominent contribution from Eleni; when asked about it, Smith said:
'Everybody wanted me to use that one, but I stuck with the first one. You like the wife one? It was a hard choice.'
It was a popular live choice at the time, being played 75 times, 2012-16.
Pre-MDMA Years
Another experimental interlude, and in rather close proximity to the last one. That said, it's entertaining enough in its own way, and doesn't overstay its welcome at just over a minute. MES rambles about ecstasy over some minimal parping synth. Rather inconsequential, but does contain some effective, if baffling lines: 'The bone seraton unconnected composite years'; 'the orc marrow gone down green jelly mama your kid brother than your years'.
No Respects rev.
It wouldn't have been entirely unlike The Fall to have thrown away the cracking Respects riff on a minute-long instrumental, but thankfully it returns here with a bit of space to expand and develop. Musically, the opening to the 'full' version is identical to the opener, but the production is a little shinier; there's much less reverb, which gives it a punchier sound.
Like the shorter version, Greenway is to the fore, producing an effective mixture of scrabbling surf-punk runs, choppy chords and bright, Byrds/early REM-esque arpeggios. It also another one of those tracks where Eleni's random electronic interjections provide valuable splashes of texture. A pleasingly manic atmosphere takes hold about halfway through and builds progressively, with MES's slurring and snarling transforming into manic cackling.
As discussed in YMGTA #37, Tim Cumming (in an interview with MES for The Independent) implied that this was the song that the group put forward (and had rejected) for Twilight. This was, of course, contradicted by Imperial Wax, although No Respects rev does sound much more like 'horror' then Cowboy George.
It's a challenge to make out the words in places, let alone interpret them. The Annotated Fall tries hard to make the vampire/horror connection, but there's not much of any substance beyond the reference to Whitby (3:37), setting for Bram Stoker's Dracula and mecca for the goths.
Victrola Time
A Victrola is a wind-up phonograph, one with a concealed horn (unlike that made famous by the HMV logo) that was used as a generic term in the early 1920s for any device that played records. Quite what this has to do with anything (including Smith's apparent aversion to condoms – 'I don't wanna buy any johnnies') is unclear, as the lyrics – which have much in common with those of Pre-MDMA Years – seem to be more concerned with the taking of ecstasy.
Even by the standards of 21st century MES, his opening vocal salvo is startling: a keening, broken warble that morphs into an aggressive gargling shriek, before settling down into something a little less unsettling.
It has a muscular yet restrained krautrock beat, although Melling occasionally breaks out from the taut motorik (e.g. at 1:04) to venture something a little more loose and flamboyant. Spurr's bass line is fuzzily glutinous, but it's Eleni that takes centre stage with some meandering, doleful synth accented with the occasional squiggle. The chime that can be heard from time to time is supplied by MES striking a glass with a teaspoon; the distorted voice at the end is Ding recorded on Smith's answering machine.
The only thing wrong with it is that its excellent, atmospheric intro isn't nearly long enough to do it justice. (Which is why I have I have an extended six minute version that I created with a spot of judicious looping.) It was played live 25 times, 2012-14.
Irish
In which James Murphy of LCD Soundsystem finds himself added to the long list of artists that have attracted a sardonic glance from Smith. As ever, The Annotated Fall works hard to extract some meaning from the words (it definitely is 'The women have skins of peach' by the way, bzfgt) to little avail. And not surprisingly either: MES admitted that it wasn't his most thoughtful effort ('I had to make up some lyrics quick for that one.') He also said, in the 6 Music interview above, that 'The tune's better than the lyrics'. That said, 'They show their bollocks when they eat' always raises a smile.
Spurr kicks things off with a particularly gristly riff (one that this review – of the Live Uurop version – memorably described as resembling 'someone shovelling through heavy mud') while Melling clatters along with enthusiastic discipline. MES snarls and hisses aggressively throughout, accompanied in places by a disturbing low groan in one of the channels.
It verges on the messy and formless, but in a wholly entertainingly way, and there's a well-judged balanced between the menacingly restrained verse and the more abandoned chorus, packed full of Greenway's chunky ascending/descending chords. Only played live a dozen times, 2012-14.
Jetplane
Jetplane is similar in structure to its predecessor, featuring once again a balance between a relatively understated verse, driven by some enthusiastic clatter from Melling, and a thrashier guitar-driven chorus. (The terms 'verse' and 'chorus', of course, being necessarily very loosely-applied terms where The Fall are concerned.) It has a slightly lighter tone than Irish, however, due the lively snare pattern and Greenway's jaunty little guitar melody.
It's a curious little tale regarding 'Diane Worstock' and 'Dr. Jeffery Henning', who come up with an 'innovative new idea' whilst stuck in a queue at Milan airport. There are very few clues as to who these characters might be. According to Reformation, Smith used the line 'Margaret Rutherford first came up with her amazing travel plan' in one of the song's live performances, although this reference to the esteemed British actress doesn't exactly clarify things. On The Annotated Fall, dannyno suggests that the line 'Dr. Dave opened a bureau which not only tattooed your return number to Heathrow on your arm,
but also squeaks if you are carrying more euros into Heathrow' is related to this story. Another contributor, Ray, suggests that the song 'warns of the ensuing drive by powers-that-be to institute a cashless society'.
Whatever it's all about, the vocals are a particular highlight. Smith seems to be in conversational, almost chirpy mood; the double-tracking of his vocals with himself and Eleni is a nice touch, giving the track a busy and layered feel and suggesting the kind of hubbub you might experience in an airport. (The unidentified male voice speaking in French apparently says 'The Milan to London flight has been delayed. Types of rap … tin foil handkerchief.') It's also particularly rich with those inexplicably perfectly MES-enunciated words and phrases: 'obliterated' (0:43); 'the Italians certainly like their Sundays' (1:04); 'rock group' (1:16). The childishly exuberant 'whooosh' (1:29) is an oddly touching moment.
Played 21 times, 2013-14. A very early, almost skeletal version of the song, called Suddenly, Certainly can be heard here.
Jam Song
The Fall find themselves in a bar brawl with Led Zeppelin and Orbital. Jam Song is not generally highly rated by Fall fans, the general consensus being that it's lazy, self-indulgent and altogether too rock. It does rather sound like a rehearsal idea that everyone's just having a first bash at, and yes, MES does sound like he's just riffing on a couple of lines that he scribbled on the back of a fag packet in the pub earlier that afternoon. And yet…
In the first place, there's something wonderfully, wilfully perverse and incongruous about The Fall recording a 'jam'. You can almost hear the MES of 30 years earlier berating his future self for such self-indulgence (not least in the opening mumble, 'Could do with a f*cking chorus, that's the main f*cking thing, innit?') And then, it is just such a joyfully incoherent cacophony, a collage that sounds like every member of the group is playing a different song in a different time signature and/or key. Kieron decides that it's John Bonham tribute day; Pete Greenway thrashes and screeches away in several different directions, stomping on his effects pedals randomly; Eleni plays the keyboards like she's not on the same planet, let alone in the same key. In amongst all of this, MES croons incoherently, plainly having fun (listen to the little chuckle at 3:30) and 'make[s] truck with porcelain', whatever that might mean.
It was never played live. If you don't like the sprawling mess of the album version, then I suggest that you don't listen to the out-take below, which spreads the joy over nine wonderfully unfocused nine minutes.
Loadstones
An album closer that has a certain affinity with IWS's Exploding Chimney, both featuring heavy, staccato chords. Greenway's exuberant, almost hoe-down-ish guitar line leads the way, supported by Eleni's variety of smooth, oscillating synth touches that form a lovely contrast to the over-arching bluesy/rockabilly sound.
The lyrical analysis on The Annotated Fall is impeccably detailed (although it really could do with some paragraphing). All I would add is that the 'shoes for the dead' line (in terms of delivery) seems to hark back to Gut Of The Quantifier.
It's an excellent album closer, full of taut energy. It only got 17 live outings, all in 2012 and 2013.
Overall Verdict
I find Re-Mit to be bafflingly underrated. It is absolutely chock full of cracking tunes, for a start, but perhaps the most appealing aspect is the way that the Poulou / Melling / Greenway / Spurr line-up seem to have locked on to a particularly satisfying blend of their various attributes that brings out the best in them all. In addition, they haven't just settled on a specific 'sound': across the tracks (and often within them) there's a sense of them taking turns to lead.
Ersatz GB (despite the odd variation such as Happi Song) had a uniform, relentless, almost one-dimensional sound that led some reviewers to question whether the group's unusual stability was breeding mediocrity. Re-Mit sees the group disproving this notion with confidence, branching out and offering much more variety: prowling horror (Hittite); heads-down garage punk (William); driving guitar-jangle (Respects); crazed beat-psych (Kinder); taut krautrock (Victrola) – even, God forbid, a spot of good, old-fashioned self-indulgent studio jamming.
There are many instances in the back catalogue where MES adds a little chuckle, or delivers a line in a manner that suggests a twinkle (albeit it a slightly withering one) in his eye. But Re-Mit may well be the Fall album where he most consistently sounds like he's enjoying himself. Even when he descends into hissing and growling, there's an enthusiasm and sharpness that was certainly missing from much of the album's predecessor.
It's not without its flaws, of course. The two 'experimental' tracks are pleasant enough but rather inessential; and in the case of Noise, it feels like they could have done much more with a potentially interesting piece of music. Sequencing-wise, they're also too close together. Also, whilst there are many intriguing lyrics, Re-Mit does not have the emotional depth of YFOC. However, there's no tossed-off cover version to shrug your shoulders about, and overall it's an album of remarkable consistency, invention and – perish the thought – fun.
My "Version"
Nothing radical – just a little 'tweaking'…
Side 1: Victrola Time (my 6 minute mix) / Sir William Wray / Kinder of Spine / Noise / Hittite Man (20:16)
Side 2: No Respects rev. / Irish / Pre-MDMA Years / Jetplane / Jam Song / Loadstones (20:57)
Rankings
Live In Clitheroe is a release that requires context. If you read about the gig and watch some of the videos, it becomes an intriguing document of a particularly interesting performance. Taken on its own merits, it's a bit shoddy. Not only is the track-listing of the second half completely messed up, the sound is incredibly uneven: Smith's vocals lurch uncomfortably forward in the mix on many occasions, and there are several examples of his 'on-stage mixing' (see, for example, the second half of Blindness, where Greenway's guitar veers dramatically from the inaudible to the deafening and back again).
An interesting record of latter-day live Fall, but not that great an album in its own right. (And before anyone writes in, I haven't forgotten Live Uurop: as it's a compilation of live recordings from various years – and a couple of studio tracks – I'm going to review it where it fits chronologically by release date.)
Last Night At The Palais
Live To Air In Melbourne '82
In A Hole
A Part Of America Therein, 1981
2G+2
Live In San Francisco
In The City…
Nottingham '92
The Legendary Chaos Tape / Live In London 1980
Totale's Turns
The Idiot Joy Show
Live In Cambridge 1988
I Am As Pure As Oranj
Touch Sensitive… Bootleg Box Set
Creative Distortion
Live 1993 – Batschkapp, Frankfurt
Live 1981 – Jimmy's Music Club – New Orleans
Live 1977
The Twenty Seven Points
Interim
Seminal Live
Live At The Knitting Factory – New York – 9 April 2004
Live 1998 12th August Astoria 2 London
Live Various Years

Live In Clitheroe

Live At The Phoenix Festival
Live In Zagreb
15 Ways To Leave Your Man – Live
Austurbaejarbio
BBC Radio 1 Live In Concert
Live At The Knitting Factory – L.A. – 14 November 2001
Live At The Garage – London – 20 April 2002
Live 2001 – TJ's Newport
Live 3rd May 1982 Band On The Wall Manchester
Live 1980 – Cedar Ballroom Birmingham
Live From The Vaults – Alter Banhof, Hof, Germany
Live From The Vaults – Glasgow 1981
Live From The Vaults – Oldham 1978
Live At The ATP Festival – 28 April 2002
Liverpool 78
Live From The Vaults – Los Angeles 1979
Live From The Vaults – Retford 1979
Live At Deeply Vale
Yarbles
Victrola Time is a cracking piece of deranged space-krautrock; the only thing wrong with it is that the intro should have been a good couple of minutes longer. Sir William Wray sees the group on familiar turf – the sort of head-down garage rocker with which they often opened albums – but even if it's a familiar furrow, it's still one they plough exceptionally well.
Theme From Sparta F.C. #2
Living Too Late
Jerusalem/Big New Prinz
Kicker Conspiracy
The Man Whose Head Expanded
How I Wrote 'Elastic Man'
Totally Wired
Free Range
Behind The Counter
Marquis Cha-Cha
Lie Dream Of A Casino Soul

Night Of The Humerons (Victrola Time)

The Chiselers
Touch Sensitive
(We Wish You) A Protein Christmas
Slippy Floor
Bury

Sir William Wray

Reformation! The Single
Cab It Up
Cruiser's Creek
Hey! Luciani
F-'Oldin' Money
Higgle-Dy Piggle-Dy
I Can Hear The Grass Grow
Mr. Pharmacist
Couldn't Get Ahead/Rollin' Dany
Look, Know
Laptop Dog
The Fall vs 2003
Telephone Thing
There's A Ghost In My House
Victoria
Hit The North
Bingo-Master's Break-Out!
Rowche Rumble
Fiery Jack
Masquerade
Ed's Babe
High Tension Line
15 Ways
It's The New Thing
White Lightning
Popcorn Double Feature
Why Are People Grudgeful?
Oh! Brother
Rude (All The Time)
Rude (All The Time) EP
As an album, Re-Mit is, in my opinion, criminally overlooked. Often regarded as a poor relation to YFOC (the 'last great album'), it is in fact bursting with invention and energy, and is deserving of a top ten placing.
This Nation's Saving Grace
Your Future Our Clutter
Perverted By Language
The Wonderful And Frightening World Of
Hex Enduction Hour
The Real New Fall LP Formerly 'Country On The Click'

Re-Mit

Levitate
Slates
Grotesque
Imperial Wax Solvent
The Unutterable
Fall Heads Roll
The Marshall Suite
Cerebral Caustic
I Am Kurious Oranj
Room To Live
The Infotainment Scan
Extricate
Bend Sinister
Dragnet
The Light User Syndrome
Are You Are Missing Winner
Ersatz G.B.
Middle Class Revolt
Code: Selfish
Shift-Work
Live At The Witch Trials
Reformation Post TLC
The Frenz Experiment