"Vampirism… is a crime at the end of the day."
Details
Recorded: Chairworks Studio, Castleford
Released: 9 December 2013
Mark E Smith – vocals
David Spurr – bass
Keiron Melling – drums
Peter Greenway – guitar
Eleni Poulou – keyboards
With:
Simon 'Ding' Archer and Tamsin Middleton – backing vocals
Daren Garratt – drums (The Remainderer / Amorator! / Mister Rode / Say Mama) (uncredited)
Martin Bramah/Craig Scanlon – guitar, Marcia Schofield – keyboards, Steve Hanley – bass, Simon Wolstencroft – drums on Race With The Devil (uncredited)
Background
Re-Mit had been released on 13 May 2013, in the middle of a 13-date spring UK tour. Four days later, the group played Clapham Grand, a gig that was reviewed by Nick Hasted in The Independent.
'The Fall survive by moving forward, and as usual the set is drawn almost entirely from Re-Mit and other recent work. On "Sir William Wray", the relatively young band Smith has kept together for five years now hold down a garage groove, his wife Eleni Poulou adding downbeat colour on her vintage Korg synth. Smith is an abrasive, unstable presence, one minute Les Dawson lugubrious, the next puffing his pigeon chest out as he haughtily inspects the crowd.

When Poulou takes over the vocal for "I've Been Duped", Smith turns his back to her, arms folded, somewhere between a Salford Napoleon and Steptoe. Poulou can hardly contain her grins at a husband who is unusually, playfully happy and singing with proud power over the band's thundering, relentless groove. For the encore "Theme from Sparta FC", Smith holds the mic with his arms flung back like Christ, and prowls the stage with the exaggerated grace of a benign drunk. He clocks off on the stroke of 60 minutes: all business, all pleasure, all Fall.'
The group played a handful of festival dates over the summer, including Día de la Música in Madrid and All Tomorrow's Parties in Iceland.
Rob Barbato re-joined the group (Dave Spurr being on holiday in Cuba) for their two Irish dates in August – Kilkenny Arts Festival and the Button Factory in Dublin. At the latter date, The Remainderer was played for the first time.
The Fall played three more European gigs in October, at Portuguese festival Outfest, Paris and Nantes. Remembrance R was possibly played (its sole performance if it was) at the date in Portugal (it was certainly on the setlist). Amorator! and Mister Rode were debuted in Paris.
In May 2012, Smith had joined Ginger Wildheart's 'supergroup' Mutation (featuring members of Napalm Death, The Sisters Of Mercy and The Cardiacs) in the studio. The resulting album, Error 500, was released in October 2013. Smith featured on two tracks, Mutations and Relentless Confliction.
In the John Doran interview (see below), Smith appears to have forgotten the whole thing, can't even recall Ginger's name and seems astonished that the album's actually been released. There's an entertaining video about his participation in the album's recording here (featuring him sporting reading glasses); the most entertaining moment is captured in this clip of Smith berating the unfortunate engineer, Kevin:
The group played a one-off gig in Clapham on 15 November. There's a very good quality video of the performance here. They played three further dates in 2013 in Utrecht, Leeds and Cologne. At Utrecht, Tim Presley joined the group for the encore. Daren Garratt (who had been in Pubic Fringe with Pete Greenway and had also played with The Nightingales) played drums alongside Keiron Melling at Leeds, and then replaced him at Cologne in December whilst Melling was on paternity leave.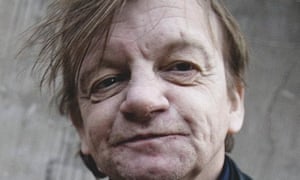 A week before the release of The Remainderer, Smith made an appearance in the 'What I see in the mirror?' column in The Guardian, where he had this to say:
'I only really look in a mirror before I go on stage, in case I've got anything on my face. I've got a comb. It's good to look a bit straight: a clean shirt and all that. And I've started to wear underpants and I clean my teeth now and again. But that's about it.'
Around the time of The Remainderer's release, Smith was interviewed by John Doran for Noisey, as part of their 'British Masters series where John interviews the most influential and colourful figures from British popular music history'. Smith is on fine form and full of mirth throughout, and displays a genuine warmth (albeit in his own inimitable fashion) towards Doran.
In part one, we learn that he considers Black Francis a 'dickhead' and that – according to him, anyway – the group were asked for three songs for Twilight (Smith also offers the informative little gem that vampirism 'is a crime, at the end of the day'). Doran's question, 'Have you been watching the Great British Bake-Off?' (which he later described as 'the riskiest interview gambit I've ever gone with on a whim') leads MES into an incoherent but entertaining diatribe about cookery programmes, which is then broadened to take in property shows ('that should be banned… that's an estate agent's job') and some reminiscing about the good old days of daytime TV, such as Crown Court.
In part two, Doran asks about Smith's health, in particular his time in a wheelchair in 2009. MES tries to brush this aside ('It's not This Morning programme') and bullishly declares that 'my liver's replenished… my liver's stronger than ever'. Doran raises the topic of bands reforming (in light of the EP's title track) and MES confirms that he has been offered money over the years to play old albums in full. He also expresses a desire to take The Fall in a 'noisier direction', though he suggests that 'even the group don't like it'. The most shocking moment of all, however, comes right at the end of the interview: someone hands Smith his third beer of the interview, and… it's a half.
In The Wider World…
In what appears to have been a rather slow month for interesting news, Nelson Mandela died, aged 95 on 5 December. In the singles chart, Under Control by Calvin Harris & Alesso (no, me neither) was spending its sole week at the top spot. It was both preceded and succeeded at number one by Lily Allen's Somewhere Only We Know (a Keane cover of which I was blissfully unaware until I came to write this) which miraculously manages to be even more flaccid and depressing than the original. At number one in the album chart (and the best-selling album of the year) was Midnight Memories by teen heart-throbs One Direction.
The EP
The Remainderer was recorded at Chairworks studio in Castleford, a converted Victorian factory.  It was released as both a CD and a 2×10″ with gatefold sleeve. The promo CD contained different versions of the title track and Mister Rode from the official CD, and both were retained for the vinyl version (see tracks below).
According to Cherry Red, Daren Garratt – although uncredited – played on The Remainderer, Amorator!, Mister Rode and Say Mama.
The EP was described in its press release as a 'bridging point' between albums, although most – if not all – reviews recognised that the EP was a very different beast to Re-Mit. They were also almost universally positive about the release.
Niall O'Keeffe, writing in The Quietus, said that:
'The Remainderer slots into a lineage of interim records that bridge different eras of The Fall, like the sprawling 'Chiselers' single, which telegraphed a darkening of mood in the mid-90s, or the Fall Versus 2003 EP, which signalled the band's reinvigoration after career-low Are You Are Missing Winner?

To judge from this record, the future Fall will be chaotic, cryptic and collaborative. Its music will be shape-shifting, fragmented and fierce.'
The Line of Best Fit's Hayley Scott gave it 7.5/10:
'The best thing about this band is that they are perpetually evolving, and in that respect, The Remainderer carries on triumphantly where Re-Mit left off… Abrasive but not completely inaccessible, it's The Fall very nearly at their best.'
Stuart Berman of Pitchfork was similarly positive:
'More than anything, The Remainderer is an encouraging sign that stability has yet to ossify into stagnation with this ongoing iteration of the band, who formidably exercise their elasticity over the course of these six wildly divergent tracks.'
The Songs
The Remainderer
The EP opens with a plaintive guitar chord and then a harshly sawing synth oscillation, after which clattering drums and insistent riffs from Spurr and then Greenway kick in. By 0:37, the song has locked onto a deep, ingrained groove that pounds away throughout the rest of the song. Daren Garratt's contribution to the relentless percussion here makes it reminiscent of the early-80s Hanley/Burns lineup.
Smith's vocals veer between the surprisingly (relatively) tuneful and his latter-day tendency to rely on growling and extreme sibilance; the double-tracking of his voice adds to the sense of abandoned chaos. It's hard to pick out any clear meaning: there might be some sort of message about the futility of nostalgia (a frequent MES theme) – 'Never forget, rememb(e)rance is worth nothing' – but lines such as 'But it removed his back flute / Breeding pits' don't exactly clarify. What is certainly true is that the moment (2:20) where the group drop out and Smith exclaims sardonically that 'it was a good day – whatever that is' provides a nicely judged and oddly endearing change of pace. The coda finds MES growling asthmatically in an almost Dalek-ish voice that teeters on the brink of self-parody. The Annotated Fall suggests 'Your spots in projects', although it sounds more like 'spakts' (whatever they might be) than 'spots'.
Even given Smith's fondness for daytime TV, this seems a little far-fetched, but there is an undeniable similarity between The Remainderer and the theme tune from Baywatch.
The vinyl/promo version (see below) launches into things much more rapidly, has a more urgent atmosphere overall and features some interestingly deadpan backing vocals. It has less subtlety than the CD version, but its blistering aggression makes it the preferable version.
It was played live 28 times, 2013-16.
Amorator!
An urgent, scrabbling piece of frantic psychobilly. It's full of dramatic ebbs and flows: after a gentle, understated intro it breaks into a thrashier approach before gradually turning into a swirling throb.
The indecipherable words ('Hat's on in a spot that resembled an attempt to knit flag') leads the Annotated Fall into a lengthy discourse regarding the unknowable quality of Smith's lyrics: 'You will never understand these lyrics, nor will I.'
It's bristling with energy and potential, but feels a little like a fragment; incomplete and unresolved. It was played live 17 times, 2013-15.
Mister Rode
Opens with what sounds like Mötorhead being played at excessive volume on a broken AM radio before a menacing drum salvo leads into a melodic guitar arpeggio and a throbbing bass line; by the time you get to the minute mark it feels like you've had three different songs already.
Melling and Garratt are the stars of the show here, flailing and smashing and bludgeoning like their lives depend on it. The drums become the focal point of the song musically, with Greenway's distorted, looping riff joining with Spurr's bubbling bass to provide the track's foundation. In the second half, Greenway adds some frantic flourishes that add to the sense of impending chaos and disintegration.
Like The Remainderer, good use is made of extra vocal tracks, but here it's much more than double-tracking: multiple, heavily-reverbed layers of Smith's voice create an oppressive, malevolent atmosphere. In the last couple of minutes, swathes of distorted noise (including what sounds like a snippet of The Osmonds' Crazy Horses at 6:04) join in the fun to produce a tumultuous, discordant coda. The main body of the promo/vinyl version is slightly shorter, and it has a different but no less abandoned ending.
Smith's main vocal is relatively melodic, revolving around the 'I got a name, I got a say/face' refrain. Its repetition provides a solid hook that contrasts effectively with the musical maelstrom beneath.
Once again, the lyrical content is challenging to interpret; as ever, there are many intriguing suggestions on The Annotated Fall. Antoine suggests a link with John Cooper Clarke's I Married A Monster From Outer Space ('each time I see her translucent face, I remember the monster from outer space' (at 2:00)). harleyr points to the fact that there is a brand of microphones called RØDE (just as there is an effects pedal called 'Hot Cake').
On the same page (comment #9), SlightlyDislocated provides a particularly detailed and intriguing interpretation, suggesting that the lyrics are 'a meditation on identity and anonymity, from the perspectives of, first, a passenger at a subway or commuter rail station, second, a patient about to be wheeled into surgery in a hospital, and third, a soul boarding an airplane and experiencing its subsequent takeoff.' He also points out that the line 'Its summers were all in a day' seems to reference Ray Bradbury's 1954 short story All Summer in a Day.
The Annotated Fall page doesn't really clarify anything – especially the baffling references to 'lemon freshness' – but it's one of the best examples of the site being a stimulating and fascinating read.
Performance-wise, Mister Rode had a longer shelf-life than anything else on the EP, being played 43 times and staying in the set almost to the end (its last appearance being in January 2017). There's an interestingly understated 2015 performance here. It's a glorious, chaotic sprawl; one of the finest moments of the group's latter-day work.
Rememberance R
Nearly 30 years on, the group return to The Stooges' I Wanna Be Your Dog, from which Brix had 'lifted' the riff back in 1984. In some ways it's a less straightforward 'borrow', being of a much slower tempo, but it's also closer to the spirit of The Stooges' track having a similarly menacing, aggressive atmosphere as opposed to the relatively lighter, psychedelic tone of Elves.
The opening, like the conclusion of The Remainderer, sees Smith deploying a phlegm-riddled gargle that verges uncomfortably on self-parody: 'He can't help it – he can't' is almost comically ridiculous. Thereafter, however, he strikes a highly successful balance between almost delicate crooning and snarling vitriol. Melling (here without Garratt) provides expansive yet sparse percussion that's ably supported by Spurr's lithe but muscular interpretation of The Stooges' riff; this allows Greenway space to gradually emerge (he doesn't appear until nearly two-thirds of the way through) with grinding, abrasive chords. Some have suggested that the guitar here is so brutal and simplistic that it might be MES himself, but this seems a little far-fetched.
Once again, the lyrics almost defy you to extract any sort of meaning from them. Who knows, for example, what a 'canajetta' might be? The reference to a 'fire escape', however, may possibly relate to the recording of Alton Towers (see YMGTA #36).
The closing monologue, delivered by 'Ding' is pretty clear in meaning, however. It's a sardonic commentary on bands that reform and trade in on past glories: 'They're just running on remembrance, and reminiscing of encore time at the end of the 90 minutes on the stage'. Whilst the sentiment is understandable to some extent (there is something a bit sad about reconstituted bands trundling out ancient crowd-pleasers on the nostalgia circuit), there's a rather unnecessarily sour and pedantically purist tone to the words. Smith clearly begrudges those who abandoned the music business to have lives, 'proper' jobs, families, etc. and then strap the guitar back on to make a few quid playing their handful of hit singles. It feels rather churlish to begrudge the Cuds and Wonder Stuffs their opportunity to make a few quid entertaining nostalgic 40 or 50-somethings though, however much it doesn't fit with the Smith world-view.
None of this detracts significantly from a powerful, atmospheric track, which builds and drives relentlessly, although its sudden fade feels a little limp and disappointing.
Say Mama / Race With The Devil
An incongruous weak link. A minute or so of a Gene Vincent cover that's predictable and generic enough to make you expect someone to shout 'White lightning!' at some point; this segues awkwardly into another version of a Gene Vincent song, this time recorded at John Peel's 50th birthday bash.
There's nothing terribly wrong with it, but it feels aimless and lazy and doesn't integrate with the other much more inventive stuff on the EP.
Touchy Pad
Touchy Pad is also a diversion from the gnarly aggression of the first four tracks of the EP, but is far less incongruous and much more worthwhile than its predecessor. It makes a strangely sudden entrance, like it's an old vinyl record that has a scratch right at the beginning of the track.
It's much lighter in tone than most of the tracks here (featuring the rarely-spotted Fall acoustic guitar), but is no less strange and unhinged than the rest of the EP. The song is certainly more accessible than the likes of Mister Rode, thanks to the comparatively gentle strum of the acoustic guitar and the Greenway's simple, melodic little guitar line that brings to mind those pleasant if inconsequential instrumentals that REM used to stick on b-sides in the early 90s.
This might make Touchy Pad seem sound rather bland, but this isn't the case. Whilst it is considerably less 'in your face' than the earlier tracks on the EP, it still has a pleasingly skewed quality. This is achieved through the oddly lurching, off-kilter rhythm, Eleni's deftly applied synth effects (the level of depth and texture she added to Fall recordings of this era really should not be underestimated) and Tamsin Middleton's vocal contributions. Tamsin was, along with Ding, a member of As Able As Kane, who would go on to play as support for The Fall in 2015. Her intense, manic vocals ('Where's my time machine?!?' and the impressively anguished scream at 0:32) make an effective contrast to MES's relatively restrained delivery.
The song's title suggests that it might be one of Smith's anti-technology rants, on the lines of 2011's Laptop Dog or the later Quit iPhone and Fibre Book Troll. You can very tentatively read this into the words if you try hard: 'time machine' could be a technological reference; MES talks about 'AI' (possibly) at 0:59; 'Asians with weak bones' might have something to do with Japanese tech companies. But it's hard to pin down. What has any of this to do with 'Welsh kids' whose 'slime leaks and mixes'? And where does the apparent Lovecraft reference ('the tentacles of the Old Ones') fit in?
According to The Annotated Fall, Tamsin Middleton identified the behaviour of the UK Border Agency as the inspiration behind the lyrics. She also says, 'the narrative is somewhat obtuse in the final edit, which is how MES seems to like it!' Whatever the subject matter, Smith is clearly not happy about something: 'How long can we tolerate this?' 'Your lousy country stinks anyway' also points to an air of bitterness and dissatisfaction.
The abrupt opening, combined with the sudden conclusion, gives Touchy Pad, like Amorator!, a rather fragmentary feel. This doesn't distract too much from its effectiveness though; in fact it adds to the song's ambiguous, even mysterious atmosphere. It was never played live.
Overall Verdict
In an interview for an Irish radio station, when asked if the EP was leftover material from Re-mit, Smith replied 'That's why it's called The Remainder [sic]'. The record label also suggested that it was some sort of 'bridging point' between Re-Mit and the next album, and this was reinforced by some of the reviews, such as Niall O'Keeffe's above.
But it actually doesn't sound like either of those things. It certainly doesn't feel like a Re-Mit bonus disc: the Re-Mit songs are far more taut, focused and melodic. The notion that it's a 'bridge' between albums is not terribly convincing either. The overall sound of the EP is more closely aligned to Ersatz GB, but there's a much stronger link between Ersatz and Sub-Lingual Tablet. In fact, The Remainderer, whatever Smith's intentions were, stands quite independently as a release that has its own distinct sound. Smith's vocals do, to some extent, hark back to Ersatz, with the increasingly familiar deployment of that Dalek/gargle effect. But otherwise, the EP has a loose and abandoned yet somehow simultaneously disciplined approach that set it apart from other releases of the time.
Whilst it's full of thrilling highlights, it's undoubtedly flawed. The Gene Vincent stuff is b-side material at best, and Touchy Pad and (especially) Amorator! are great tracks but cry out for further development. It's frustrating to think what this could have been, given a bit more time. Nonetheless, it's still a too often overlooked gem in the back catalogue.
My "Version"
What I really would have liked is for the group to have taken the time to develop this approach/sound and produce 40 minutes worth of this kind of material. But with what's available, I'd cut out the Gene Vincent covers and sequence it slightly differently:
Mister Rode / The Remainderer / Touchy Pad / Amorator! / Rememberance R (23:39)
Rankings
As with Slates, it's a challenge to place an EP such as this alongside lengthier releases. In fact, considering where The Remainderer fits here got me thinking about my evaluation of Slates. Slates is undoubtedly of high quality: six strong tracks, four of which are outstanding. In terms of consistency, it's an impressive set of songs. Nonetheless, you could argue that it's unfair on other releases (of, generally, 45-60 minutes) to judge them against something that's less than 24 minutes long.
I did consider not including The Remainder in this list: however, as it is of similar length to Slates and has the same number of tracks, to do so felt like accepting that the earlier release was part of an accepted canon and therefore deserved special treatment. And – as I'm sure has been demonstrated fairy consistently over the course of this blog – I don't accept that there is an irrefutable canon of the group's best work.
And so, 'often exciting but flawed' finds it mid-table, although it's pretty close to the two above it. Could potentially have been so much higher though…
This Nation's Saving Grace
Your Future Our Clutter
Perverted By Language
The Wonderful And Frightening World Of
Hex Enduction Hour
The Real New Fall LP Formerly 'Country On The Click'
Re-Mit
Levitate
Slates
Grotesque
Imperial Wax Solvent
The Unutterable
Fall Heads Roll
The Marshall Suite

The Remainderer

Cerebral Caustic
I Am Kurious Oranj
Room To Live
The Infotainment Scan
Extricate
Bend Sinister
Dragnet
The Light User Syndrome
Are You Are Missing Winner
Ersatz G.B.
Middle Class Revolt
Code: Selfish
Shift-Work
Live At The Witch Trials
Reformation Post TLC
The Frenz Experiment