"The Fall are anti-social, anti-communal, and best experienced in the flesh, in a room full of strangers. We need it more than ever."
Details
Recorded: Chairworks studio, Castleford and 6dB Studio, Manchester
Released: 11 May 2015
Mark E Smith – vocals
Dave Spurr – bass
Peter Greenway – guitar
Keiron Melling – drums
Daren Garratt – drums
Eleni Poulou – synths
With:
Rob Barbato and Tim Presley – all instruments (Black Roof)
Background
The group played one final 2013 gig after The Remainderer's release on 9 December. The performance, which took place in Cologne on the 13th, saw Daren Garratt as the sole drummer, covering Keiron Melling's paternity leave.
2014 kicked off with a gig in Athens on 1 February. It featured Melling and Garratt playing together on two full kits, early 80s-style. And bloody good they sounded too – see this performance of Victrola Time, or this version of Mister Rode where the two of them batter away in synchronicity that is a joy to behold:
According to the gigography, however, the second half of the set saw MES disappear, leaving Eleni and Daren to share the rest of the vocal duties.
Later that month, this cartoon appeared in The Guardian:

After three months off, the group returned the stage at the Warwick Arts Centre in Coventry on 1 May. Despite his long-standing aversion to facial hair (unless it was Rob Barbato's), Smith was sporting a beard.
The gig seems to have suffered from ropy sound, but was notable for the first (at this stage rather sketchy) version of Auto Chip 2014-2016, at this point just called 2014 according to the setlist.
After a gig on Cambridge on 6 May, The Fall's next performance was in Manchester on the 15th. There's a somewhat distorted recording of the whole gig here. The Cowboy George coda segues (at 11:58) into 2014, which starts off feeling much more coherent and forceful than its debut, but then turns out to be a mere two minute introduction to Bury.
Pledge was played for the first time (19:53); according to the gigography, Daren Garratt claimed that the song was written in the dressing room before the gig. Facebook (as it was called on the setlist at this point) also received its debut (at 42:34 in the video above).
At the end of May, the group played two gigs in France: Nimes (on the 29th – Cowboy George is here) and Le Havre (where MES seems to have done quite a bit of wandering on and off stage).
After a London date on 11 June, The Fall played an Italian festival on 18 July. On 10 August, they performed at a festival in Skipton where they were pulled off stage temporarily due to high winds after only four songs. The last of these was BAM (Student-Village), an early incarnation of First One Today. This first part of the set is here (BAM begins at 20:05):
The rest of the set is here, in which they played an energetic version of The Stooges' Cock In My Pocket (with Garratt providing the vocals).
At York on 30 August, Eleni didn't play, apparently due to an allergic reaction to the freshly painted venue. Dedication Not Medication was debuted, with the working title Bumblebee. Junger Cloth was also played for the first time, at this point called Jungle.
In September 2104, Steve Hanley published his memoir of his experiences in The Fall, The Big Midweek: Life Inside The Fall, co-written by Olivia Piekarski. It's a highly-recommended, thoroughly entertaining read, especially strong at exploring the changing relationship dynamics within the group. If you haven't already, buy it.
Steve Hanley discusses the book and his experiences here.
The group's next gig, at Brighton on the 25 September, saw the debut of Venice With The Girls (at this point entitled Gone To Venice). The setlist indicates that Quit iPhone (Get Off The Phone) was due to be played, but the gigography suggests that it didn't appear until the next gig the following night in Brixton, where it can be heard at 30:42 in the video below.
The Spectator published an entertaining review of the gig:
'And blimey was this fun. The Fall are rock music as imagined by Brecht. They play, or rather attack their instruments, like five-year-olds with OCD. It's bad – terrible! – but excitingly so. The songs (if they can be so described) were indistinguishable, though one senses such trifling things aren't really the point. Mark E. crowed out every word like a man possessed. Every word was nonsense, granted, but more zealous nonsense you're unlikely to hear anywhere.

MES stood louche as a sozzled Bryan Ferry and mumbled throughout, stopping occasionally to kick stuff and bully his terrified guitarist. There was no patter until the bitter end: "I'm Mark E. Smith and we are The Fall. You've had yer hour-and-a-half, go home now."'
After two nights at Lower Kersal Social Club, Salford (27-28 September), the group played at the Supermassive Festival in Helsinki on 25 October. For undisclosed reasons, Eleni performed in a wheelchair.
Two days later, The Fall were back in the UK, playing at The Garage, Islington (there's a good quality video of the whole set here). On the same day, their 40th official live album was released.
Live Uurop VIII-XII Places In Sun & Winter, Son, as well as being possibly their most eccentrically titled release, was also the first (and only) album to be credited to 'The Fall Group'. It contained a selection of live tracks from 2008-12. It's not exactly clear what comes from when/where – there's some discussion here.
Wings (With Bells) is a solid version of a classic song, although it's not entirely clear as to the point of the church bells intro. The sound quality overall is distinctly variable, but tends towards the thin and tinny – Cowboy George, for example, seems to have been recorded from the bar of the venue. The version of 50 Year Old Man, whilst it lacks the demented distortion of the album version, is a highlight.
The most interesting tracks, however, aren't actually live recordings. Auto (2014) Chip Replace is a relatively brief take on the track, more focused on quirky electronic squiggles and random vocal interjections than driving krautrock; Amorator (here without its exclamation mark) also features much more electronica, with Eleni playing a more prominent role.
The last gig of 2014 took place at Brudenell Social Club in Leeds on 28 November (there's a video of Cock here). According to the gigography, veteran Fall recorder hanleyfender, who attended most of the 2014 gigs, declared this one to be the best of the year.
I am fortunate to possess a copy of hanleyfender's bootleg compilation of the best of the year's performances, entitled Two 0 One Four. It's a thing of great joy, the nine minute stampede through Mister Rode being a particular high point.
On 31 October, Mouse On Mars released a compilation CD called 21 Again, which featured a brief spoken introduction from MES and Eleni.
Hot on the heels of Steve Hanley's book, Simon Wolstencroft's memoir, You Can Drum But You Can't Hide, was published in November 2014. It's entertaining, humorous and informative throughout, and is definitely worth acquiring; Louder Than War, quite rightly, described it as 'cracking read'. Buy it here.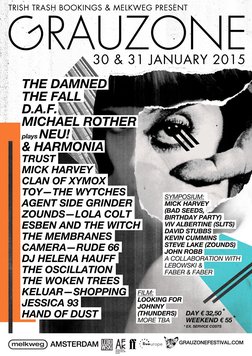 The group performed a couple of times in early 2015. On 30 January, they played at the Grauzone Festival in Amsterdam. John Robb, writing for Louder Than War, reviewed the performance:
'After all these decades of watching The Fall this psycho theatre never fails to engage…

There is a madness in the area, Mark sings through a plastic cup, shouts without the mic at the audience, stares into space, swaps mics around, grins when hit by a plastic glass, tries too get drummer number 2, Darren [sic], to sing the vocals and lurks behind the amps on the stage. There is a lot of humour and deliberate chaos to the proceedings and somehow in the middle of it all the band keep their shape like a giant killing football team not buckling down in an unlikely FA cup game.'
There are several videos here. On the setlist, Cock has now become Stout Man. Unusually, MES is wearing a T-shirt.
The following month, The Fall performed at the BBC 6 Music festival in Gateshead.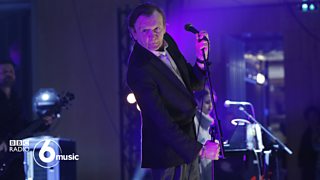 The highlights video below, introduced by Radcliffe and Maconie, contains four of the seven songs from the set: Amorator!, Mister Rode, Wolf Kidult Man and Reformation! The version of Wolf is wonderfully frantic and aggressive, but the standout moment is Reformation! It's an incredibly forceful performance, featuring MES twiddling nobs and using his mic as percussion throughout, directing both Greenway (15:45) and Melling (18:31) to sing, and even throwing a crumpled-up lyric sheet into the audience (16:00). The interaction between him and Eleni (20:11) is also rather touching.
The most impressive aspect, however, is the intensity and commitment of the group: just watch Greenway (18:19-18:26), Garratt (19:27-19:32) and Melling (19:32-19:52).
In March 2015, a court case took place regarding the royalties for Touch Sensitive. Steve Sharples (who was known as Steve Hitchcock back in 1999) had provided some string arrangements for The Marshall Suite. On the album, the songwriting credits, read 'Smith/Nagle/Hitchcock', but the royalties were actually split one-third MES, two-thirds Julia Nagle. Sharples/Hitchcock claimed that he was entitled to a one-third share of the royalties.
The record of the hearing is an intriguing, if complicated read. Amusingly, judge Amanda Michaels declared that:
'I found Mr Smith to be a truthful witness, who was frank about the vagueness of his recollection of some of the events from the relevant period in 1998 to 1999.'
The discussion of the lyrics (parts 74-76) is particularly entertaining, not least the comment, 'Mr Smith delivers the lyrics in a manner which at some points makes it hard to hear the words'.
In conclusion, the judge found that:
'Mr Sharples asserted that the string sections stood on their own. In my view, that is to overstate their significance, but I accept that the strings are audible between the refrains and amount to short but discrete parts of the instrumental elements of the Album Version. In my judgment this adds texture and interest to the music absent in the earlier versions. I am unable to make a similar finding in relation to the other changes which Mr Sharples said he made to the music. There may be some changes to the bass line and the guitar parts, but on balance I do not think that these reflect a process of composition of new music or an original arrangement of music by Mr Sharples. In these respects, I prefer Mr Smith's evidence that Mr Sharples was in that respect carrying out the task of a record producer, not acting as a composer.

I conclude that Mr Sharples did make a small but significant original contribution to the composition of the music of the Album Version by composing and adding the string sections to the work.'
However, she felt that Sharples' contribution only entitled him to 20% of the royalties.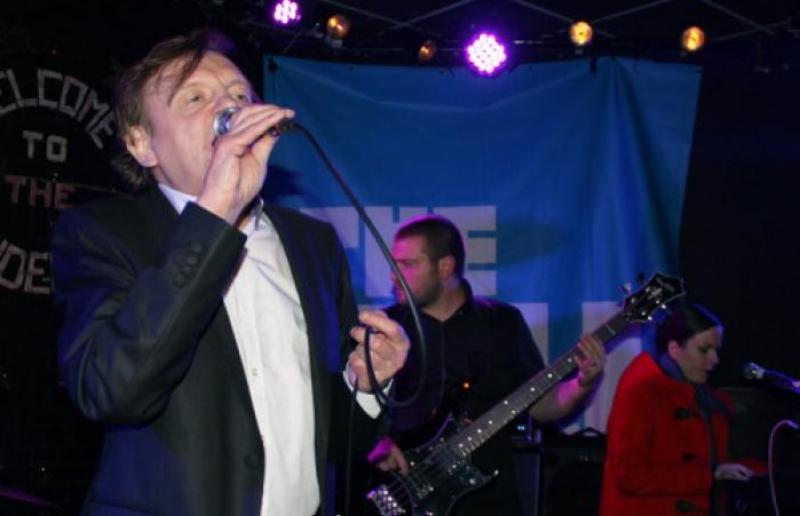 There were four more performances before SLT's release. At The Electric in Brixton on 24 April, Jungle had become Junger on the setlist. According to a review by Tim Cumming, writing for theartsdesk website, the new album was already on sale at the venue. Cumming describes 'enthusiastic moshing', and concludes that:
'…though it's all but impossible to hear a word [MES] says, the way he pulls focus – amp-fiddling, abrupt walk-offs, abrupt returns, three encores (the last when the venue is emptying out) – means he remains compelling, visceral, venomous and a potent, sub-lingual antidote to the beige like-and-share community culture of these times. The Fall are anti-social, anti-communal, and best experienced in the flesh, in a room full of strangers. We need it more than ever.'
The next two nights saw the group play in Hastings and Norwich. Their gig in Wakefield on 9 May (the last before the new album's official release) did not feature Daren Garratt.
Shortly after SLT's release, Vice published a Daniel Dylan Wray interview with Smith. MES was on entertaining form: cantankerously difficult, tangential and acerbically humorous. At one point, he expresses admiration for Dave Eggers' novel The Circle (even if he can't actually recall the author's name, referring to him as 'some daft c*nt'). However, there is also a long list of targets for Smith's typically blunt and withering criticism: Northern people, especially Mancunians ('There's something about Manchester musicians that's particularly f*cking irritating'), Sheffield ('sh*t'), London ('was always a sh*thole'), his once-beloved Edinburgh ('a f*cking boring, yuppie place now'), older Fall fans at gigs ('Anyone over 43 shouldn't be allowed in'), Bitcoin ('worth like tuppence now') and Frank Skinner ('I mean what does he do now? Adverts for f*cking HP Sauce or something?')
In The Wider World…
Four days before the album's release, a general election saw the Conservatives return to sole power with a majority of twelve. (When asked if he had voted, MES said, 'I sort of did and I sort of didn't'.) The same month, cashless payments exceeded the use of 'proper' money for the first time in the UK. The last day of June had a 'leap second' added to it.
In the music charts, Omi began a four-week stay at number one with his single Cheerleader (once again: no, me neither). The best-selling single of the year was the horrifically ubiquitous Uptown Funk by Mark Ronson and Bruno Marrs. Blur's eighth studio LP, The Magic Whip was the number one album; it was succeeded a week later by Wilder Mind by MES favourites Mumford and Sons. The best-selling album of the year was Adele's 25, which went on to sell 22 million copies. (Looking at the tracklist, I'm presuming that When We Were Young is not a cover of Whipping Boy's decent 2011 single.)
The Album
The sleeve doesn't provide studio credits, but it was recorded at Chairworks in Castleford (as The Remainderer had been) as well as Simon Archer's 6db Studio. (Ding engineered the LP).
As well as the CD version, the album was released as a double vinyl LP, which featured different takes of Dedication Not Medication, Auto-Chip 2014-2016, Pledge and Fibre Book Troll.
In his last ever interview for the NME, in February 2015, Smith discussed the album's title with Jon Bennett:
'It was going to be called 'Dedication Not Medication' but, you know, it looked a bit like a Barclays advert.'
Reviews were less polarised than was the case with the previous two albums, being more consistently lukewarm. In Dusted, though, Jennifer Kelly was relatively positive:
'Sub-Lingual Tablet is… a lot of things: an old man raging against technology, a rabid punk deconstruction, an obscene, off-the-cuff poetry slam, a riff on the Fall's history, a really excellent iteration of the current band (who have been together longer than most Fall line-ups), a joke, a nightmare, a conundrum. But it is not evidence of stasis. Mark E. Smith continues to morph in unpredictable ways… This is the trippiest Fall album I can remember.'
In The Skinny, Chris McCall also found a positive angle:
'Fall fans groan whenever a new LP is hailed as a 'return to form', but this – their 31st – is easily the best since 2007's Reformation Post TLC. The group have written the sort of sharp garage rock nuggets that Smith is now best suited to.'
Benjamin Bland, writing for Drowned In Sound, awarded the album 7/10, but was almost apologetic in the tone of his rather faint praise:
'To expect something as perfect as Hex Enduction Hour or This Nation's Saving Grace in 2015 would be ludicrous. However, this is less to say that MES's powers have dimmed, more that the impact of The Fall's work has effectively become cumulative rather than immediate. Each new album is an addition to their previous work, and to judge in isolation is perhaps of limited value as a result.'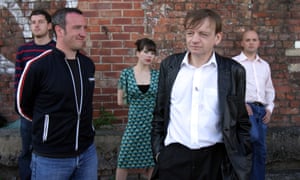 The Guardian's Michael Hann was more ambivalent; whilst admiring Venice and (like most reviewers) Auto-Chip, he felt that SLT 'certainly has its share of Fall-by-numbers'. Devon Fisher, writing for Pop Matters, was frustrated by the limited scope of the lyrics – 'the most coherent messages one can find throughout the album are that Smith thinks prescription drugs are overprescribed and isn't particularly fond of smartphones' – and also felt that:
'…there's nothing wrong with anything on Tablet, simply that Smith has been doing the same thing for so long that one starts to wonder what he might be able to do if he set his sights a little higher.'
Some reviewers disagreed with Jennifer Kelly's assertion that the album was 'not evidence of stasis', and felt that the unusually settled line-up was indeed having a negative impact. Pitchfork's Stuart Berman, for example:
'…in spite of their surprising stability, this iteration of the Fall is strangely lacking in audible camaraderie, and on Sub-Lingual Tablet, the distance between front man and backing band feels more pronounced than ever. More often than not, the album comes off less like a product of intuitive interaction than the group churning out rehearsal-space warm-up exercises for Smith to spew over.'
Luke Turner of The Quietus reiterated this point of view. He felt that it was 'time for a purge':
'The trouble is, The Fall's at the moment are too good. They're capable, muscular, increasingly boring. It's hard not to think of the times when a radical personnel overhaul has resulted in The Fall making some of their best work.'
The album reached number 58 in the UK albums chart.
The Songs
Venice With The Girls
In the long tradition of blistering, garage rock album openers (D.I.Y. Meat, The Joke), Venice bursts from the starting blocks with crackling energy. The rhythm section is as taut and robust as ever, and Greenway contributes some effortlessly fluid thrash, embellished with some excellent string-bending/tremolo work. It's almost a traditionally-structured song, having what feels like a verse and a bridge; albeit a bridge that leads straight back into the verse, eschewing the need for a chorus. There's a choice moment at 3:31-3.33, where the band drop out and smash back in again with impeccable timing.
That moment is made all the more effective by Smith's strangely ghostly and atonal multi-tracked vocals. This layering of his voice is a strong feature throughout; there's the familiar sneering, growling and semi-tuneful crooning, but there's also an oddly robotic, dispassionate tone to some of his vocals on occasions. The combination of these disparate tones gives the song a broader, more intriguing texture than many of the group's other heads-down rockers.
The lyric seems to have been inspired by this advert for Staysure Insurance. The ad is aimed at over-50s, and includes the line, 'I'm off to Venice with the girls' (although its most remarkable feature is the delivery of the word 'bunions' at 0:15). Given this, the song's reference to 'mad seniors' might suggest that it is making fun of middle-aged Britons letting their hair down whilst on holiday abroad. The Annotated Fall suggests that the repeated refrain 'waiting so long' might have some link to Bowie's Look Back In Anger or Cream's Sunshine Of Your Love, but this feels a little tenuous.
TAF also points out a much more interesting link concerning the repeated line 'The best thing for you to do is hide'. In Smith's appearance on The Adam & Joe Show's regular Vinyl Justice feature (where the duo would 'raid rock stars' homes, then examine their record collections for embarrassing or surprising items'), one of the records that was played was Little Diesel Driving Devil by Don Bowman, which contains the lyric 'He's the fastest thing alive / When he puts that truck in overdrive / The safest thing for you to do is hide'. (You can hear the lines – and see MES, Adam and Joe dancing along – at 1:36-1:46 in this clip.)
Venice With The Girls was performed live 54 times, 2014-17.
Black Roof
Tim Presley contributed some intriguingly demented insanity to Re-Mit via Kinder Of Spine; here, he and fellow 'Dude' Rob Barbato add a similarly deranged note to Sub-Lingual Tablet. The two Americans performed all of the music on Black Roof, which was described by Mojo (quoted here) as:
'…varispeed insanity [that] makes a welcome break from the band's post-millenial, Peter Greenway-led Kraut/garage comfort zone for a thrilling anything may happen edge.'
After a brief, clattering bass/drum intro, there's a light, jaunty little passage featuring a shrill sci-fi keyboard line, accompanied by an alternately snarling and crooning MES. At 0:22, things slow down and get a little proggy; MES here goes for the way, way down the register (slowed down?) voice he later revisited on Couples Vs Jobless Mid 30s. At this point, we get a throbbing bass loop beneath Smith in semi-megaphone mode, soon accompanied by a keyboard (or maybe guitar?) impersonating the mating call of a seagull. Then (1:18) it's back to the original section, with a little bit of Dr Who sound effects thrown in (1:22-1:28), before it all concludes abruptly, still some distance from the two minute mark.
It's a hell of a lot to fit in just over 100 seconds, and sounds like at least twelve unfinished ideas flung together with random enthusiasm. But, as is often the case with The Fall, it somehow, inexplicably, works.
The lyrics are so perplexing ('You simply cannot prove your fog-accenting notions'; 'Easter island profile and care from old inwardly truck land') that even The Annotated Fall simply shrugs its shoulders and admits defeat: 'I have no idea what these lyrics are about'. All I can add is that Smith's delivery of 'into your present delectation' (0:29) is rather reminiscent of Napoleon XIV.
Originally entitled Black Door, it retained that title on some digital versions. It was, sadly, never played live.
Dedication Not Medication
The almost-title-track of the album (see the NME interview above); the group's backdrop on their autumn 2014 gigs read, ' Dedication not medication: you decide!' (I was going to point out that this is grammatical nonsense, then discovered that The Annotated Fall had already done so.)
It's a disconcertingly wobbly slice of twisted funk and mutant electronica, wrapped in a deceptively calm, metronomic krautrock groove. Spurr chugs away with gritty determination, Greenway adds waves of reverberating but restrained distortion, while Eleni contributes an impressive range of deep, off-kilter oscillations. Musically, the song may owe a debt to Paradox Obscur's Cold November.
It's become a cliché to say 'only MES could have…', but in this instance, there's definitely a case to be made for Smith's utter uniqueness. It's almost impossible to imagine anyone else opening a lyric with anything as disturbingly odd as ' Pierce Brosnan how dare you prescribe / Sad grief and bed wet pills?' It's possible that this may refer to the ex-Bond actor's role in promoting a product called Pan Bahar, Pan Bahar was a branded variety of Gutka, a 'chewing tobacco preparation', of which one of the side effects is, apparently, incontinence.
The version on the double LP vinyl release is radically different. Almost twice as long, it's thinner in sound, but has a frantic atmosphere that makes it no less intense. The drums are much busier (and have a distinctly Can-like quality); the other instruments are far more understated. Smith's vocals are right at the front (almost uncomfortably so) of the mix, and he doesn't get to the melody of the CD version until the last two of its seven and a half minutes. Most of the vocals are taken up with a rather baffling dialogue between Smith and Ding (The Annotated Fall transcribes them here).
Dedication was played live 70 times, from 2014 right up to the last gig in 2017.
First One Today
A variety of seemingly disparate elements casually chucked together: the snaking bass line, the chiming keyboards, the pair of guitar parts (one creating a taut little bluesy rhythm, the other slashing away with abandon in the background) and the skittering drums… they're all great individually, but overall it's all a bit messy and unfocused.
The drop in tempo at 1:29 is awkward, but endearingly so, and it picks up (led by Greenway's crafty riff at 1:51) with well-judged timing.
The Annotated Fall points to a lyrical link with Webb Pierce's There Stands A Glass (the greatest version of said song, though, is obviously Ted Hawkins'). The reference to 'his social media psyche' is a theme that MES would revisit several more times throughout the album.
Played 61 times, again from 2014 right up to the last gig in 2017.
Junger Cloth
In his review for The Guardian, Michael Hann felt that this track reflected a 'faint but unmistakable influence of West African pop', and there is certainly some sort of Afro-beat influence going on with the dynamic, shuffling drums. Not for the first time, you can hear a Can as a clear influence. In addition to the complex and constantly intriguing percussion, Spurr lays down one of his ineffably fluid and muscular bass lines; Greenway throws in some choppy, funky guitar work that occasionally breaks out into a pleasing but reserved thrash. Not for the first time, its Eleni who pins down the song's overarching character with a sustained, wonky keyboard melody.
Inevitably, the words are impenetrable (see TAF for possible interpretations) but there's definitely a sharp and aggressive tone to them – 'Inexplicable and disgusting'; 'Limp, yet mocking'; 'All that is foul in man and creature'; 'Spacious and wasteful' – that provides an effective contrast to the taut, reined-in sound of the group.
Junger is also one of those tracks where Smith's vocals seem to 'float' in an almost disassociated style over the group's backing. Not, as was often the case with RPTLC, in a cold, artificial way; here, the dislocation between the group's tight groove and MES's meandering disgust creates an unpredictable and tense atmosphere that resolves beautifully with the final, definitive three chords at 4:43.
It was played live 30 times, all in 2014-15.
Stout Man
Cock In My Pocket was a Stooges song, written in around 1973, that never received a proper studio release, although it did appear on the band's infamous live album Metallic 'KO in 1976. The Fall first performed a cover of the song at their wind-disrupted performance at the Beacons Festival in August 2014 (see above). By January 2015, the cover had become Stout Man.
Smith discussed the song at some length in his Vice interview (see above). He seems to have attempted to establish musical experience/knowledge superiority over his musicians, challenging them to learn the relatively obscure Cock In My Pocket. Which they did. Interestingly, despite his frequently-professed obliviousness to all things internet-related, MES accused them of having 'shazammed it'.
He went on to say:
'They'd been tricking me, they'd been sneaking back into the studio to keep tightening it up. I couldn't catch them out but in a car on the way down to London I was looking behind the seat and there was this CD, covered in dirt, with the original rough mix of it. I made them use that; they'd been doing about eight or nine different versions of it, it was pathetic. They must have worked more on that song more than any other on the whole album.'
All of which throws some intriguing light on MES's attitude to recording and musicianship; sadly, though, this is all far more interesting than the song itself. Stout Man is a disappointingly pedestrian trundle, redolent of a tired pub-blues band with a pissed singer on a late Sunday afternoon. Smith gargles and growls defiantly, and Greenway in particular tries to inject some enthusiasm, but the whole thing smells of beer-soaked bar towels, brimming ashtrays and resigned desperation.
Sadly, it was the last song that the group ever performed live.
Auto Chip 2014-2016
In contemporary reviews as well as in retrospect, Auto-Chip is generally regarded as the album's highlight. The Guardian's Michael Hann described it as 'a tide washing up on the same beach over and over and over again. It's magnificent.' Pitchfork's Stuart Berman thought that its '10 exhilarating minutes' saw the group 'for once, casting out with a clear destination in sight, gradually applying pedal pressure on a sun-bound motorik rhythm until it achieves lift-off'. For many people, it was the last great song that the group recorded.
The term 'Krautrock' is often applied to The Fall, at least as far as influences go, but they rarely actually sounded like Krautrock, either in the 70s Amon Düül/Neu! sense or the more modern Minami Deutsch/Föllakzoid approach. They do here though.
Whilst the rhythm section anchor everything with powerful precision, it's Greenway that makes this special. The way that he takes a simple guitar line and stretches it over ten minutes through subtle variation and nuance – without ever resorting to histrionics or crude thrashing – and unwaveringly grips your attention throughout is an absolute masterclass in fluid, understated and intelligent guitar playing.
It became some sort of emblem of the group's defiance, resilience and adherence to the '3 Rs' mantra, being played at the overwhelming majority (62 out of 78) of their gigs in their final few years. The version above, stretching to nearly 20 minutes, is one of many exhilarating recordings.
The vinyl version is not vastly different, basically being trimmed at either end (the first 42 seconds and the last 68 are missing: see my Fi5 post for more, not especially enlightening, detail).
Pledge
First performed in Manchester in May 2014, after being written in the dressing room that evening (see above), Pledge is a disappointingly plodding and unedifying grind. The mix is horrible: the guitar and bass lurk timidly in the background; the drums are thin and insubstantial; Eleni's keyboards and (especially) Smith's vocals are almost aggressively prominent. MES is on distinctly 'just back from the pub' form.
Smith seems to have come across the concept of Pledge/crowdfunding via his involvement with Ginger Wildheart's Mutation 'supergroup'. It doesn't seem to have left him with much interesting to say on the subject: 'Went to get money for download,
they said "Two Ten Pledge!"'
The vinyl version is a considerable improvement. The sound is much better balanced, and the whole thing is more concise and focused. It's still a pretty thin idea though. The song was played live 24 times, 2014-17.
Snazzy
Fades in almost timidly, with a customarily fuzzy Spurr bass line backed by a delicate Greenway riff. It bops along pleasantly enough for nearly a minute, before it takes a pleasingly down-tempo turn. Ninety seconds in, the group strike up a rousing pace that then fades out after another minute or so.
On The Annotated Fall, contributor Dolb suggests that the lyric might reflect Smith's cynicism toward the recent publicity regarding ex-members' books and interviews. Lines like 'Let me tell ya about the wee lads' and 'I never saw them again and if I ever do,
I'm sure it will be in purgatory' would seem to make this a viable interpretation. That said, the inflection of Smith's delivery is more melancholy then aggressive or spiteful.
Snazzy has an engaging swing and gentle swagger to it, but has a frustratingly unfinished feel; it's especially disappointing that it fades just as it's building momentum. There is a longer (4:29) instrumental out-take version floating around out there on the internet, but the uptempo part only comes in for a minute or so at the end.
It didn't receive its live debut until after the album's release, being played as the encore in Newcastle on 23 May. (In the video above, a wag in the audience shouts out the song request, 'Not Mr. Pharmacist!') Snazzy only got another half a dozen outings.
Fibre Book Troll
First recorded as far back as December 2013, the song first appeared on a various artists compilation album called Modeselektion Vol. 03. On the sleeve of this compilation, it was entitled Fibre Book Troll, although it appeared on the setlist as Facebook for its live debut in May 2014 debut and simply Troll for the next couple of outings. (To confuse things further, it reverted to Facebook Troll when it reappeared on the Wise Ol' Man EP in 2016.) It only got 17 live outings.
The song sees the group revisit the krautrock/motorik approach of Auto Chip: Spurr and Melling provide an unfussy, solid, driving rhythm; Eleni's malevolent three-note synth motif anchors things further; Greenway offers a varied guitar ebb and flow similar to his excellent work on Auto Chip. The group don't quite hit the same heights here, however. The track has a pummelling intensity, but lacks the subtlety and dynamic range of Chip. It's always a pleasure to hear The Fall grasp a basic song idea and thrash the living daylights out of it, but whereas Chip never outstays its welcome, even given its extravagant duration, Troll feels too simplistic too withstand the length to which its stretched. The 45 seconds of whistling at its conclusion only serves to emphasise the sense of space being filled.
Smith's vocals are impressively aggressive – in places they're positively furious – but he doesn't (on the album version, at least) have a great deal to say. Basically, the song is a very direct rant about people impersonating him online. MES discussed the topic in a 2015 interview for Q.
'I had these fellas saying they were me… Three on Facebook, two on the Twitter. My Irish mates said there was one getting 14,000 hits a day.'
Bizarrely, Smith went on to claim in the same interview that he used technology invented by Richard Madeley to deal with the problem.
'Using Richard Madeley's technology, Smith says he called one of his impersonators and left a message for him. "I said, 'I am Mark E Smith and every day I awake weeping over this intrusion. Please stop.' Worked, but on the Fall websites everybody was saying what a bastard I was."'
The Modeselektion version has rather more lyrical substance to it (see The Annotated Fall) and is more subtle, less bangingly relentless and has a pleasingly skewed atmosphere. It also features some less restrained but equally fine distorted guitar work from PG; in addition there's more variety in Smith's delivery, although he still sounds incandescent with rage in places. Whilst it still feels a little stretched, the chaotic breakdown over the last minute is more successful at maintaining interest than the whistling.
On the vinyl version of the album, Fibre Book Troll is simply bizarre. Long (eleven and a half minutes), resolutely lo-fi (a post on the FOF – bottom of the page – suggests that it was recorded on an iPhone) and meandering, it almost gets quite jazzy in places. Smith doesn't just sound furious, he sounds deranged. It's simultaneously horrifying and strangely impressive.
Quit iPhone
Quit iPhone finds MES continuing his anti-technology diatribe, this time expressed in a very simple and direct fashion: 'Just quit using your phone'; 'I don't want to look in people's home'. He does so over a rather conventional garage rock riff, that sounds like a slowed-down take on Cock In My Pocket. The group do their best to inject a bit of vigour into proceedings, but can't really disguise the song's pedestrian nature; at times, it sounds like Status Quo covering The Stooges. The absence of any keyboards from Eleni just emphasises the somewhat stodgy meat and two veg workmanlike nature of the song.
Eleni does still make a valuable contribution – her clipped backing vocals provide a welcome contrast to Smith's gargly growl – but MES's contribution feels (pardon the pun) rather phoned in. That said, his broken, drunken croon at the end ('My eye muscle is bright as I stare into the morn / And I see the citadel of media city shining bright') is an oddly touching moment – an approach that he would return to at the outset of the next album.
Overall Verdict
I find it all too easy to conflate Sub-Lingual Tablet and Ersatz GB, and forget that Re-Mit came in between. After Re-Mit's playfulness and invention, SLT feels a little like a backwards step, revisiting the unevenness and wilfully bloody-minded approach of EGB.
Like EGB, Sub-Lingual Tablet has its undoubted high points (Venice, Dedication, Junger, Auto Chip), but there's also a comparison to be made in terms of the tracks that are flawed via their lack of development or through being thin ideas overstretched. Outside of the bonkers Black Roof and the squonky Dedication and Junger, there's an over-reliance on obvious kraut-garage riffery, which the group pull off admirably on occasions, but not with consistency.
Smith's praise for Dave Eggers' The Circle – a dystopian take on the negative potential of social media – is interesting, as there is a clear thread that runs through the album of Smith's mistrust of technology and what he referred to as 'the Twitter'. This was, of course, nothing new – 'What's a computer?'; 'Turn that bloody blimey Space Invader off!' – but here, he too often falls back on an obvious and reactionary middle-aged curmudgeonly persona that verges on self-parody.
Several of the reviews quoted above reflect on the effects of the group's unusually settled lineup, suggesting that this was encouraging stasis and mediocrity. Whilst this is possibly unfair, you can't help feeling that Smith did not get as much out of his 'English musicians' as he might have done here.
My "Version"
Side 1: Venice With The Girls / Dedication Not Medication / Auto Chip 2014-2016 (19:02)
Side 2: Junger Cloth / Snazzy / Black Door / First One Today / Fibre Book Troll (Modeselektion version) (18:37)
Rankings
A frustratingly uneven album, much like Winner and LUS; it's pretty close and crowded in the mid-20s.
This Nation's Saving Grace
Your Future Our Clutter
Perverted By Language
The Wonderful And Frightening World Of
Hex Enduction Hour
The Real New Fall LP Formerly 'Country On The Click'
Re-Mit
Levitate
Slates
Grotesque
Imperial Wax Solvent
The Unutterable
Fall Heads Roll
The Marshall Suite
The Remainderer
Cerebral Caustic
I Am Kurious Oranj
Room To Live
The Infotainment Scan
Extricate
Bend Sinister
Dragnet
The Light User Syndrome
Are You Are Missing Winner

Sub-Lingual Tablet

Ersatz G.B.
Middle Class Revolt
Code: Selfish
Shift-Work
Live At The Witch Trials
Reformation Post TLC
The Frenz Experiment
Live Uurop is distinctly uneven, but does have a couple of interesting studio versions. Not exactly essential, but a worthwhile enough purchase.
Last Night At The Palais
Live To Air In Melbourne '82
In A Hole
A Part Of America Therein, 1981
2G+2
Live In San Francisco
In The City…
Nottingham '92
The Legendary Chaos Tape / Live In London 1980
Totale's Turns
The Idiot Joy Show
Live In Cambridge 1988
I Am As Pure As Oranj
Touch Sensitive… Bootleg Box Set
Creative Distortion
Live 1993 – Batschkapp, Frankfurt
Live 1981 – Jimmy's Music Club – New Orleans
Live 1977
The Twenty Seven Points

Live Uurop VIII-XII Places In Sun & Winter, Son

Interim
Seminal Live
Live At The Knitting Factory – New York – 9 April 2004
Live 1998 12th August Astoria 2 London
Live Various Years
Live In Clitheroe
Live At The Phoenix Festival
Live In Zagreb
15 Ways To Leave Your Man – Live
Austurbaejarbio
BBC Radio 1 Live In Concert
Live At The Knitting Factory – L.A. – 14 November 2001
Live At The Garage – London – 20 April 2002
Live 2001 – TJ's Newport
Live 3rd May 1982 Band On The Wall Manchester
Live 1980 – Cedar Ballroom Birmingham
Live From The Vaults – Alter Banhof, Hof, Germany
Live From The Vaults – Glasgow 1981
Live From The Vaults – Oldham 1978
Live At The ATP Festival – 28 April 2002
Liverpool 78
Live From The Vaults – Los Angeles 1979
Live From The Vaults – Retford 1979
Live At Deeply Vale
Yarbles