"An uncompromising, belligerent, hideous, beautiful idea… This, you imagine, is what the inside of Smith's fogged head sounds like."
Details
Recorded: Chairworks studio, Castleford; 6dB Studio, Manchester; Hilltown Studios,
Colne, Lancashire
Released: 28 July 2017
Mark E Smith – vocals
Peter Greenway – guitar, synth, backing vocals
Dave Spurr – bass, Mellotron, backing vocals
Keiron Melling – drums
Background
After being absent from the group's previous gig, Daren Garratt was back behind the drum kit for the first performance after Sub-Lingual Tablet's release, in Liverpool on 13 May 2015. That night, the group played their cover of Captain Beefheart's Dropout Boogie for the first time (although MES had previously interpolated both the lyrics and melody of the song into Dr Bucks' Letter in a few 2004 performances). It was played again the next night in Birmingham, but only got one more outing after that.
After four more UK dates, it was festival season. First up was the Lunar Festival in Warwickshire, an 'eclectic three day music and arts festival set in the spiritual home of Nick Drake'. Wilko Johnson, Public Service Broadcasting and Julian Cope were also on the bill. There are very brief snippets on YouTube (here, here and here).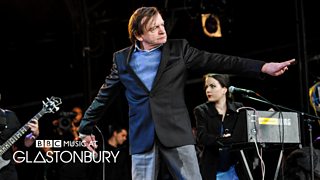 On 28 June, The Fall performed at the Glastonbury festival; the full set, from the BBC coverage, is below. Smith's introduction:
'We are The Fall, from the long, long days. Not used to the countryside; they're half asleep. The group – they're so happy to be here. In Salford of Manchester, they think they're… it's such a great place. Thanks for turning the volume down, c*nt on the desk.'
Several commentators suggested that a visible stain on his trousers (see the video below at 1:26) was a result of Smith wetting himself. However, the apparent explanation is that MES had champagne thrown at him. In an interview with the Manchester Evening News (quoted here), Fat White Family's Lias Kaci Saoudi said:
'We met The Fall backstage at Glastonbury… My brother (Nathan, Fat White's keyboard player) first spotted Mark. He was drinking a bottle of champagne, so my brother goes, give us a drink, and Mark threw the champagne in his face!

I thought we'd end up having a scrap with The Fall but eventually everyone calmed down and we had a good chat. There aren't many musicians I get all fanboy about, but Mark E Smith's one of them.'
Whatever the story behind the trousers, it's an absolutely cracking performance. Once again, the passion and commitment of the musicians is palpable throughout. Spurr is immense: solid, implacable, thunderous. Greenway is a model of calm amongst the chaos, churning out riffs with fluidity and impeccable timing. Melling is phenomenally tight and dynamic. Garratt's drumming meshes perfectly with Melling's, and his impassioned vocal contributions (for example in Dedication at 15:31) give the group's sound a whole new dimension. Eleni's contributions are more understated, but no less vital, for example the reverberating synth line that runs through Hittite Man and the intro to Junger Cloth. Smith is on imperious form throughout.
There are several other stand-out moments: the beautifully smooth merger from Hittite Man into Junger Cloth (24:19); the two kids in the audience dancing joyfully (13:37); how much Greenway looks like he's enjoying himself at 26:34; how delighted MES seems to be at how things are going (27:39-27:55); the heartwarmingly tender interaction between Smith and Eleni (41:58).
The group conclude with a storming Sparta (MES brings a grin to the faces of PG and Melling with his throaty bellow of 'Greenway' at 47:44 – 47:47) and an immense – if relatively brief – Auto Chip. When you consider how many ropy recordings have had an official release, it's a crying shame that this performance has never received one.
On 4 July, The Fall played the Zanne Preview festival in Catania, Sicily. (There's a slightly ropy video of three songs here.)
The next festival was Green Man in Wales on 22 August (there are several videos of this one online – the opening Amorator! is here). Smith was interviewed by Ben Thompson from Mojo at the festival. MES is on superb, hilarious form ('Ask me some Mojo questions, like "What strings did you use?"') and the whole 20 minutes is well worth a watch.
The next festival date was at Bognor Regis (the Rockaway Beach Festival) on 9 October:
'It was a bizarre sight to behold: The Fall – about as unwholesome a band as they come –playing in the "Reds" venue, home to the legendary (and decidedly family-friendly) Butlin's Redcoats. Mark E. Smith snarled, barked and yelped incomprehensibly at a slowly depleting audience (you got the feeling a lot of people had just shown up to see what was on, and they couldn't handle what they found); but the band was tight, the fans up front clearly couldn't believe their luck at seeing their hero in such close proximity, and Mr Smith didn't wet himself. Which is a bonus.'
This performance saw Wise Ol' Man get its first outing.
It was also Daren Garratt's final gig. Daren's departure was a big loss. He made a significant contribution to the group, despite only being the line up for just under two years. His partnership with Keiron Melling produced some real highlights that recaptured much of the spirit of the classic early-80s Burns-Hanley dual-drummer line-up (one that Wolstencroft and Burns, despite their undoubted individual talents, never quite realised together). His vocal contributions – especially on stage – were also excellent.
After a couple more UK dates, the group set off on a seven-date Antipodean tour. At the penultimate performance in Melbourne, Tuff Life Booogie was played for the first time in 25 years.
The Fall played three more dates to round off 2015, at Clapham, Brighton and Buckley.
In February 2016, the Wise Ol' Man EP was released. MES's sister Suzanne provided the cover art. Although it's intriguing and innovative, it wasn't quite the same stand-alone piece of work as The Remainderer, given that that there were only two new songs (two versions of each) plus alternative takes of relatively recent songs (and one live performance of a nearly 40-year-old tune).
The opening title track (an 'edit', apparently) is driven along by a typically tremolo-heavy three-note Greenway riff, effectively supported by Eleni's crisp, deadpan backing vocals. It has a relatively straightforward rock structure, but Smith's atonal croon gives it a slightly unhinged feel. It's by no means clear who the 'man' in question is, although The Annotated Fall suggests (somewhat sceptically, it has to be said) a link to Alan Wise. The 'instrumental' version isn't actually an instrumental: it's a slightly different mix with less prominent vocals.
By far the most striking and original piece on the EP is All Leave Cancelled. Here, the group recapture the anarchic, clattering spirit of The Remainderer, and extend it even further. Dave Spurr's abrupt, chunky bass line is all that's holding the song together; otherwise, it feels like the whole thing would dissolve and collapse into itself. Grainy swirls of synth and guitar float about malevolently; the tempo stretches and contracts as nauseatingly as a dodgily-maintained fairground ride. Smith sounds on the verge of manic collapse, and makes even less sense than usual: 'Who can't be trusted with a one half bucket of whiskey without injecting salad'.
It's full of shifting moods; the transitions in focus (for example the re-emergence of the main theme at 4:22) are exhilarating. All Leave Cancelled is one of those Fall songs that provides you with something new every time you return to it.
The other version, All Leave Cancelled (X), is a brief, taut and controlled mini-version of the song. As for the rest of the EP, the remix of Dedication is pleasingly unhinged (my own combination of the remix and the original is here). Venice With The Girls has a slightly sharper sound compared to the album version, and Eleni's keyboards are more prominent. The version of Facebook Troll is an energetic one, and features gritty, distorted vocals from MES. Halfway through, it merges awkwardly into a live version of  No Xmas For John Quays (recorded in Leeds, November 2014).
Website popmatters commented that:
'Newcomers… won't be able to tell if Wise Ol' Man is the sound of a band firing on all cylinders or the sound of a band coming apart. Let it be known that the Fall never makes things easy, for neither themselves nor their fans.'
The Line Of Best Fit described it as 'not entirely pointless, but it's far from an imperative addition to their output… it's quite obvious that their glory days are behind them; but the sporadic glimmers of promise mean that there's always hope for something better next time'.
The first gig of 2016 took place in Tel Aviv in March. There are a couple of videos on the gigography page (First One Today and Venice), which find MES delivering many of his vocals from the corner of the stage with his back to the audience. The most entertaining video, however, is that of Pledge, where a woman in the front row of the crowd takes a microphone from Smith (1:43) and proceeds to provide some admirably enthusiastic backing vocals while MES doodles on the keyboards.
Although her keyboards were set up on stage, Eleni failed to appear, and apparently did not even travel to Israel. Whilst she had missed gigs before (most recently in August 2014), this time it led to speculation that all was not well between her and MES. This was largely fuelled by an interview for Israeli newspaper Ha'aretz (translated by dannyno here), which referred to 'a friend of Mark' called Pam. This was Pamela Vander, who was eventually to be Smith's final partner.
Eleni was back in the lineup for the next gig in Berlin a few days later, however.
On 16 April, Dandelion/Ozit records released the live LP Bingo Masters At The Witch Trials. Ozit was Chris Hewitt's label – Hewitt had been one of the organisers of the Deeply Vale festivals in the late 70s, and the label had released the Live At Deeply Vale CD in 2005. Bingo… was a rather cynical release: it omitted the studio medley included on the CD and substituted two tracks from the 1978 performance (Bingo and Brand New Cadillac) that had presumably been deliberately held back in 2005.
It was released as part of Record Store Day 2016, the LP being on orange vinyl. (As part of RSD 2016, It's The New Thing and Bingo-Master's Break-Out! were also both re-released pointlessly, on blue vinyl). To go with the awful title, the album had an unspeakable, almost surreally dreadful cover. The main image was from a stock image website; the hanging picture is also available online.
The group's next date (on the same day as the above's release) found them in North Wales, playing at the All Tomorrow's Parties festival in Prestatyn (curated by Stewart Lee). They opened with – according to the setlist –  Unlimited Time Collection, which was actually the first outing for Victoria Train Station Massacre / New Facts Emerge. Daren Garratt was in the audience, and apparently had turned up not sure if he was playing or not. Smith took the group off stage halfway through for one of his 'team talks'.
Two days later, Eleni did not appear at the group's performance in Newcastle; she was also missing at the next night in Manchester. She reappeared for the four dates that the group played at The Garage in London, 25-28 April though. There's a review of the first night here. On the third night, they played an extravagantly lengthy Auto Chip.
The last of the four nights at The Garage marked Eleni's final appearance with The Fall. Reviews seem to suggest that she bowed out enthusiastically: on the Fall Online Forum, for example, Chris Goodhead remarked that she 'was just a ball of energy. She was filming the crowd… [and] seemed to be enjoying herself'.
Eleni was another sad loss. Her contribution to the Fall sound is far too often overlooked; particularly her keyboard work, which – whilst never exactly virtuosic – frequently added intriguingly creative layers of texture to Greenway/Spurr/Melling's garage rock. Like Brix, her vocals were generally more successful when acting as counterpoint to MES rather than when she took the lead, but the part she played in The Fall's greatest 21st century moments should never be underestimated. (One of her current projects, NOHE NOSHE, is certainly well worth a listen.)
Coincidentally, in May 2016, Brix published her autobiography, The Rise, The Fall, and The Rise. I'm sure I'm not alone in having only ever skimmed the first and final thirds of the book (the last section mainly lists celebrities that she went to parties with), but the middle part of the book, to be fair, does provide some interesting insights into relationships within the group and their creative processes. In particular, she captures the horror show that was the autumn 1996 tour quite vividly.
After a couple of UK gigs in May, the group next played at Slovenia's Sajeta Creative Camp Festival on 15 July (videos here and here). A couple of weeks later, they performed at Òran Mór in Glasgow. Paul Bonney (an unlikely choice, given that he was best known for his work with The Australian Pink Floyd Show) played as second drummer. There's a video of Venice from this gig here; it's edited in a rather irritating rapid-cut style, but you can best glimpse the two drummers at 2:49 and 3:24. The gig also saw Fol De Rol and Brillo De Facto get their first outings (the latter was called Brillo Filo on the setlist). The next gig, at The Lemon Tree in Aberdeen on 2 October, was Bonney's second and final appearance with the group.
The Fall played a further three UK gigs in October. At the first of these, in Edinburgh on the 3rd, Gibbus Gibson was debuted. In November, they travelled to Germany and Norway. Their final gig of 2016 took place at York Fibbers on 19 November: they opened the set with the first ever (comparatively brief) performance of Nine Out Of Ten:
The Fall played 13 gigs in 2017, ten of them occurring before NFE's release. The first saw them headline an all-dayer in Liverpool, where Second House Now was debuted.
At Southampton on 27 January, the group played a much more expansive version of Nine Out Of Ten, and O! Zztrrk Man (at this point entitled Zaptrack) was debuted. At Leamington Spa on 1 February, Reece Stick (which would never receive a studio release) got the first of its half a dozen outings.
After the Cardiff gig on 3 February, it became clear that MES was not in good health. The Newcastle and Leeds gigs scheduled for 23-24 February were cancelled owing to Smith having, according to the official website, 'influenza coupled with a chest infection'. The same thing happened with the Bristol date planned for 31 March.
On 5 March, MES turned 60. The BBC celebrated the event by mistakenly reporting his death.
The Quietus provided a somewhat more appropriate celebration of the event, an article which saw 'writers and guests including Brett Anderson, Stewart Lee, Cosey Fanni Tutti, Adrian Sherwood, Pat Nevin and Krishnan Guru-Murthy select 60 favourites from The Fall's back catalogue.' The article is here (it was republished to commemorate Smith's death), and the 60 tracks are collected on a Spotify playlist.
They also put on a karaoke party, featuring The Fallen Women.
Music writer Dave Haslam published a concise and thoughtful article to celebrate the event.
Brian Edge, author of Paintwork: A Portrait Of The Fall, also produced an article to commemorate MES turning 60. It's not a typical tribute piece by any means:
'Anyway, with Smith having turned 60… I thought it was about time I confessed: I am estranged from The Fall.  I've stopped caring.  They're not mine anymore.  I get along just fine without them.'
Edge started to lose touch in the early 90s (he's not, of course, alone in this) and 'let go' after The Light User Syndrome. Despite his estrangement, the article is an interesting and thought-provoking read.
Also in March, Keiron Melling was the victim of a vicious assault whilst travelling on a train between Manchester and Blackburn. He had intervened to defend a teenage boy from being harassed by Michael Hannan and Matthew Crompton, both of whom were jailed for the attack.
In April, Record Store Day rolled around again. This year's pointless release was a 7″ of Masquerade, which went on sale for a ludicrous £12.
The group's next gig was on 23 May, at Belgrave Music Hall in Leeds.
This date saw the debut of Michael Clapham (a Manchester comedy promoter) on keyboards. Pete Greenway was sporting a new 'streamlined' look:
Smith's appearance was also notable, as he seemed to be suffering from swelling to the face:
Counterfeit website published a respectful, sympathetic but reluctantly critical review of the gig. It recognised how well the musicians performed ('phenomenal, almost telepathically in sync, bags of energy and charisma, a faultless display'), but regretfully reported that MES seemed to struggle with his performance:
'Despite visibly seeming uncomfortable and weary Smith manfully battled through the early part of the set, but then he seemed to reach a point of no return. Repeatedly wondering off stage, taking the microphone with him and performing his vocals away from the glare of his adoring fans. This happened on several occasions until he then departed in the middle of a track, but this time he left his microphone on stage. As the song concluded, and he was nowhere to be seen, the band, starting with bassist David Spurr, incrementally set their instruments down and ran off in search of him. A few minutes passed before they came back onto the stage having finally managed to persuade Smith to return. Smith again tried his best to continue but it wasn't long until he was back into the cycle of disappearing at regular intervals.'
Their next performance was the Bearded Theory Spring Gathering in Derbyshire on 27 May. Pete Greenway wore a rather fetching hat:
There's a very brief clip of the performance here.
The next night, The Fall played in Manchester as part of the Transformer Festival. John Robb wrote about the gig for Louder Than War, and it's a review that's worth quoting at length:
'Mark Smith has been under the weather recently so its a relief to see him back prowling the stage again and if physically he has been taking a beating – and he looks unwell tonight, mentally he seems as acidic and on fire as ever bellowing his bellows down his two mics and stalking the stage like his vision of fiery jack finally come to life. Maybe the challenge of every great artist is to make sense of the twilight years. The Fall are a reflection of their singer's journey.

The Fall are as brilliantly unfathomable as ever – switching from moments of clattering power to sublime sections where the arpeggio'd guitar connects with the rhythm section for some pure magic before switching to power clatter where the elusive use wanders away and then catching it again.

The Fall are never meant be easy but there is an added focus about their mithering tonight, Smith seems focussed in the maelstrom connecting directly with the audience with his baleful stares at the moshpit daring anyone to try and understand the message in his madness.

It's impossible to hear a word he says in the reverbing room but somehow it all makes sense. You can feel his genius, you can connect with his snarky genius as he glowers, cajoles and spits his brittle poetry over the churning backbeat.

Even when he turns the amps up and down tonight he gets it spot on – delivering an onstage mix like some kind of northern Lee Scratch Perry – cranking up the Korg lines played by a new member just when they were needed, adding a colour and drone to the songs when required before turning to add a bit of clip that was needed to the bass before wondering off to stand in the corner of the stage examine his fingernails with only his band new crisp white shirt visible in the big venue gloom.

Older age suits the Fall. Mark Smith is now 60 yet veteran status has sat on those shoulders for decades, his spittle flecked hatred of youth culture piffle always made him engaging and the Fall somehow manage to retain that danger and relevance to this day.'
The Fall's last gig before New Facts Emerge's release was at London's 100 Club on 27 July, the day before the album came out. Groundsboy was played for the first time. MES did not look at all well.
He sang much of the gig from the dressing room; new partner Pamela Vander played a prominent role on stage.
In The Wider World…
A couple of weeks after the album's release, anti-fascist protester Heather Heyer was murdered (and 19 others injured) by neo-Nazi James Alex Fields Jr. at the 'Unite the Right' rally in Charlottesville, Virginia. Fields drove his car into a crowd of counter-protesters.
In the UK singles chart, it's (I imagine) yet another case of 'Who?' for the average Fall listener: DJ Khaled featuring Rihanna and Bryson Tiller was at number one with Wild Thoughts. It spent only a week at the top spot, interrupting the five-week stay of Despacito by Luis Fonsi and Daddy Yankee featuring Justin Bieber. (And if I had a pound for every reader who actually followed those links, I doubt I'd even be able to buy a pint.) Lana Del Rey (who at least I've heard of) had the number one album with Lust For Life.
The Album
Most of the music was recorded at Chairworks in Castleford; the vocals were done mainly at Ding's 6db in Manchester (the two studios where Sub-Lingual Tablet was recorded). Some of the vocals were also recorded at Keiron Melling's Hilltown studio in Colne, where the drummer mixed the album.
Pictures posted on Keiron Melling's Instagram account suggested that the group deployed some innovative recording techniques.
Pamela Vander provided the cover artwork. As well as the CD, it was released on vinyl as a double 10″ (the tracks being the same versions and in the same order).
There was some (admittedly minor) controversy regarding the title of Victoria Train Station Massacre. A couple of months before the album's release, a suicide bomber had killed 23 people and injured 139 at an Ariana Grande concert at Manchester Arena. A Cherry Red representative stated that this was an 'unfortunate coincidence… The track was recorded and the artwork sent off for manufacture long before the terrible events in Manchester.'
Reviews were, in general, very positive. In The Quietus, Harry Sword described the group as 'a physical place, almost: some sideways dimension where you tap into coded truths, odd anomalies and sinister parallels among the static, phlegm and hard rain.' He felt that The Fall were as necessary as ever:
'This kind of music is needed, right now: untethered, shot through with rough-shod immediacy, anchored by punishing bass weight, grinding repetition and stark pounding rhythm.'
In Mojo, Ian Harrison awarded the album four stars:
'New Facts Emerge could be said to be business as usual: i.e. it cannot be quantified, and pulses with raw music, stimulating confusion and a certain monstrous glee. This time, harsh metal riffs, country picking and random-sounding sonic embellishments provide the backdrop for Smith, his voice catarrhy or golem-like.'
Writing in Drowned In Sound, Marc Burrows – giving the album 8/10 – described the group's current incarnation as, 'not just an institution, but an idea. An uncompromising, belligerent, hideous, beautiful idea; where noise pollution and bloody mindedness hover on the edge of art.' The Fall in 2017, he felt, were 'the purest version of the band there has ever been. This, you imagine, is what the inside of Smith's fogged head sounds like.'
Regarding Smith' vocals, he went on:
'Here Smith finally lets go of the idea of singing at all. You're sure there are fine words here, but more than ever MES is really not bothered if you can make them out or not. His voice has dropped into a guttural, tarry growl, 100% menace and 0% melody.'
Pitchfork's Robert Ham also commented on Smith's uncompromising vocal style:
'Long gone is the untrained yet undeniably charming timbre that barked, squealed, and crooned through his band's most prominent work; it's been replaced by a bilious and phlegmy growl struck by age (he turned 60 in March) and many, many cigarettes.'
Noting the group's reluctance to perform any material earlier than songs from RPTLC, he went on to say:
'The project continues to move forward with an almost cavalier disregard for their past accomplishments. Theirs is a meaty, swollen approach to garage rock that leaves ample room for diversions into exploratory psych and shredded rockabilly.'
John Robb, writing for Louder Than War, was particularly enthusiastic. He felt that 'all the great Fall hallmarks are here' and in particularly noted that 'Pete Greenway is on fire on this album'. He even went as far as describing it as 'one of the five greatest Fall albums ever'. He gave the album 9/10, wryly noting that he did so because the final track was a 'snark attack' (see below) directed at him, 'otherwise it would have been a ten'.
In The Guardian, Rachel Aroesti was more lukewarm, awarding the album three stars and commenting that group 'continues to plough a familiar, fractious furrow'.
The album reached number 35 in the UK album charts, the group's best commercial performance since 2008's Imperial Wax Solvent.
The Songs
Segue
There's something exceptionally Fall-like about calling an opening track 'Segue'. Also, few artists have explored the 'inebriated-tramp-hits-a-bottle-with-a-stick' genre. On The Annotated Fall, Mike suggests that the track might actually be a segue between All Leave Cancelled (X) and Fol De Rol, although this suggests an unlikely amount of strategic thinking on MES's part.
Fol De Rol
The first 'proper' song almost immediately launches into one of the unforgiving, bludgeoning riffs that characterise much of the album. Here, the weighty, staccato guitar line is derived from Black Sabbath via Rocket From The Crypt.
The taut, precise rigidity of the riff works well in contrast to Smith's layered, off-kilter, snarling growl. Two-thirds through, everything is sucked into a chaotic, murky void before bursting forth again with renewed vigour at 5:15.
The Annotated Fall comments that, 'with every album that goes by, transcribing becomes more difficult', and it's true that, by this stage, trying to interpret Smith's words feels almost futile. It seems like the sound of his voice has become as much an instrument as what the musicians are playing.
There are several references to Homer ('kitchens Homeric' at 1:15; 'Homeric metal' at 2:26 are just two examples), which give the lyric a strangely epic and heroic tone. There are also several turns of phrase that are simply inexplicable: 'You block hotel area / with metal wedge potato'. It's basically pointless to try and surmise meaning; you just have to roll with the gloriously incongruous language: 'Homeric cogs of steel / Imaginary / Excite plastic wheels.'
It was played live 20 times, including the group's last ever performance.
Brillo De Facto
Another riff-driven song, but here the guitar part is less heavy/hard rock; although it's just as relentless as Fol De Rol, it's more supple and has a slight tinge of both funk and R&B to it. The lithe choppiness of Greenway's guitar is vaguely reminiscent of Wilko Johnson's work on Roxette. Spurr underpins the guitar with a full-bodied snaking bass line, whilst Melling provides a solid, unfussy foundation that still manages to provide some rhythmic complexity.
The main section is interspersed with a couple of slow, ponderous interludes that utilise the same sort of reverb-heavy, ghostly sounds to be found later on in Couples. Over the final third, the group launch into an abandoned garage punk crescendo that resolves into a wall of ominous, oscillating feedback.
As in the previous track, Smith's voice is deployed as a shifting, textured instrument rather than providing any sort of coherent melodic narrative. In the first 30 seconds, the vocal is relatively straightforward, sitting traditionally in the centre of the mix. At 0:39, however, it descends into muffled distortion; thereafter its stereo placement, equalisation and level of distortion and reverb veers wildly across the musical background, differing versions of MES overlapping and clashing. At 1:04-1:09, for example, a bright, trebly snarl in one channel is complemented by a disturbingly deep, guttural groan in the other. At 2:18-2:30, a double-tracked, almost robotic Smith plays backing vocalist to a lead voice that switches between crisp bark and murky growl.
It's possible that the first word of the title might be some sort of reference to facial hair ('Brillo chin'), especially as this was a topic about which MES expressed strong feelings several times over the years. Interestingly – especially given the possible musical nod to Dr. Feelgood noted above – Smith himself suggested a link to Feelgood's singer Lee Brilleaux. In a September 2016 Mojo interview, when asked about his lyric-writing process, MES said:
'"You wanna know my problem?" (reaches into his man-bag for a green manila folder of lyric sheets: visible on one are the scrawled words, Homeric night, second one today, brillo-nilo). "It's Lee Brilleaux out of Dr. Feelgood, but this track's better than Dr. Feelgood. Imagine it played by Motörhead, with Pete [Greenway]'s guitar… The house is full of lyrics, I'm not f*cking short of words. There's too many."'
The reference to 'James Fennings' (3:29) is at least explicable: Fennings was a DJ who provided pre-performance music for the group around the turn of the century, and a long-standing friend of MES. But most of the lyric inevitably resists any serious attempt at interpretation: 'And the asphyxiation of the troll will finally be… all salute at the altar of filo pastry.'
Brillo De Facto was played live 19 times, and was another that was performed at the group's final gig.
Victoria Train Station Massacre / New Facts Emerge
Although named as two separate songs on the album, Victoria and the title track are basically parts one and two of the same song. (It won't surprise anyone who knows me that they are merged – via Audacity – on my 'version' of the album.) The main difference between the two is that Greenway's guitar, which is relatively understated in the first section, bursts into life in the second, providing a crunchy, exuberant riff that anchors the rest of the track.
Another distinguishing feature of Victoria is the deployment of reversed vocals from around the one minute mark. Anyone who wondered whether this might contain some form of subliminal Stairway To Heaven / Judas Priest satanic message will be disappointed to learn that it's just the 'I crave drama' refrain from earlier in the song.
As mentioned above, the song's title attracted a little controversy. In a September 2017 interview for Uncut, MES elaborated on the subject matter:
'I'm actually very fond of the architecture of Victoria Station, but it's all been trashed to f*ck, and that's what the song's about. You know all that beautiful Victorian latticework, like they have at Paddington? They ripped it all off. And you know why? Because the students coming to Manchester wanted to have access to north Manchester [pauses]. We don't want 'em here [laughs]! So they put this big canvas canopy up, and about six months ago it fell on all the passengers in the rush hour. There's summat wrong with Manchester, they can't leave anything f*cking alone.'
Smith is referring, it would seem, to this event. Leaving aside his Prince Charles-like views on modern architecture, the rest of the lyrics are predictably incomprehensible, largely focused around the nonsensical if weirdly charming exhortation to 'stop shaking down those frogs'.
The indistinct backing vocals (in French) at 0:58 and 1:48 were supplied by studio engineer Christophe Bride, and the words are taken from Jacques Brel's Les Bourgeois.
The song is a joyful, energetic stomp; its glam-rock approach is highly reminiscent of 1993's Glam-Racket. Relentless and intense, like much of the first half of the album, it is nonetheless laced with good humour and carefree abandon. It was played live 22 times, and is another that featured in the group's final performance in November 2017.
Couples Vs Jobless Mid 30s
Despite Smith's oft-stated derision for the 'dinosaurs' of the 70s, The Fall wandered into prog territory on several occasions over their career, albeit in their own inimitable fashion. Mark'll Sink Us, Session Musician, 50 Year Old Man and Backdrop (amongst others), whilst not exactly being prog songs in themselves, certainly demonstrated certain prog tropes.
Couples is arguably the most 'prog' of all Fall songs. Uncut described it as 'an unhinged multi-part suite that veers from lumbering rock grooves complete with manic laughter to sections of chanting and detuned Mellotron'.
It opens with an intense, reverberating refrain that sounds like the Butthole Surfers jamming with Hawkwind, Smith's vocals echoing ominously ('Relevant in your later snap stairs…'); doleful piano accompanies references to 'green jelly'. At 1:15, a ponderous, sludge-rock riff lumbers into view, backed by wildly oscillating synths. After a rather clumsy edit at 1:48, Spurr's throbbing bass line backs a random assortment of layered vocals and manic cackling from MES.
After a reprise of the heavy doom-metal riff (interspersed with snatches of pulsing sequencer, off-key operatic vocals, disturbing crooning and further cackling) the song resolves into a taut, thunderous coda. The section from 'waiting…' (6:18) is exhilarating: the way that they suddenly navigate themselves out of the dense, swampy chaos of the first six minutes into a focused gallop towards the song's conclusion is thrilling.
In an article entitled 'The Fall: album by album' in Uncut magazine, July 2019, both Keiron Melling and Pete Greenway commented on the song's conception:
KM: 'We started "Couples Vs Jobless" in a hotel room and recorded it with the whole band going through a guitar amp, and the vocals on a dictaphone.'

PG: '[It] was conceived in a hotel room. Mark came up with the idea to do this long, operatic thing with chanting, and we took him at his word and did it. A very odd song.'
Smith's version (given in the 2017 Uncut interview) was, not for the first time, somewhat different. According to him, having left the group in Chairworks studio 'for a week or so', he then created Couples by 'savaging' three or four of the songs they'd come up with. He goes on to say:
'They were trying to do something about Eagles Of Death Metal, and about heavy metal groups. I said, "That's not on", because they were the group in Paris, weren't they? So I changed it to all this.'
Eagles of Death Metal (a Californian band co-founded by Queens of the Stone Age's Josh Homme) were indeed the 'group in Paris' – providing an interesting connection with the Victoria Train Station Massacre controversy. A reference to the group remained in Couples: you can hear their name in the faux-operatic backing vocals from 3:46.
On The Annotated Fall, bzfgt described it as 'the most incomprehensible vocal yet', which is a bold claim, although one not entirely without foundation. Like Brillo, Smith's voice comes in a bewildering, overlapping variety of styles. On the FOF, TheorySwine suggested (perhaps not entirely seriously) that the mentions of 'green jelly' may refer to either this song, MES's medical condition or simply that he 'had some nice green jelly for pudding'. It's testament to the randomly surreal nature of Smith's lyrics at this point that each of these explanations seem equally plausible.
In his 2016 Mojo interview, MES offered a terse, concise summary of the song's meaning:
'This f*cking woman is shouting at her young son who owns a factory.'
This presumably refers to the lines, 'his mother spouse / she tortures him in big house'. But what to make of 'gargoyle legs are droopy', 'irrelevant to your latent sex
and shock your lizard' or the reference to Snow White and the Seven Dwarfs? Once again, it may be advisable to just not think too hard about it and simply revel in the wonderfully abstruse language: 'clotted breath'; 'upwardly B.T. rancid laughter'.
Unsurprisingly, Couples was never played live.
Second House Now
The first NFE track to emerge publicly (via 6Music), Second House Now opens with a minute or so of indolent, affable rockabilly that's totally at odds with the first half of the album. At 0:49, however, the group kick into a muscular riff that echoes the approach of many of the earlier songs.
Like Fol De Rol, Brillo and the title track, SHN's riff is taut and punchy and contrasts effectively with Smith's meandering delivery. However, although his voice is frequently drenched in reverb, it's more centred in the mix than previous songs and doesn't have quite as much emphasis on overlapping layers and effects (although there's a nice touch of megaphone-style backing vocals at 3:25). This gives the song a more direct and forceful feel.
Spurr and Melling are customarily solid, giving Greenway the opportunity to embellish the song with several flourishes: woozy phasing (for example at 1:13), urgent shrieks (1:26 and 2:24) and overloaded, distorted bursts of solo guitar (J. Mascis style) during the last minute or so.
The Annotated Fall suggests that one of Pamela Vander's Instagram posts after MES's death is relevant here:
'He was happy and excited and we'd found a second home a couple of years back, moved in, set up shop. Total privacy. He loved it there, wrote a lot, walked in the garden, we watched films.'
This review considers the possibly political messages in the song:
'MES often hints at the social origins of Nazism – or shall we say, fascist bullshit – in his lyrics. The title 'Second House Now' echoes the chant popularised by the Communist Party and their adherents in UK from late 1942, 'Second Front Now'…

Mark knows that the time of fascism in the UK is at hand – and by that, I don't mean either the National Front or the Tory Party. No, it's a social requirement by now, that free people are required to merge into the mass, accept what they're given and be told what to do by the state. This ties in with the lyrics to 'Couples vs Jobless mid-30s' as well, the way in which large chunks of the young population are both disregarded and used as fodder, forcing their ambitions to be selfish and unthreatening to those genuinely in power.'
There's a looping, circular quality to the lyrics; certain phrases ('going to big city', 'my image in black and white', 'tearing of muscle years') revolve at differing tempos like orbiting planets, as if MES is gradually zooming in on some sort of resolution. This resolution never actually arrives, and ultimately the lyric is never fully coherent; but, however one might evaluate it intellectually, there's a distinctly visceral effect here.
The aggressive yet plaintive repeated exhortation, 'C'mon, c'mon!', incongruous in its adherence to traditional rock 'n' roll tropes, is genuinely moving because of the gleeful and apparently non-ironic way Smith delivers it. Knowing that MES knew at this point that his days were numbered makes his unfettered joy and enthusiasm even more touching.
Played live 15 times; another that featured in the group's final performance.
O! Zztrrk Man
Lyric-wise, I'm not even going to try. All I can say is that I'm indebted to The Annotated Fall for introducing me to the term 'auditory pareidolia'. Smith's voice is frankly disturbing: sluggish, fractured, disdainful, inebriated, unworldly…
The sound of several Stooges tracks being played simultaneously through a broken transistor radio, it feels like a distillation of Dinosaur Jr, Sonic Youth, Bardo Pond, The Heads, The Sex Pistols, The Thermals – and hundreds of others.
It's dumb and pointless, but dumb and pointless in a rather uplifting way. A celebration of the joy of thrashing the f*ck out of everything; of the power of three simple but devastating chords; of the unmitigated joy of just… noise for the sake of glorious noise.
There is always great joy to be had from an impeccably timed chord change, and here, at 0:53, there's a shift that lifts the soul. Throughout, Greenway wrestles a grimy, guttural sound from his guitar that captures the spirit of thousands of teenagers in garages and rehearsal rooms stamping on effects pedals in furrowed-brow expressions of frustration and hope.
Played live only five times, all in early 2017.
Gibbus Gibson
'Gibbous' means '(of the moon) having the illuminated part greater than a semicircle and less than a circle; convex or protuberant'. It's a word that MES used in both Van Plague? ('A body's waste 'neath a gibbous moon') and Hittite Man ('the gibbous morons'). With the latter song, MES suggested that he might have 'gotten' the word from Lovecraft. (In one of my rare forays into The Annotated Fall, I pointed out that HPL uses the word twice in the story Dagon.) Via the same site, dannyno suggests a link to Gordon Gibson of Action Records.
Greenway's delicate, circular riff is a pleasant one, and it's complemented well by Smith's off-kilter croon. In the final minute, a chirpy keyboard line crops up that's soon superseded by a some oddly incongruous 80s-style synth chords.
It's gently enjoyable, but rather lacks substance. It was never played live.
Groundsboy
Similar to Gibbus Gibson, in that it has a light-hearted, sprightly feel. There's a shuffling, railroad-style rhythm that brings Johnny Cash to mind; the backing vocals also give it a 60s comedy-Western atmosphere. It has been suggested that the song refers to Steve Hanley's post-Fall career as a school caretaker, although the lyric itself doesn't really support this.
It picks up momentum over the last minute or so, as the guitar gets a little more urgent. There are also a smattering of backing vocals, presumably contributed by Pamela Vander. Overall, it's a spot of fun, although like Gibson, it feels rather insubstantial. It was debuted the night before NFE's release, and was then played at the group's two final gigs.
Nine Out Of Ten
It is undoubtedly fitting that the final song on the last Fall LP is such a difficult, challenging and perplexing one. Pared down to Greenway's galloping, abrasive guitar (played in the style of Life's A Riot) and Smith's wilfully tuneless vocal, Nine Out Of Ten sees MES displaying what website theartsdesk described as 'reckless vulnerability'.
The song was played at seven consecutive gigs, late 2016 / early 2017, but didn't appear in the final seven performances.
John Robb, in his Louder Than War review, provided a relatively prosaic explanation of the song's origins:
'The final track 'Nine Out Of Ten' is an acidic dark humoured snark attack on yours truly for giving Fall mate Ed Blaney's recent very good album a good review on this site and is all the better for its pointed assault on your author and probably loads of other targets in classic free form Fall style.'
This would seem to be supported to some extent by Smith's inclusion of the line 'I got a review from John Robb' in the song's third live outing at Southampton in January 2017 (it's at 2:10 in the video below). At this stage, the song also contains percussion and some strangely random keyboard effects.
On the studio version, the words themselves are more clearly audible and much less surreal and abstract than is the case with the rest of the album. However, in some ways this makes them even harder to interpret. There's a lengthy but interesting thread about the song on the Fall Online Forum.
If the lyric does refer to Robb, it's not clear how it's any sort of 'attack' on him. (On The Annotated Fall, bzfgt postulates that Smith might have improvised the line at Southampton having seen Robb in the audience; there's no strong evidence for this, but it's not a wholly unbelievable scenario.)
It's actually far from clear who the 'they' that gave him 9/10 are. On a couple of occasions, it seems to be 'the company' that does so, but who this actually refers to (record companies? the music industry in general?) is frustratingly opaque. The 'orphan' references and him being awarded 'one out of ten' might suggest a childhood of neglect and underestimation, but this doesn't reflect what MES shared elsewhere about his early life.
The line, 'You don't break rules you don't follow them' is especially difficult to unravel, especially given Smith's typically unpredictable phrasing and emphasis. As bzfgt points out on TAF, 'The meaning of this line would change depending on how it is transcribed'. It's unclear whether Smith is suggesting that he has been unfairly criticised for following (or not following) rules, or whether he is exhorting others to follow (or not follow) said rules; it's possible to support (if not entirely to justify) any of these interpretations. But of course, it is completely apt that MES leaves us with such an inscrutable lyric.
Nine Out Of Ten is undoubtedly as 'difficult' musically as it is lyrically. If you write about this group, the 'only The Fall/MES would ever…' (in terms of lyrics, titles, production, editing etc.) cliché is a tough one to avoid, simply because it's so often true. Here, it's as true as ever. Notwithstanding the roughly recorded sparseness of the vocal / guitar approach, it's hard to imagine any other artist stopping so abruptly – and it's a clumsy edit even by Fall standards – halfway through and then letting a lone guitar simply thrash out the riff unaccompanied for five (!) minutes. In the first half, there seem to be two guitar parts that are given a little stereo separation which alleviates the spartan harshness of the sound at least a little. This is not the case in the coda, however; this is the sound of a solitary, almost desperate guitar flailing away with no clear vision of conclusion or resolution.
Pete Greenway commented on the song's recording in the July 2019 Uncut article:
'We didn't know at the time that it would be the last album and I'm sure Mark didn't. People have drawn conclusions from the last track, "Nine Out Of Ten", and how it ends [without vocals for the second half]. I'd met Mark for a beer and we ended up at the studio. I was too drunk to play and Mark just spouted lyrics about his life, spontaneously. I was surprised it ended up on the album.'
Another Uncut article, this time from April 2018, strikes a suitably poignant note when describing the song's conclusion:
'He was animated as he sang his final vocal for the album ("Nine Out Of Ten"), with guitarist Greenway seated beside him. The song came to a natural end. Greenway stopped playing. "No," Smith said. "Play it again." He got up and walked slowly around the studio, tapping bits of percussion, while Greenway strummed the chords for three, four, then five minutes.

And that's exactly how we hear it on the record. The track ends. The guitar resumes. But Mark E Smith is now silent.'
Overall Verdict
A common criticism of NFE is that it finds the group rather bereft of new ideas; over-reliant on blunt, unsubtle, heavy riffs and lacking in intricacy and sophistication. Whilst it does have more than its fair share of direct, bludgeoning riffery (especially in the first half), this view is not entirely fair. For a start, the production on Smith's vocals on, for example, Fol De Rol and Brillo is far from straightforward and demonstrates intriguing creativity that repays repeated listens. In addition, the second half contains much more variation and light-heartedness; it's also true that Couples and – in particular – Nine Out Of Ten sound little like much else in the back catalogue.
It is certainly true that the sequencing is somewhat perverse, and that the album has a certain lop-sided feel (one that I have addressed – at least to my personal satisfaction – in my 'version' below). That said, it feels fitting that the group's final LP should feature the puzzling approach to sequencing that characterised so many of their releases.
On The Annotated Fall, contributor 'brownsocketspurpleseyes' comments that:
'A few people have commented that "New Facts Emerge" is a bit of a grab-bag Fall album – lots of homages to past career stylings, knowing it was potentially his last record…'
His comments are in particular directed at Groundsboy, especially the lines 'He goes back now', 'Every day on the airstrip' (perhaps referring to the group's productivity and work ethic) and 'Noticed by none' (potentially an echo of 'He is not appreciated'). There would certainly seem to be at least some mileage in this view. Much of The Fall's musical past is recalled here: the garage rock of Winner and Caustic; the rockabilly shuffle of Fiery Jack; the Stooges-style Elves; the prog subversion seen in the odd b-side and obscurity (see Couples above). Of course, if we were going to extend this argument to its logical conclusion, then the album should contain some On My Own-style house, Ten Houses of Eve drum 'n' bass, C.R.E.E.P. indie-jangle and No Xmas old-school punk rock…
Pete Greenway felt (see above, as well as this recent interview) that Smith didn't know that this was going to be The Fall's last album, and I'm in no position to argue with that. That said, it's hard to believe, given what seems to have been the growing intensity of his medical treatment, that it hadn't at least crossed his mind that this might be his final release. Hindsight, of course, makes it very easy to look back at the album and see it as a deliberate swansong, but there's much about it that suggests that it might have been: the uncompromising, defiant, hard-edged riffs of the first half; the abandoned, don't-give-f*ck experimentation of Couples; the career-revisiting playfulness of much of the second half; the raw, laid-bare confessional that closes the album.
Hindsight also promotes an emotional reaction to the album. You may be in the camp that reveres the group's the 80s work and looks ruefully on this collection of tracks with a how-did-it-come-to-this? perspective. You may be of the persuasion that the group's 21st century work saw them expand their perimeters and ambitions and create continually challenging, innovative and remarkable music. You most likely sit in one of the myriad camps that lie in between – developing an opinion on The Fall's back catalogue is, after all, a rather more complex process than – for example – being an REM fan but only really liking their albums up to Document or Green or Up. Whichever position you take, what united Fall fans following Smith's death was the sense of loss on realising that you would never hear another new Fall album. No more returns to form, no more patchy 'what-could-have-been's, no more sudden-change-in-direction-with-a-completely-new-line-up, just… no more.
So what is New Facts Emerge? It isn't the intricate, articulate wordplay of Grotesque; it isn't the dense, angular aggression of Hex; it isn't the perfect pop/post-punk cocktail of This Nation's Saving Grace; it isn't the forward-facing merger of garage punk and electronica of Unutterable or RNFLP. What it is, is the sound of well-deployed resources; a group that knows its strengths and limitations intimately. The sound of three men that have developed a deep, fundamental understanding of how each other play and have locked on to a forceful expression of that understanding. The sound of a man who (as Marc Burrows of Drowned In Sound commented) has 'let go of the idea of singing at all' but still understands the power that his voice can command.
It's also the sound, however flawed, of the greatest and most important group that ever walked this earth.
My "Version"
Of course, the rule is meant to be 35-45 minutes. But because it's the very last album, and frankly I have no desire to miss out any of the tracks (not even Segue), I'm going to tear up the rule book for this final 'version'.
Side 1: Segue / Fol De Rol / Victoria Train Station Massacre-New Facts Emerge* / Gibbus Gibson / Couples Vs Jobless Mid 30s** (23:27)
Side 2: Brillo De Facto / O! Zztrrk Man / Second House Now / Groundsboy / Nine out of Ten (24:35)
*My own 'spliced together' version
**My own alternate version (8:29)
Rankings
Wise Ol' Man can't really be considered as a single, but neither does it contain enough new material (unlike The Remainderer) to be included in the albums. It's really rather good though.
Bingo Masters At The Witch Trials is well-deserving of a place at the foot of the live albums league:
Last Night At The Palais
Live To Air In Melbourne '82
In A Hole
A Part Of America Therein, 1981
2G+2
Live In San Francisco
In The City…
Nottingham '92
The Legendary Chaos Tape / Live In London 1980
Totale's Turns
The Idiot Joy Show
Live In Cambridge 1988
I Am As Pure As Oranj
Touch Sensitive… Bootleg Box Set
Creative Distortion
Live 1993 – Batschkapp, Frankfurt
Live 1981 – Jimmy's Music Club – New Orleans
Live 1977
The Twenty Seven Points
Live Uurop VIII-XII Places In Sun & Winter, Son
Interim
Seminal Live
Live At The Knitting Factory – New York – 9 April 2004
Live 1998 12th August Astoria 2 London
Live Various Years
Live In Clitheroe
Live At The Phoenix Festival
Live In Zagreb
15 Ways To Leave Your Man – Live
Austurbaejarbio
BBC Radio 1 Live In Concert
Live At The Knitting Factory – L.A. – 14 November 2001
Live At The Garage – London – 20 April 2002
Live 2001 – TJ's Newport
Live 3rd May 1982 Band On The Wall Manchester
Live 1980 – Cedar Ballroom Birmingham
Live From The Vaults – Alter Bahnhof, Hof, Germany
Live From The Vaults – Glasgow 1981
Live From The Vaults – Oldham 1978
Live At The ATP Festival – 28 April 2002
Liverpool 78
Live From The Vaults – Los Angeles 1979
Live From The Vaults – Retford 1979
Live At Deeply Vale
Yarbles

Bingo Masters At The Witch Trials
It's hard to place New Facts Emerge. My emotional response might place it higher, but objectively there are several albums that undoubtedly outstrip it on several levels. I will revisit this whole ill-advised ranking conceit in the final (possibly) next post. But for now, having listened to it endlessly for a couple of weeks, I think it sits just outside the top ten.
This Nation's Saving Grace
Your Future Our Clutter
Perverted By Language
The Wonderful And Frightening World Of
Hex Enduction Hour
The Real New Fall LP Formerly 'Country On The Click'
Re-Mit
Levitate
Slates
Grotesque

New Facts Emerge

Imperial Wax Solvent
The Unutterable
Fall Heads Roll
The Marshall Suite
The Remainderer
Cerebral Caustic
I Am Kurious Oranj
Room To Live
The Infotainment Scan
Extricate
Bend Sinister
Dragnet
The Light User Syndrome
Are You Are Missing Winner
Sub-Lingual Tablet
Ersatz G.B.
Middle Class Revolt
Code: Selfish
Shift-Work
Live At The Witch Trials
Reformation Post TLC
The Frenz Experiment
Although NFE is the final album, this is not the last YMGTA post. I aim to do at least one more (possibly two or three) to round things up and reflect. But it does feel like quite a landmark to have reached this point: many thanks to you for reading; it is, of course, much appreciated.